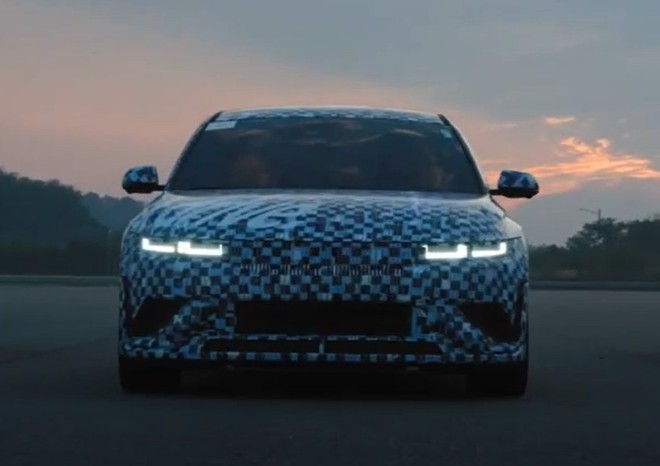 The debut of the Hyundai IONIQ 5 N, the "sport" of the electric crossover, & egrave; expected in 2023. To keep attention on this model, the Korean manufacturer has shared a video starring the RN22e and N Vision 74 concept cars, inside which, however, a prototype of the IONIQ 5 is also shown N still equipped with a camouflage livery, the same seen in some spy photos of this car.
In the video (towards the end), the sporty crossover can be seen racing for a few seconds alongside the RN22e and N Vision 74. The precise technical characteristics of this car are not yet known. However, in the past, Albert Biermann, Hyundai's technical consultant, had highlighted that the IONIQ 5 N will be able to be used in the future. have about 600 HP. Therefore, it is very likely that we'll find the KIA EV6 GT's dual electric motor powertrain that's a great choice. capable of delivering 430 kW (585 HP) and 740 Nm of torque. If it will be thus, this means that the performance of the IONIQ 5 N will be particularly interesting since the KIA model accelerates from 0 to 100 km/h in just 3.5 seconds.
The Hyundai IONIQ 5 N will be able to; also have a specific aerodynamic body kitwhich will allow to make her look more; gritty. Already; from the video, although the car still appears disguised, we can see the presence of a more rounded front; processed with new air vents. The official presentation shouldn't miss a lot. So, all we have to do is wait for news – in this sense by the Korean car manufacturer.
RN22E E N VISION 74

In the video, as mentioned at the beginning, the protagonists are the RN22e and N Vision 74 models, two concept cars used as a laboratory for developing new technologies. The film offers an insight into the development process of these cars. RN22e is an N-brand high-performance vehicle based on the E-GMP platform (430 kW/585 hp dual engine).
Curiosity, to create more "engagement" while driving, the prototype features the N Sound+ system which generates sound through the on-board system speakers to offer a dynamic driving sensation. There is then the N e-Shift which simulates the sensations of gear changes. Will we also see these devices on the IONIQ 5 N?
Instead, the N Vision 74 has a powertrain with hydrogen fuel cells. The two engines for a total of 500 kW are powered by both the Fuel Cell system and a 62.4 kWh battery.
HYUNDAI ONLINE CONFIGURATORThe best Apple Smartphone? Apple iPhone 12, buy it at the best price from eBay for 682 euros.