Gnoppix Linux, first released in June 2003, was based for many years on the well-known German Linux distribution Knoppix by German Linux developer Klaus Knopper, but today uses Kali Linux, which is designed for digital forensics Foundation. The new Gnoppix 22.12 is now based on Linux 6.0 and Gnome 43.2.
Kali Linux on a new foundation
Gnoppix, which originally took up the concept of Knoppix and is also available as a live CD, has now grown up and is based on Kali Linux 2022.3, which is designed for penetration tests and which the editors already presented in detail for publication in August.< /p>
Gnoppix 20.12 inherits numerous penetration, reverse engineering and forensics applications from Kali Linux 2022.3, but combines them with a fresh kernel and an up-to-date desktop in the form of Gnome 43.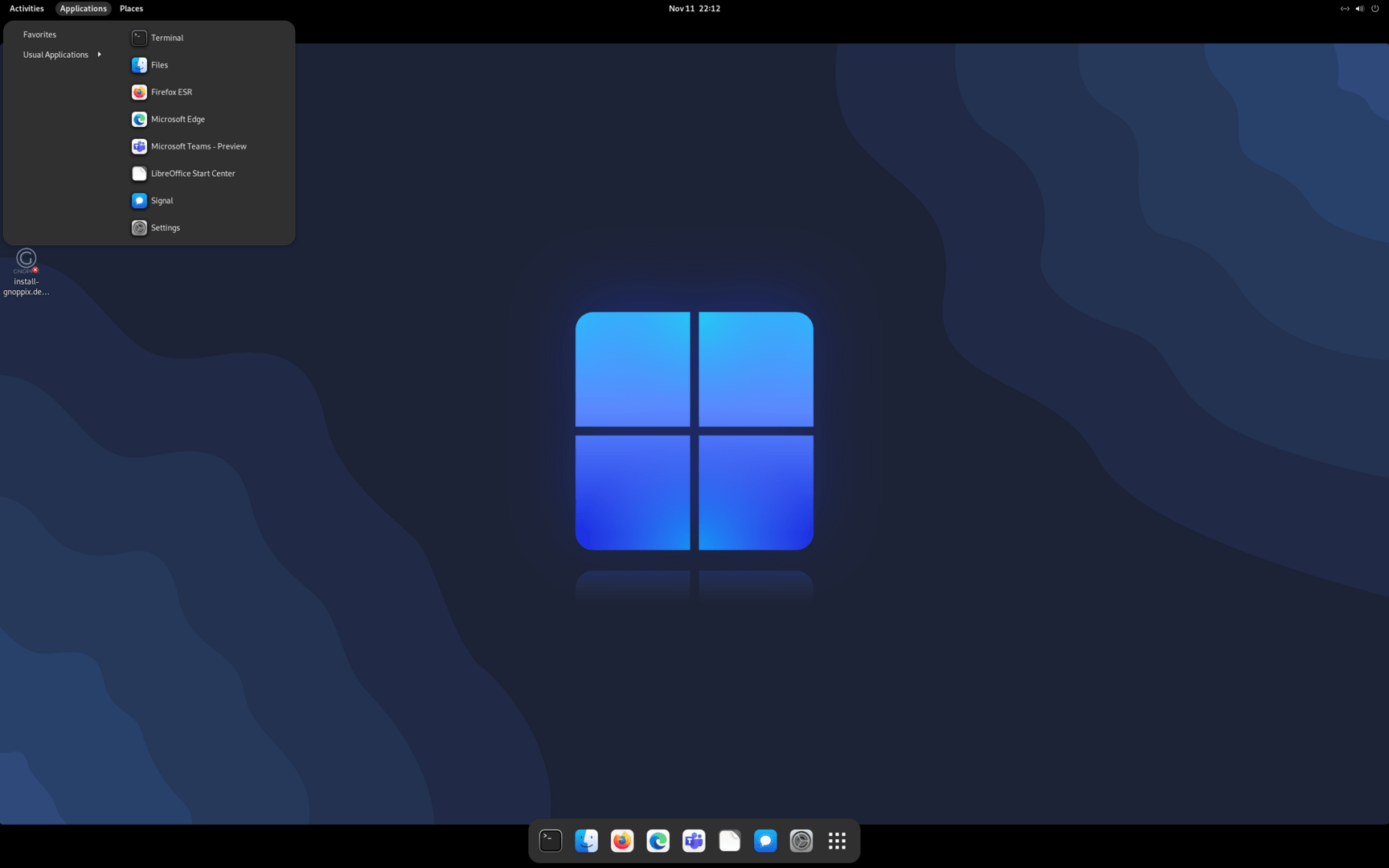 The distribution is optically Its wallpaper and the central taskbar are based a bit on Windows 11 and, based on the current version of Kali Linux, has the following changes and updates:
Thanks to Linux 6.x, Gnome 43.x and the graphics stack Mesa 3D in version 22.2, which is essential for gaming under Linux, as well as current application programs such as the free browser Firefox 102.5 ESR, the entire substructure is much more modern than with Kali Linux. However, both distributions share the same lineage with Debian. Debian Testing ("Bookworm") serves as the starting point for the two free operating systems.
Gnome 44 is already in preparation
With the latest release, which also includes some pre-installed apps from Microsoft such as Teams and Edge based on Chromium, the "Gnoppix" project is gaining momentum and is already taking a look into the future. Preparations are already underway for the release of the new desktop Gnome 44, which is expected to start the public beta phase on February 6, 2023.
The official release notes for Gnoppix 22.12 are here comparatively extensive and list the following innovations.
Upgrade to Kernel 6. x
Started with Gnome 43.2
Starting prepare for Gnome 44 Beta
Added gnome-firmware updater
Updated outdated firmware
Added transmission torrent
Added clapper musicplayer
Added: sandly-entropyscan
Added linkedin2username
Added gimp image editor
Added nikto webscanner
Added deluge- console
Added nuclei scanner
Added deluge torrent
Added: afrog scanner
Added new : nuclei
Added deluge-gtk
Added deluge
Added afrog
Added nikto

Gnoppix 22.12 – Release Notes
As already for Knoppix, with Andreas Müller also signs for Gnoppix once again a German Linux developer responsible for the open source project.
A new website for the distribution, which is experiencing a relaunch during the COVID-19 pandemic has already gone online, but is still under construction.
Gnoppix 22.12 is available for download
The 3.7 GB system image of Gnoppix 22.12 (ISO) optimized for AMD64 can be downloaded from SourceForge and easily written to a storage medium with a suitable tool such as Rufus or Ventoy.
< figure class="text-asset text-width video-figure">
See Gnoppi's official announcement for more information x 22.12.