Deutsche Telekom has increased the goals it set itself for the FTTH expansion in Germany. From 2024, an increase in newly connected FTTH households of 3 instead of 2.5 million per year is to be achieved. By 2030, 25 to 30 million households are planned. Before that, however, all households were mentioned.
Telekom is stepping on the gas with fiber optic and FTTH expansion and has adjusted its own specifications for today's Network Day in Bonn. An upward correction can be seen in the new figures, but the company is less specific elsewhere than it was a year ago.
900,000 FTTH connections are needed
First of all, there is a target of 2 million additional FTTH connections for the current year. According to their own statements, around 600,000 connections were added in 2020, then 1.2 million in 2021 and a further increase of 2 million is aimed for in 2022. To do this, however, Telekom has to pick up the pace significantly, because as of November 10, there were only 1.1 million new connections with FTTH this year, as Golem quotes from a conversation with company boss Tim Höttges. In a period of around 8 weeks, 900,000 FTTH connections would have to be added, significantly more than the previous expansion rate allows.
"By the end of 2022, Telekom will increase its fiber optic range to a total of 5.2 million connections," says a press release today. In mid-November, Höttges still spoke of "4.5 million homes passed", so today's new number represents an increase of 700,000 connections. However, Telekom would be missing 200,000 FTTH connections for its own goal. The editors have asked Telekom for a statement on the contradictory information.
Up to 3 million FTTH connections from 2024
While there was talk of a further increase in the pace of expansion of 2.5 million households per year from 2024, "up to" 3 million households per year are now to receive FTTH from the year after next, according to the Network Day 2022. In 2024, the mark of a total of 10 million households with an FTTH connection. In March 2021, a network update announced that all households in Germany should have an FTTH connection by 2030. Today, however, there was only talk of 25 to 30 million FTTH connections by 2030, with currently almost 41 million households in Germany.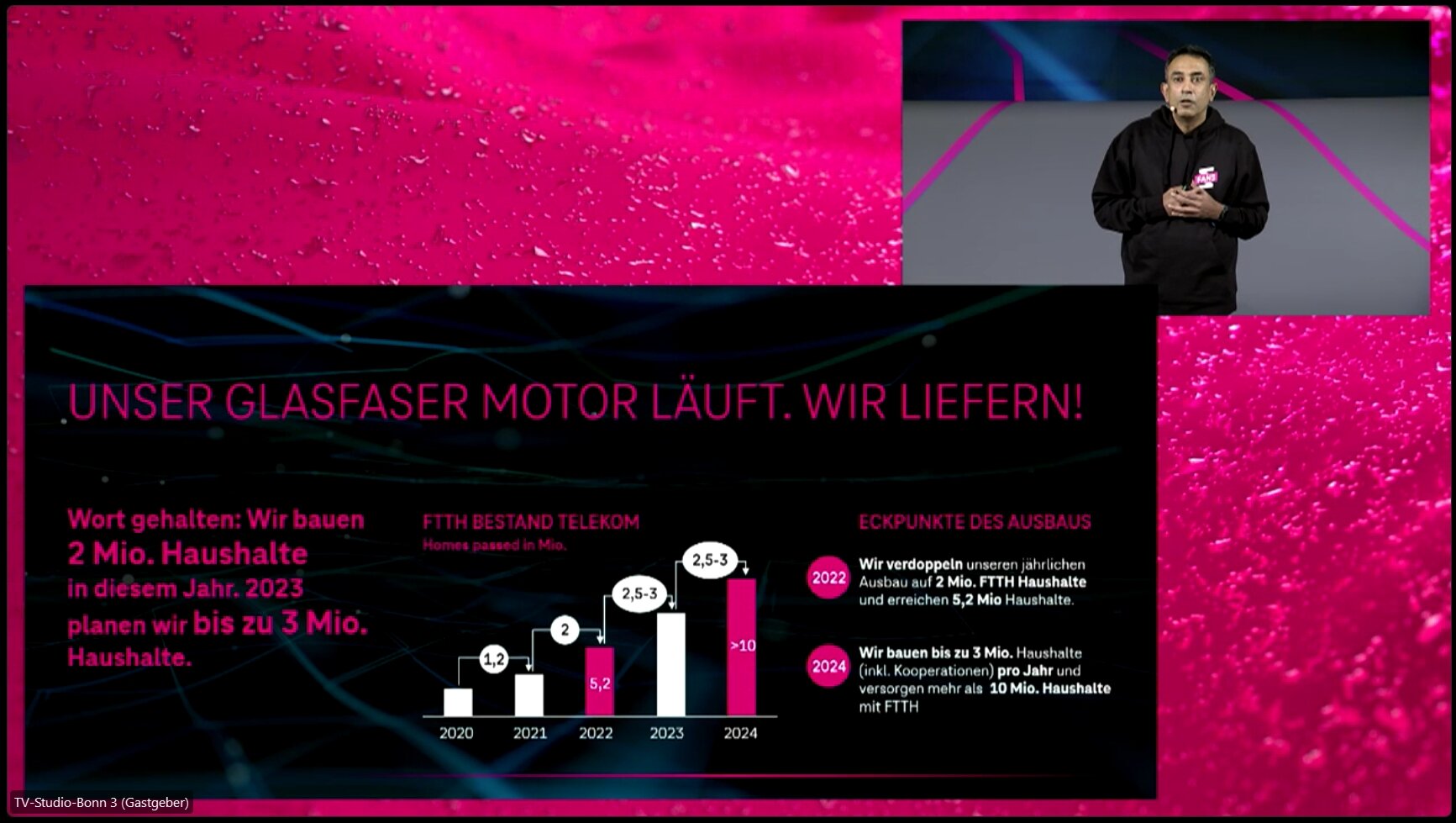 Telekom is hiring fiber optic technicians
< p class="p text-width">To get closer to these goals, more fiber optic technicians are needed. In Telekom's so-called Fiber Factory, their number is to be increased by 50 percent, and a total of 1,000 new fiber optic experts are to be hired, most of them for the assembly area. As part of the Netze Day, an employee demonstrated how fiber optic splicing works and explained that an employee manages around three to four households per day, since there would be around two hours of installation time per household.
Half of the FTTH connections from cooperations
In its expansion strategy, Telekom is not acting alone, as several joint ventures that have been implemented show, for example with the IFM Global Infrastructure Fund around a year ago. The group intends to continue this strategy and increase the proportion of households that can be marketed through cooperations from the current 1 million to around 5 million by 2024. Ergo, around half of the planned FTTH connections would be realized through cooperation. In addition to joint ventures such as with IFM or EWE, Telekom also relies on access to fiber optic networks from municipal utilities and regional providers as well as on bitstream access wholebuy, for example at Wilhelm.tel. Specifically, 134,000 FTTH connections in Bochum with fiber optics in the Ruhr, the first connection of customers at Stadtwerke Münster and 120 municipalities with 260,000 households in the Stuttgart region are mentioned.