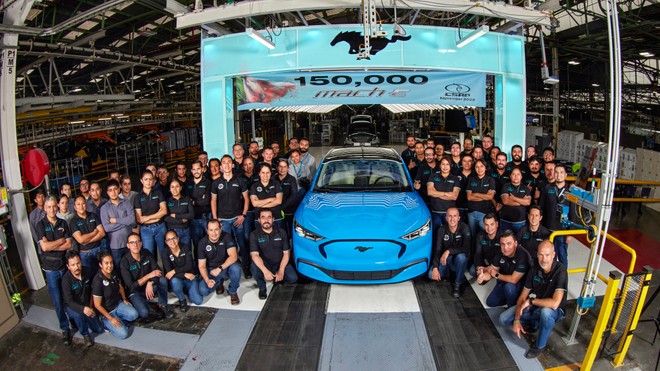 Ford started producing its Mustang Mach-E almost two years ago. Now, the American automaker has celebrated the milestone of 150,000 cars produced. However, the manufacturer wants to achieve very different goals. In fact, he is working to significantly increase the production of a model that continues to be successful from a commercial point of view.
In fact, the house of the blue oval aims to build 270,000 Mustang Mach-Es every year. Objective that is part of its electrification plan which plans to reach a rate of 600,000 electric vehicles produced per year by the end of 2023 and 2 million by 2026.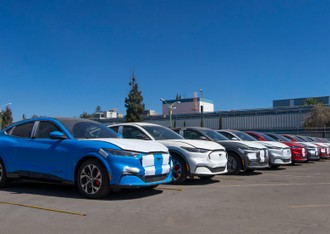 The automaker added that the Mustang Mach-E will be marketed in a total of 37 marketsall over the world (in the first year of sales it was only offered in 22 markets) in 2023. The goal, however, is; to make it available in additional markets to expand its marketing.
Speaking for a moment of sales numbers, on the United States market, in the first 10 months of 2022 Ford delivered over 31 thousand Mustang Mach-E . A positive result that has contributed to making the house of the blue oval the second BEV brand in the country.
NEW ELECTRIC MODELS FOR EUROPE
In Italy, the Ford Mustang Mach-E that we already have; got to try, & egrave; proposed in different versions. At the base we have the Ford Mustang Mach-E RWD with 198 kW engine, 75.7 kWh battery (70 kWh usable) and range up to 440 km. Then we have the Ford Mustang Mach-E RWD Premium with 216 kW engine, 98.7 kWh battery (91 kWh usable) and range up to 600 km.
The version of the Ford Mustang Mach-E AWD Premium is; proposed with both battery packs. With the 75.7 kWh accumulator we find a dual 198 kW engine and a range of up to 400 km. With the larger capacity battery, on the other hand, we still have a double engine but with a maximum power of 258 kW. The range reaches up to 550 km.
At the top of the range stands out the Ford Mustang Mach-E GT which is characterized by a dual engine of 358 kW of power, 98.7 kWh battery (91 kWh usable) and range up to 490 km. The prices of the range start at 62,700 euros.
Speaking of Ford's electrification strategy, in relation to the European market, we know that the manufacturer will introduce a new model. several new models by 2024. In particular, in 2023 will debut; a crossover built starting from the MEB platform obtained under license from Volkswagen. In 2024, it will start the also the production of the electric version of the Puma.
VIDEO
The best Apple Smartphone? Apple iPhone 12, buy it at the best price from eBay for 682 euros.