The PlayStation 5 (test) came onto the market in November 2020 – but only slowly, for months Sony's next-gen game console was in fact only available when interested parties asked for isolated " Drops" kept an eye out. However, two years after the market launch, there are now indications of better availability.
A novelty in terms of availability
Normally, ComputerBase does without fast-paced reporting on the short-term availability of hardware that is difficult to buy – be it game consoles or the GeForce RTX 3000 graphics cards at the peak of the mining boom in 2021. But the PlayStation 5 has been showing since yesterday Midday a picture that has not yet been seen in this form: The console can be bought from various retailers for more than 24 hours at a time, for example at MediaMarkt*. Direct availability from stock is not given; Generally, a shipment is mentioned in the course of December 2022, sometimes even before Christmas. But the fact that the PlayStation 5 can also be purchased at high prices on eBay and comparable platforms at a non-binding retail price away from dodgy scalping offers is a novelty.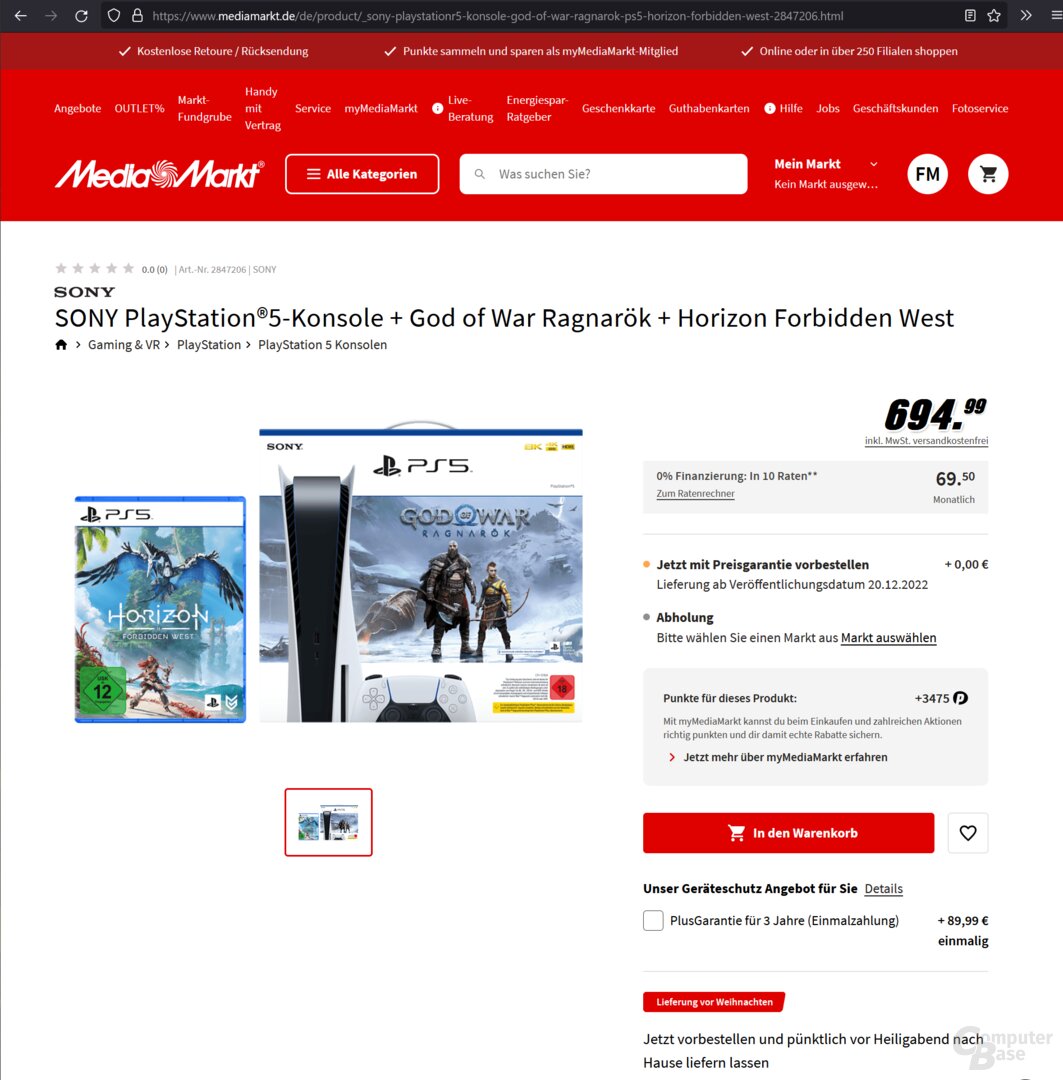 That's exactly what Sony raised in August of this year, the MSRP of the PlayStation 5 with Blu-Ray drive increased from around 500 euros to around 550 euros now, whereas the Digital Edition without an optical drive now costs around 450 euros instead of around 400 euros before. The fact that the console is currently offered almost exclusively in a bundle with one or two triple-A games for a unit price of around 70 euros increases the price of the available options further to around 620 euros or around 695 euros – in this case for one PlayStation 5 with disc drive, Horizon: Forbidden West and a download code for God of War: Ragnarök.
Sony promises further speedy production< /h2>
The fact that the availability bottleneck for the PlayStation 5 is coming to an end after around two years does not necessarily mean all of this, of course – but the fact is nonetheless remarkable and can be interpreted as a positive sign. Most recently, Sony announced earlier this month that it had reached 25 million PS5 consoles, with the manufacturer achieving 3.3 million PlayStation 5 sales in Q3 2022, the same as in Q3 2021. Sony had actually aimed for sales of a total of 18 million units by March 31, 2023 – and is sticking to this despite stagnating sales in recent months, even though over 12 million units were still missing from the planned target a few weeks ago.
Have you bought a PlayStation 5 yet?
Yes, I purchased a PlayStation 5 at MSRP from a reputable retailer.
Yes, I purchased a PlayStation 5 from eBay etc. at extra cost.
No, I haven't had an opportunity yet, but I really want one.
No, I'm not interested in a PlayStation 5 after all this time.
No, but I've never wanted one either.
Abstain (Show result)
Please log in to vote!
(*) Links marked with an asterisk are affiliate links. In the case of an order via such a link, ComputerBase participates in the sales proceeds without increasing the price for the customer.