In its annual network test, Chip magazine chose Deutsche Telekom as the winner with the best mobile network. Vodafone and O2 follow in second and third place. All providers provide significantly higher speeds in the 5G network. The weak point of all three providers remains the reception on the train.
The overall rating gave Telekom a grade of 1.3, Vodafone a 1.4 and O2 a 1.7. The weighting was 50 percent for internet, 25 percent for telephony and 25 percent for availability. In all three subcategories, the order corresponds to that of the overall rating, as explained in detail in the table below.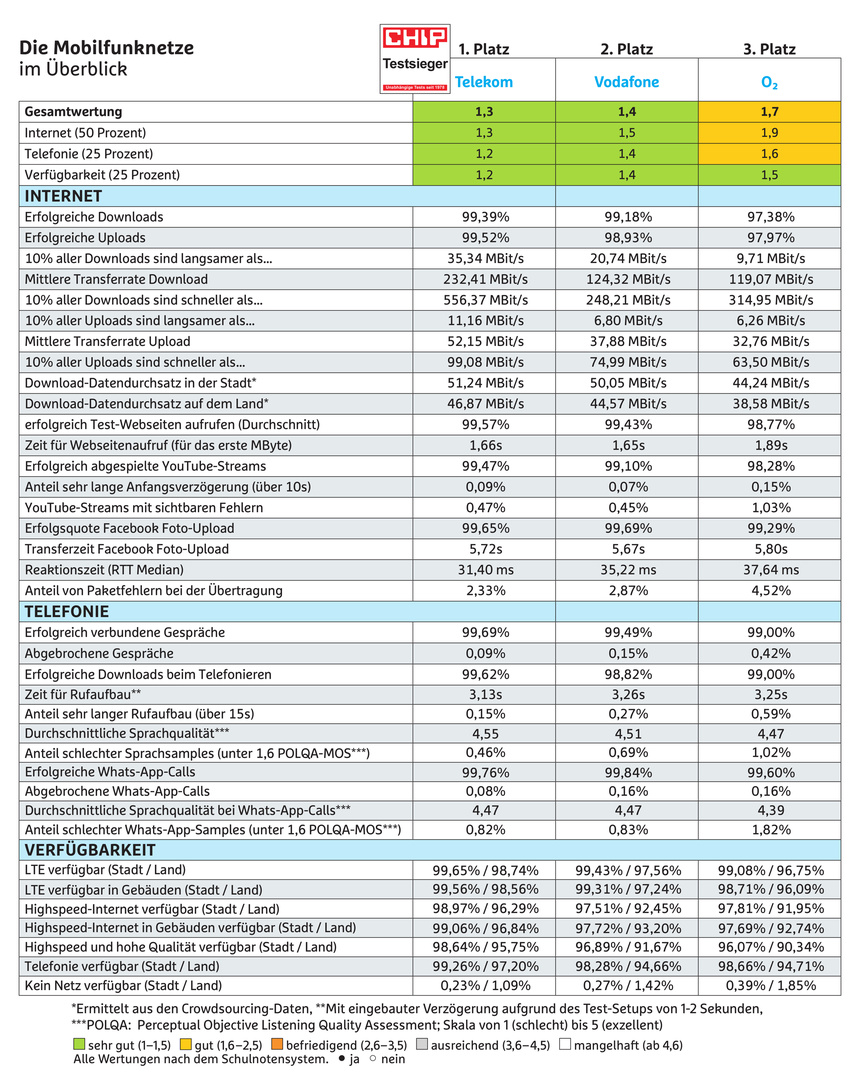 Own measurements and crowdsourcing
Measured values ​​from the company Net Check and crowdsourcing results were evaluated for the network test. For this purpose, Net Check was in the car and on foot and compared the results of 30 Samsung Galaxy S21+ smartphones in the 5G version with the Benchmarker II from Rohde & Scored black. 21 smartphones were installed in the roof boxes of three test vehicles, two of them with smartphones in 5G mode and one with devices that were limited to LTE for a comparison. On foot and on public transport, a Freerider 4 backpack system from Rohde & Schwarz used nine Galaxy S21+ 5G.
In addition, a crowdsourcing evaluation was carried out on 2.5 million smartphones with 3.6 billion data samples with a network coverage of 235,000 km².
Telekom has the fastest LTE and 5G network
With a share of 50 percent, internet connections have the greatest influence on the rating. Telekom has the most successful downloads and uploads as well as the highest average, maximum and minimum transfer rates. The average transfer rate for downloads is 232.41 Mbit/s for Telekom, 124.32 Mbit/s for Vodafone and 119.07 Mbit/s for O2. When uploading, the average is 52.15 Mbit/s for Telekom, 37.88 Mbit/s for Vodafone and 32.76 Mbit/s for O2.
The rating of top speeds is also interesting. At Telekom, 10 percent of all downloads are faster than 556.37 Mbit/s, while at Vodafone this proportion is only faster than 248.21 Mbit/s and at O2 faster than 119.07 Mbit/s. On the other end of the spectrum, 10 percent of all downloads are slower than 35.34 Mbps for Telekom, 20.74 Mbps for Vodafone, and 9.71 Mbps for O2. If the mobile network is slow, Telekom is still the fastest.
5G is fast, especially in the city
< p class="p text-width">In addition to LTE, a separate 5G rating was included in the network test especially for data transfers. Inside and outside of the cities, Telekom has the highest availability and by far the highest speeds. In the cities, 5G availability reaches 91 percent at Telekom, 87 percent at Vodafone and 79 percent at O2. In rural areas, in the same order, it is 83, 80 and 62 percent.
Especially with fast 5G on the newly auctioned frequencies at 3.6 GHz, Telekom is escaping the competition. An average of 486.18 Mbit/s is almost twice as much as 245.56 Mbit/s at Vodafone and 254.26 Mbit/s at O2. 5G on 3.6 GHz is a product for the cities, because outside of this the availability of this frequency is only 13.77 (Telekom), 12.12 (Vodafone) and 11.57 percent (O2). The network test notes that 5G offers clear advantages with good availability, but that LTE is hardly worse under poor conditions.
Mobile radio in long-distance trains remains in place Problem
For the network test, 9,000 km were covered by car for 5G tests and 5,000 km for LTE tests. The testers traveled 1,900 km by train, in which the network quality remains a problem. While the success rate for downloads from all three providers is normally around 100 percent, it drops to around 90 percent (Telekom and Vodafone) and 80 percent (O2) on the train. The proportion of phone calls with poor voice quality increases from 0.46, 0.69 and 1.02 percent to 5.5, 5.9 and 9.7 percent.
The rating specifically for the network quality in long-distance trains, at 2.3 for Telekom, 2.7 for Vodafone and 3.4 for O2, is noticeably below the other ratings.
Yesterday, Connect magazine published its mobile network test and also declared Telekom the winner ahead of Vodafone and O2.
ComputerBase received information about this article from Chip under NDA . The only requirement was the earliest possible publication date.