CES 2023 starts in a month, the first new Asus notebooks reveal the use of new AMD Ryzen processors and also Intel Raptor Lake along with RTX 4000. The latter combination is used in the new ROG Zephyrus M16 suspects that the ROG Zephyrus G14 once again uses all-in AMD hardware.
Asus ROG Zephyrus G14 with AMD Ryzen 7000
The G14 from Asus has been the flagship for AMD notebooks for several years, and it was also able to convince ComputerBase with AMD Ryzen 9 4900HS in 2020 (test) and again with AMD Ryzen 9 6900HS (test) this year. The fact that the new edition will be launched in 2023 is no surprise, but actually already set. And the appropriate listings (and here) and the first images underpin this.
specsheet.

Can't read properly.

R7 7735HS, R7 7745HS? What do you think?

R7 7735HS: Zen 3(+)
R7 7745HS: Zen 4 pic.twitter.com/WEVTsB41KK

— 포시포시 (@harukaze5719) November 28, 2022
It is at least clear (without CSI Miami zoom) that a Ryzen 7000 is used, which is compatible with 3.2 GHz clocked in the base. That fits into the picture, the base clock of many Ryzen 6000 in the notebook was also in this range. The hope is that this is a Zen 4-based CPU, such as Phoenix.
Because exactly this new APU is currently being entered into the AMD software ROCm, as entries on Github underpin. AMD had already confirmed the existence of this APU in May of this year and also set the start date for early 2023. All these indications ultimately suggest that such a solution could be installed here, the start is expected as part of AMD CEO Lisa Sus keynote at the start of the CES on the night of January 5th German time.
< figure class="image text-asset text-asset--with-border-bottom text-width">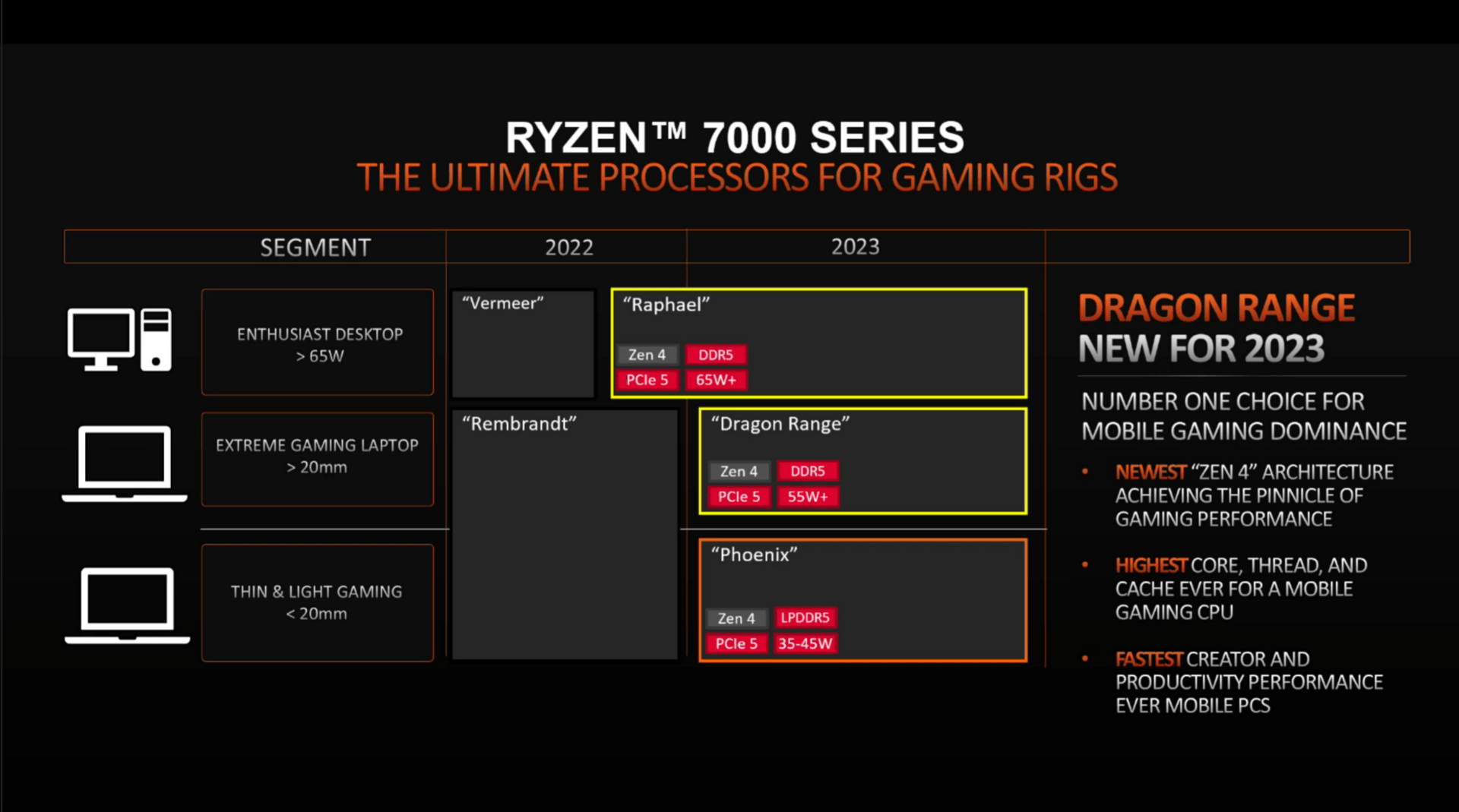 AMD with Dragon Range and Phoenix (Image: AMD)
ROG Zephyrus M16 with Raptor Lake and RTX 4000
At Asus, the ROG Zephyrus M16 stands for maximum performance in the Intel/Nvidia combination. It is currently called Core i9-12900H plus RTX 3080 Ti. For the new edition at CES, the innovations are therefore expected here, which will be revealed right there: Intel Raptor Lake for the notebook as well as the Nvidia GeForce RTX 4000, which is supposed to celebrate its entry. Many traces of the new Intel notebook CPUs have recently been seen, and the launch of new Nvidia mobile solutions is at least obvious, although not confirmed.
Product pic pic.twitter.com/udsWm4dFpo

— 포시포시 (@harukaze5719) November 28, 2022