Amazon evaluates the 3rd generation Fire TV Cube with HDMI input, tri-band WLAN with Wi-Fi 6E, AV1 support, USB port with NTFS support and LAN -connector clearly on. The Alexa voice control is unbeatable and can also control connected devices if desired. Only Google Cast and Apple AirPlay are still missing.
Table of contents
HDMI input for controlling external devices
USB port for storage and webcam

NTFS USB sticks are supported
Play video files larger than 4GB
Merge apps to external storage
USB webcams for video calling

The Fire TV Cube can AV1
LAN directly in the Cube
Wi-Fi 6E with 6 GHz
Faster hardware for 4K HDR streams

HD in 4K: Super Resolution Technology

Integrated Alexa with microphones and buttons

Smart Home with image

Wirelessly connect Echo speakers
New remote but not Pro
The new Alexa Voice Remote Pro

Motion-activated backlight
Two programmable buttons
Play sound to find them again

< li>Conclusion
With the new Fire TV Cube (2022), Amazon has launched the third generation of the streaming box, which not only has a new look, but also has significant differences to its predecessor in terms of connections and specifications. The new Fire TV Cube is also the most powerful Fire TV product to date. It can be controlled hands-free with Alexa and supports 4K Ultra HD, Dolby Vision, HDR and Dolby Atmos audio.
In addition to the Fire TV Cube itself, which measures 86 × 86 × 77 mm, the scope of delivery includes an Alexa voice remote control with AAA batteries, an external 15-watt power supply and a quick start guide. An HDMI cable, an IR extender and Ethernet cables must be purchased separately if they are to be used. The Fire TV Cube (3rd gen.) is available for EUR 159.99*. Amazon has already offered it on sale for EUR 139.99.
HDMI input for controlling external devices
The connections of the Fire TV Cube are all placed on the back. In addition to an HDMI output with CEC, the new Fire TV Cube also has an HDMI input with passthrough that can be activated so that other devices such as game consoles or Blu-ray players can be connected via Fire TV. ALLM is also supported, for which image processing functions are deactivated. However, the port is limited to a maximum of 60 Hz, which is why it is not a good choice for the current generation of Xbox Series X and PlayStation 5 gaming consoles. You can switch to the HDMI input using a voice command or a separate menu item on the Fire TV interface. HDMI audio passthrough is also supported up to 5.1.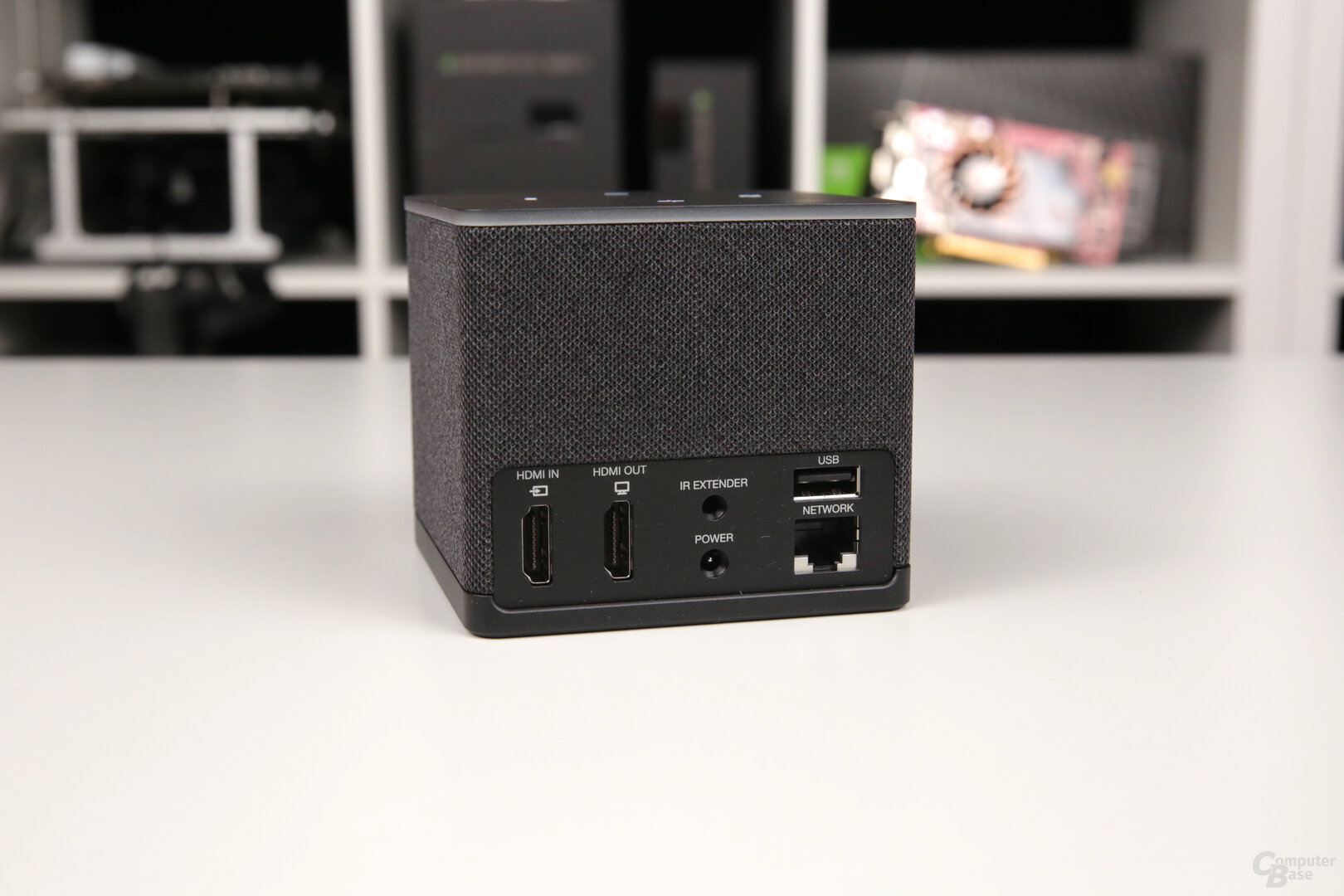 Depending on the connected device, the same can then also be controlled using voice commands with Alexa. This is currently supported for Vodafone, Sky and Deutsche Telekom set-top boxes. After the device control has been set up, the end devices can be controlled with Alexa voice commands and, for example, certain stations can be called up directly. To select a station, you can either state its name or its station number. It is also possible to switch through the list of stations via "One station up/down". There is also media control with pause, play and fast forward and rewind if supported by the content being played. With no IR extender, it's important that the Fire TV Cube and set-top box have line of sight so the Cube can use infrared to control the device. Theoretically, the set-top box can also be controlled in this way without using the Cube's HDMI input, but then the HDMI input of the television or AV receiver must be switched accordingly each time.
Another possibility of the HDMI input is that Alexa overlays can also be displayed when the device connected to the HDMI input is used. The image of the smart ring doorbell can be displayed as an overlay, as well as additional information from Alexa on user queries – such as the weather forecast. >USB port for storage and webcam
The Fire TV Cube also has a USB-A 2.0 port that can be used to connect storage media with videos, photos and audio files. Outsourcing apps is also possible along the way.
NTFS USB sticks are supported
The Fire TV Cube (2022) is also the first Fire TV ever to support external USB storage media with NTFS ex works – in addition to the previous FAT32 standard. No other Fire TV device, with the exception of individual Fire TV televisions, has previously been able to handle drives formatted with NTFS, but have always relied on FAT32 as the file system. It was very difficult to get other file systems to work at all.
If a USB stick using NTFS is connected to the Fire TV Cube via the USB-A port, it will now be mounted like a FAT32 stick as a drive that can be accessed by any app. Previously, an error message was displayed with an NTFS stick and the message that the USB stick had to be formatted. An NTFS-formatted stick could only be used on the Fire TV if an app on the Fire TV itself had the functionality for mounting an NTFS stick, but then only in this one app that mounts the stick itself and accesses it .
Play video files larger than 4 GB
On the new Fire TV Cube, however, files from an NTFS or FAT32 stick can be used in any app that supports external storage. For example, VLC or Kodi can be used to access videos that are stored on the stick and are larger than 4 GB. The new integrated media player from Amazon itself can also easily access the files on an NTFS stick. As soon as the stick is connected, "My files" opens and you can display all files or just the data on the USB stick. It is possible to filter for videos, images and audio using tabs.
APFS and exFAT are still not supported by the Fire TV Cube. Older Fire TV devices could not handle NTFS storage media at the time of the test.
Outsourcing of apps to external storage
It is still not possible to move installed apps to an external storage medium formatted with NTFS. If apps are to be swapped out when the internal memory is full, but you want to install additional apps, the connected storage medium must first be formatted directly via the Fire TV Cube, as before. However, the memory stick can then no longer be used to save your own files on it and then access them via the Fire TV Cube. Outsourced Fire TV apps and your own files cannot be stored on a single stick.
USB webcams for video telephony
The USB port can also be used to connect compatible webcams for video telephony with Alexa contacts. Video calls can be made on the TV and started with Alexa by voice command.
The Fire TV Cube can do AV1
The supported audio, video and image formats of the Fire TV Cube are rich. In addition to Dolby Vision, HDR10, HDR10+, HLG, H.265, H.264 and VP9, ​​AV1 is also at the start. AV1 videos stored on an NTFS USB stick in MP4 format could be played back in the test using the integrated media player without any problems. The audio is AAC-LC, AC3, eAC3 (Dolby Digital Plus), FLAC, MP3, PCM/Wave, Vorbis, Dolby Atmos (EC3_JOC) and Dolby MAT. Photos may be in JPEG, PNG, GIF or BMP format.
LAN directly in the cube
If you want to integrate the Fire TV Cube into the network with a cable and connect it to the Internet, you can use the LAN interface, which, however, only works with up to 100 Mbit/s. However, Amazon no longer relies on a micro-USB connection and an Ethernet dongle. The third-generation Fire TV Cube does not offer a slot for microSD cards. This was previously reserved for the second generation of the Fire TV, which is no longer available. In addition to the power connection, there is also a connection for an IR extender on the back to control devices via the cube that are in a closed TV rack and cannot be reached directly by its IR signal. For example, the television can be switched on with a voice command via the Cube's IR blaster.
Wi-Fi 6E with 6 GHz
< p class="p text-width">Another innovation is the support of the new WLAN standard Wi-Fi 6E. The Fire TV Cube (2022) thus masters tri-band WLAN with 2.4 GHz, 5 GHz and 6 GHz according to 802.11a/b/g/n/ac/ax. In order to be able to use Wi-Fi 6E in the 6 GHz band, you need a suitable router or access point that already supports this standard. Since the frequency range is exclusive to Wi-Fi 6E with 6 GHz, it is not shared with older standards, which ideally ensures a higher transmission speed.
The Fire TV Cube also comes with Bluetooth 5.0 LE, so that headphones, for example, can be connected directly to the streaming device. Like the second generation, the Fire TV Cube again supports audio streaming for hearing aids (ASHA) to use compatible Bluetooth hearing aids.
Faster hardware for 4K HDR streams
The new Fire TV Cube relies on an octa-core SoC, with four cores clocked at 2.2 GHz and four cores at 2.0 GHz. The unspecified GPU clocks at 800 MHz. The RAM is 2 GB, the internal memory of the Fire TV Cube offers 16 GB. The internal memory that is available to the user without installed apps for content is 12.62 GB (with Fire OS version 7.6.1.3 used in the test).
Compared to the Fire TV Stick 4K Max, the third-generation Fire TV Cube is slightly faster in everyday use when comparing directly. However, the loading time of streaming apps such as Netflix is ​​not noticeably reduced.
HD in 4K: Super Resolution Technology
With Super Resolution technology, the Fire TV Cube can convert HD content to 4K for improved picture quality. It is enabled by default in the picture settings. Whether this is preferable to TV upscaling also depends on the quality of the TV. In the test, there was no visible difference when super resolution was activated.
Integrated Alexa with microphones and buttons
While models like the Fire TV Stick 4K Max make the voice assistant Alexa accessible via the remote control, the Fire TV Cube still offers a directly integrated voice assistant. The light ring known from Alexa is placed on the upper edge and four microphones on the top. In addition, the Fire TV Cube has the buttons for volume control, activating Alexa and muting the microphones that are familiar from Alexa speakers. Voice output is through a speaker in the Fire TV Cube when the TV is off or not connected, but the Cube cannot be used as a speaker replacement. Music cannot be played through the internal speaker, so the test person does not replace an Echo Dot. If the TV is switched on, the sound is output from the TV set via HDMI, with a suitable cover and playback control also being displayed on the TV depending on the provider. Amazon Music also shows the lyrics.
Many functions can also be controlled purely by voice. In addition to switching the television or AV receiver on and off, you can also navigate and scroll in the interface and start apps by voice. Here Amazon continues to offer the most and best implemented options to avoid having to reach for the remote control.
It can only become a problem if the Fire TV Cube is not the only Alexa device in the room, as you usually sit a little further away from the Cube. In the test, an echo speaker in the room sometimes reacted, but it cannot process all commands. In this case, there is no recognition that there is a cube in the same room that could execute the command. Theoretically, another Alexa device can also be linked to the Cube in the Alexa app, which can then control it. In addition, the activation word can only be changed for the Cube from Alexa to Amazon, Computer or Echo to avoid such problems.
Smart Home with Image
The integrated Alexa in the Cube not only allows you to use all the functions that are also available on an Echo or Echo Dot, but thanks to the connection to the television, for example, the live image from a video camera can also be displayed. If you use a video doorbell or video camera that is connected to Alexa via a skill, "Alexa, show me the front door" or "Alexa, show me Argus 3 Pro" can be used to display your live image. The camera image can be displayed in full screen mode or as a picture in picture, all of which can be switched by voice command.
Wirelessly connect echo speakers< /h2>
Not new, but still worth mentioning, is the ability to wirelessly connect one or two Echo speakers to the Fire TV Cube to play sound through them instead of the TV. In connection with a sub, for example, two Echo Studio with a sub and the Fire TV Cube can be used as a 2.1 system for playback. The Cube – and otherwise only the Fire TV Stick 4K Max – also supports HDMI-In and TV sources.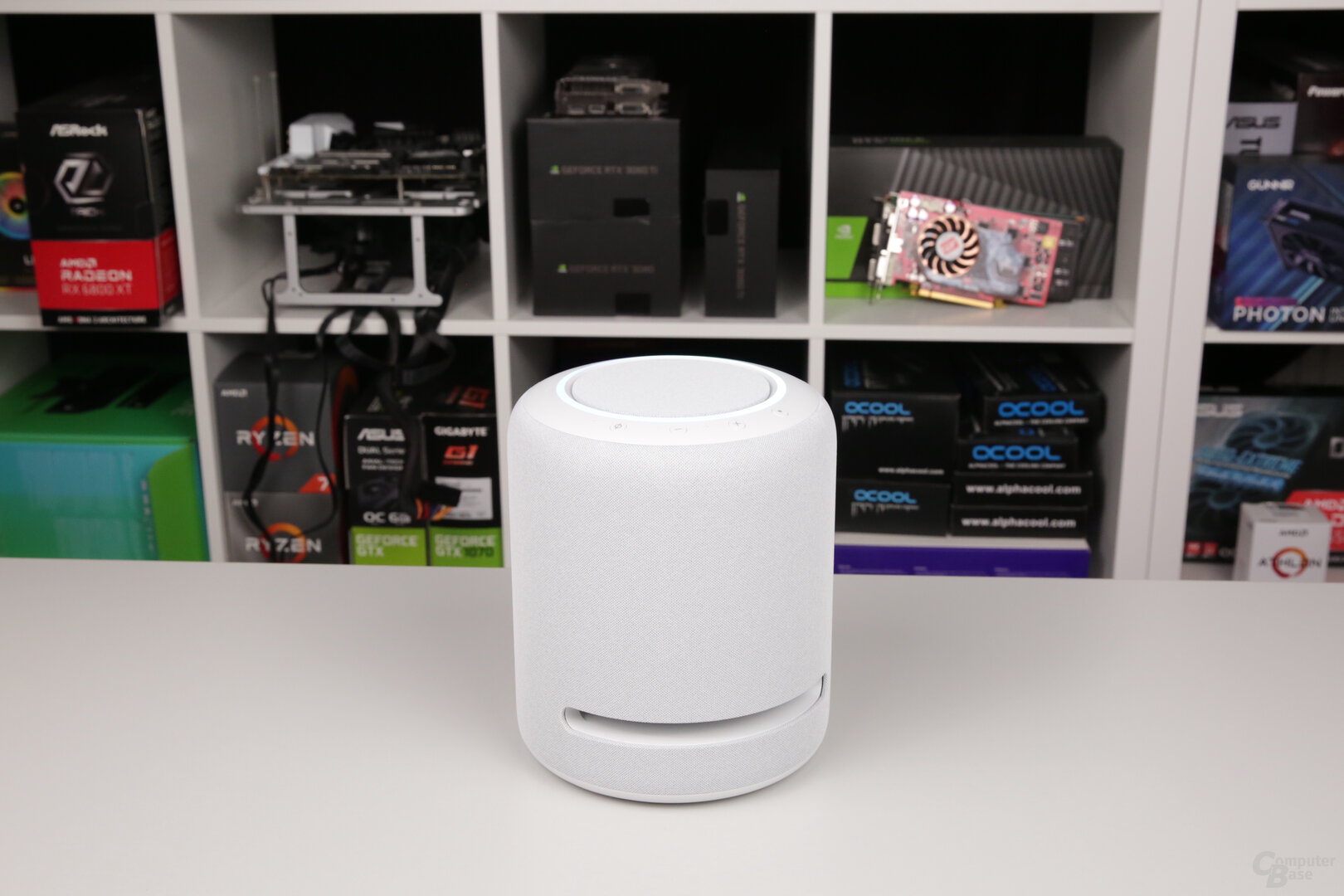 In addition to the Echo Studio, which is best suited for this task, the models Echo Plus (2nd generation), Echo (3rd generation), Echo (4th generation), Echo Dot (4th generation), Echo Dot with Clock (4th Gen), Echo Dot (5th Gen), and Echo Dot with Clock (5th Gen) supported.
New remote but not Pro
Amazon has also given the new Fire TV Cube a new Alexa voice remote control. It's slightly longer than the Fire TV Stick 4K or 4K Max, for example, in that it offers buttons for settings, quick channel changes and switching to the last content in addition to the four buttons for Prime Video, Netflix, Disney+ and Amazon Music. This Alexa voice remote control does not allow the user to change the button assignment.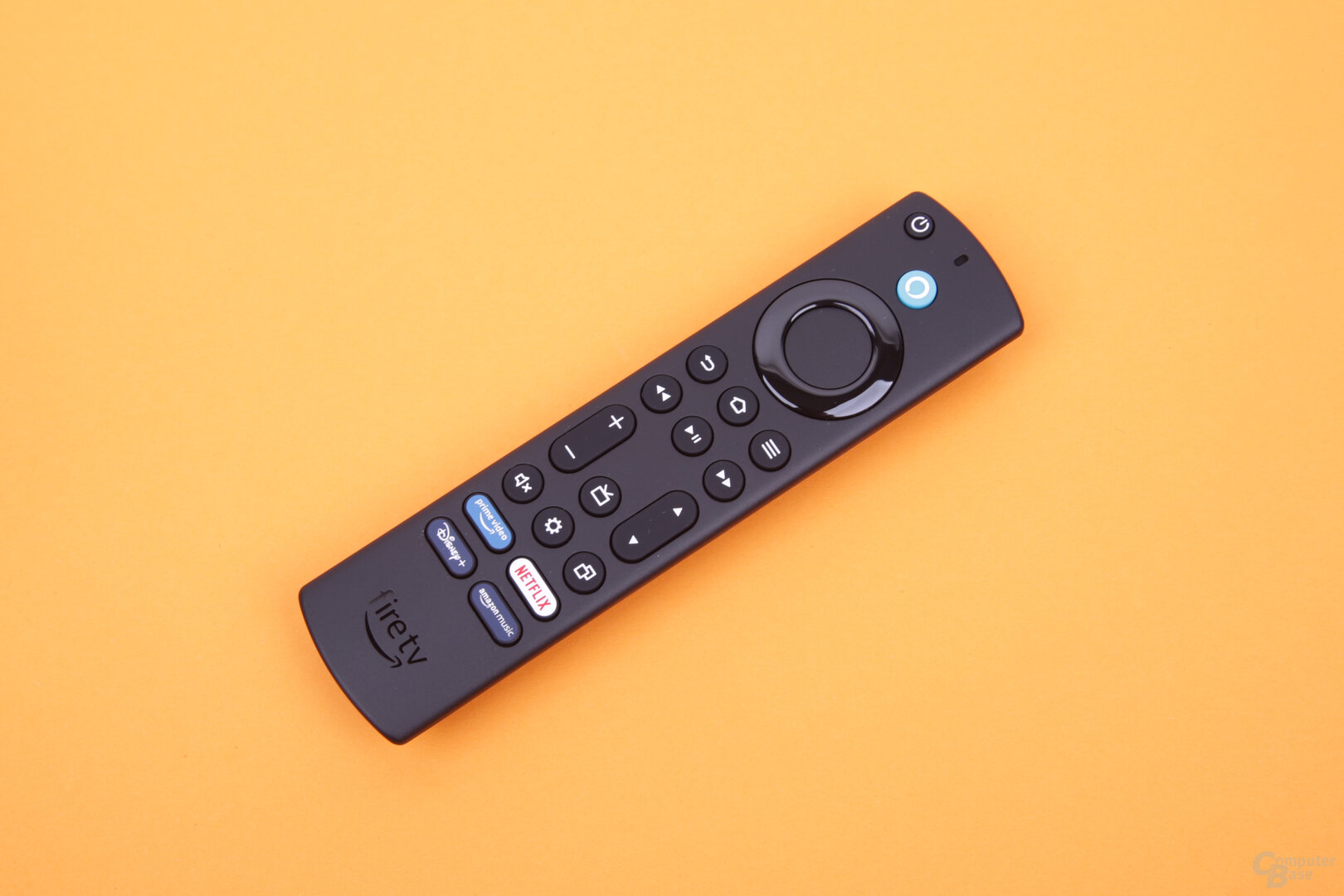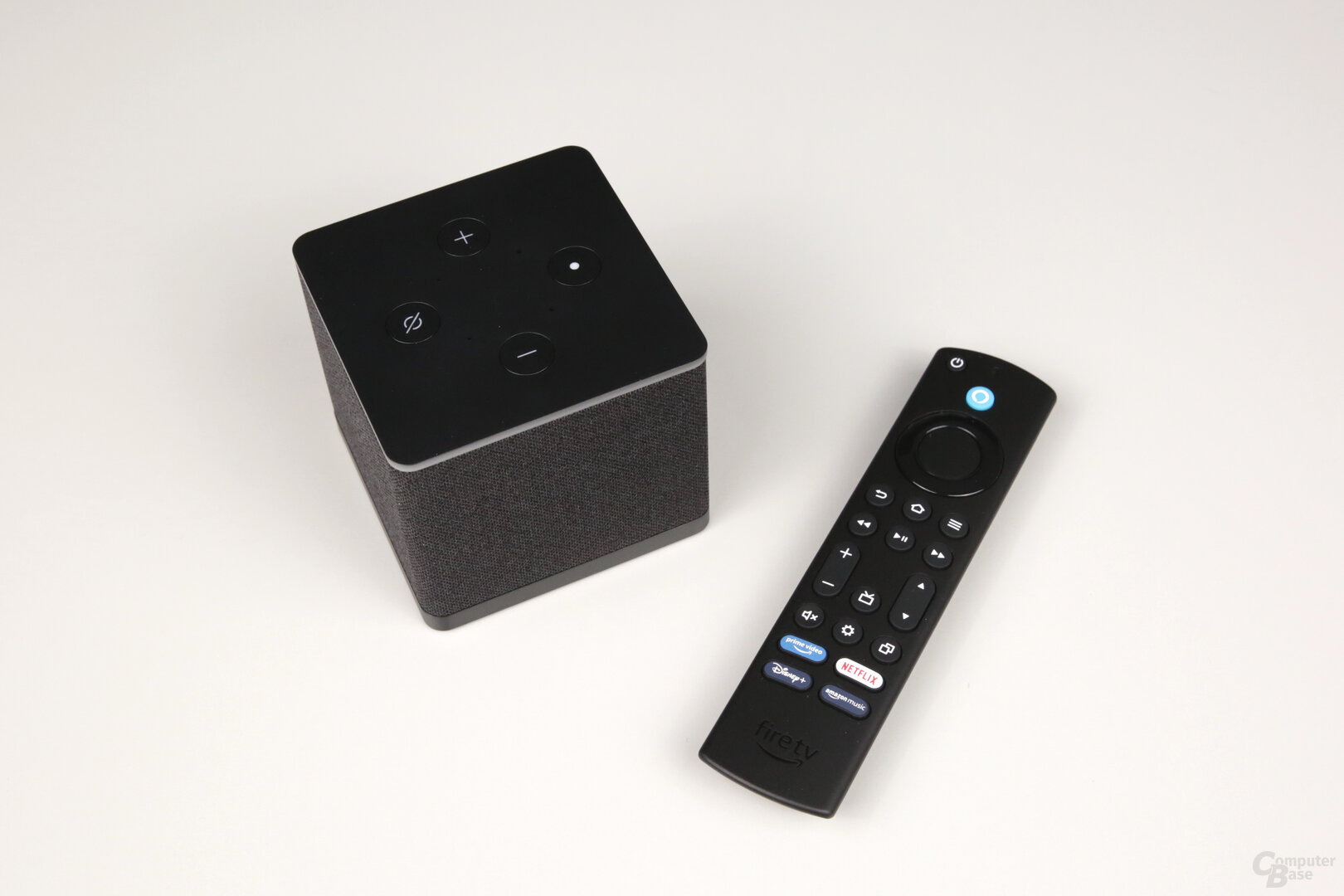 The new Alexa Voice Remote Pro
It doesn't come with the new Alexa Voice Remote Pro, which adds new features like Remote Finder if you've misplaced your remote, programmable buttons, and motion-activated button backlighting. It is available separately for around 40 euros*. ComputerBase was able to try it out when testing the new Fire TV Cube. The remote control measures 38 × 148 × 18 mm and weighs 54 g without batteries. Two AAA batteries are required for operation, so it does not rely on a permanently integrated battery.