After the release of the final version of Windows 11 2022 alias 22H2, work on the experimental builds for insiders continues. Insider Preview Build 25252 has been released in the Dev Channel, bringing new icons and designs to the taskbar. However, Microsoft does not guarantee implementation.
Returning from Thanksgiving vacation
The Microsoft development team is back after a break over the Thanksgiving holiday and has released Windows 11 Insider Preview Build 25252 on the Dev Channel. In the Dev Channel, the company presents experimental functions, gets feedback, but sometimes withdraws these changes again. The development branch must be considered separately from the Beta Channel, which can sometimes receive new functions before the Dev Channel. Additionally, leveraging a release from the Dev Channel does not automatically legitimize the availability of new features, as Microsoft often conducts A/B testing among Insiders.
New icon for VPN connections
If played out to the user, Windows 11 Insider is presented Preview Build 25252 with a new icon for VPN connections in the taskbar. The active network connection is now adorned with a sign in the accent color of the operating system as soon as a VPN is used. Microsoft explains how to create a VPN profile and connect via a VPN in the support area.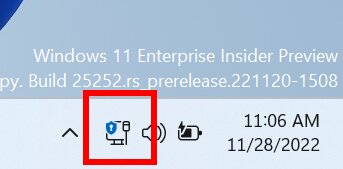 New designs for the search
Microsoft is presenting two new designs for searching, which are integrated into the taskbar as an elongated rectangle and in the form of a pill. Windows 11 currently uses a search that opens after clicking on the magnifying glass and then continues in the start menu. Microsoft is collecting feedback in the Feedback Hub for the two new themes that can be defined in the Personalization and Taskbar settings.

Windows 11 Insider Preview Build 25252 also comes with some bug fixes, for example for Explorer, the battery icon, the taskbar optimized for tablets and their use on 2-in-1 devices. In addition, it could happen that folders in the start menu could not be opened on the first attempt. Microsoft also regularly includes bug fixes in the Dev Channel in the regular service updates for Windows 11. Since this is an experimental build, the manufacturer also warns about a number of bugs on the blog.
Beta channel with support for new ones Braille displays
In the Beta Channel, Microsoft released Windows 11 Insider Preview Build 22621.1020 and 22623.1020 at the same time, with the latter version deactivating new features by default. Users of the previous build 22622 will be migrated to build 22623 via an enablement package. Anyone assigned Build 22621.1020 without the new features from Microsoft can check for updates in Windows Settings and switch to Build 22623.1020 manually.
The Windows 11 Insider Preview Build 22623.1020 primarily brings support for new Braille displays for people with visual impairments. Support is now available for the APH Chameleon, APH Mantis Q40 and NLS eReader. More screens are listed in detailed documentation on the subject.