Silverstone has a small micro-ATX tower that combines a mesh front with a 5.25″ bay. The case uses the classic layout of the 2000s, in which the power supply unit is also used for ventilation.
The power supply, which may only be 140 millimeters long, is right above the motherboard. The fan of the power supply is therefore above the CPU cooler, which in the Fara 311 can only be a maximum of 156 millimeters high. In addition to the power supply, there is a 120 mm fan in the rear to ventilate the tower. In addition, two more fans or a 240 mm radiator can be attached to the front.
Although graphics cards can be 354 millimeters long, even if front fans are used, their width must not exceed 161 millimeters. That may not be enough for a GeForce RTX 4090 with a large cooler. However, the Fara 311 doesn't seem optimally equipped for graphics cards of this performance class anyway: Since only four expansion slots are available, the fans of gigantic graphics cards are pushed close to the closed case bottom, whose only holes are used for attaching a hard disk.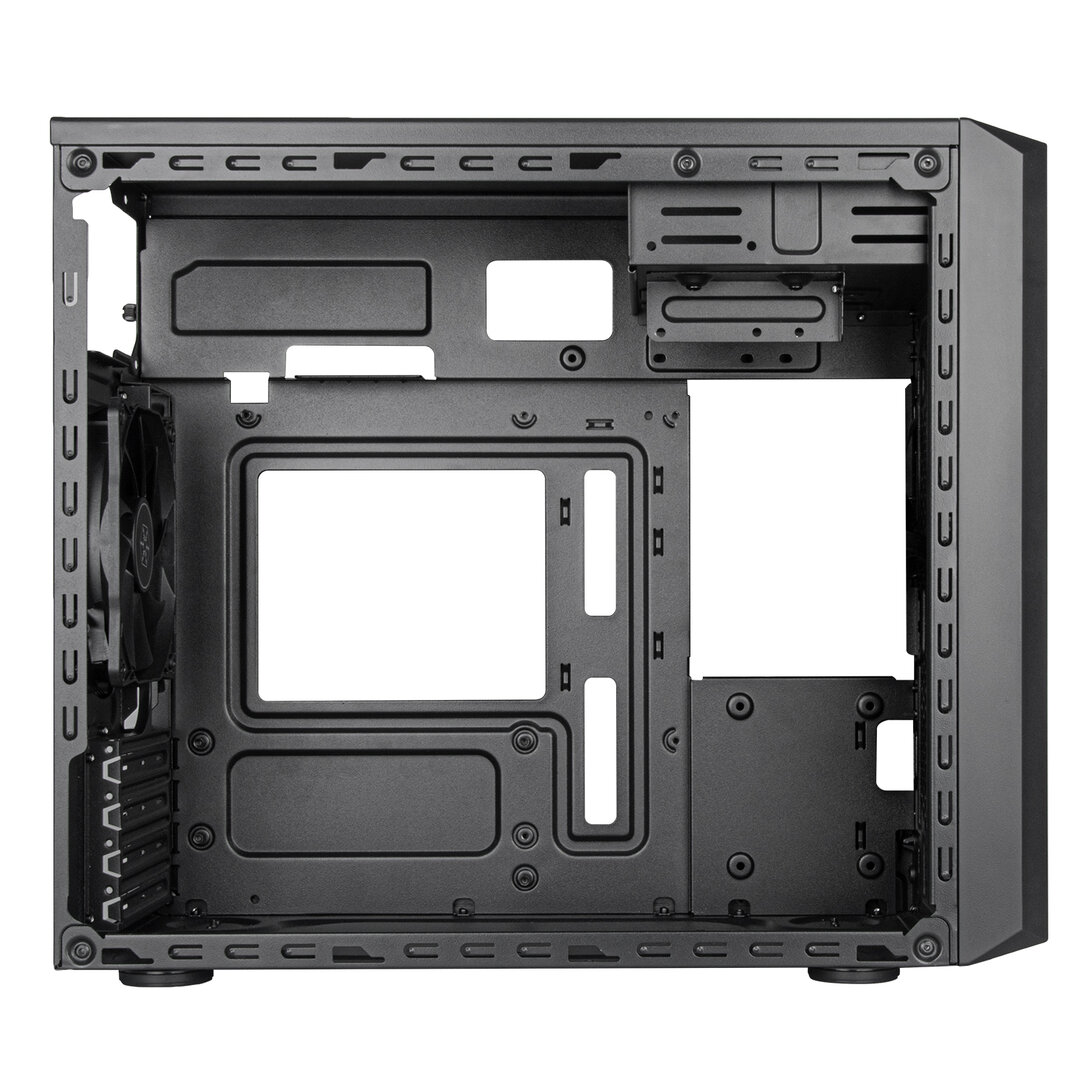 The Fara 311 distributes hard disks on all corners. A 2.5/3.5″ HDD can be installed instead of the 5.25″ drive, another HDD on the bottom of the case, where it is screwed from the bottom. A 3.5″ data carrier fits under the 5.25″ bay, a 2.5″ hard drive in front of the mainboard tray.
Save for the price
All drives have to be screwed into the housing, Silverstone saves brackets or quick-release fasteners. In addition to two USB 3.0 ports, the I/O panel has a combined audio port and a single USB 2.0 slot. Cable management is exclusively one-sided: Based on the product images, the manufacturer leaves little space for cables or hardware behind the mainboard tray. In return, the price remains comparatively low, because the Fara 311 is currently around 65 euros plus shipping costs in retail.
Silverstone Fara R311 Mainboard format: Micro-ATX, Mini-ITX Chassis (L × W × H): 360 × 183 × 410 mm (27.01 liters) Material: plastic, steel Net weight: 3.48 kg I/O ports/other: 2 × USB 3.0 (USB 3.2 Gen 1), 1 × USB 2.0, HD audio slots: 1 × 5.25″ (external)
1 × 3.5″/2.5″ (internal)
1 × 3.5" (internal)
1 × 2.5" (internal) Expansion slots: 4 fans: Front: 2 × 140/120 mm (optional)
Rear: 1 × 120 mm (1 × 120 mm included) Dust filter: – Compatibility: CPU cooler: 156 mm
GPU : 354 mm
Power adapter: 140 mm Price: from €65