With GDDR6W, Samsung has introduced a memory innovation for graphics cards that can close the gap to HBM. Thanks to stacking, the chips can offer twice the memory bandwidth, while at the same time the capacity can also be doubled. The air will then become thin for HBM.
HBM's biggest advantage so far has been the unrivaled bandwidth, the biggest disadvantage is the small capacity and the high price. GDDR6 clearly has a bandwidth disadvantage, but was able to convince in terms of capacity and price. GDDR6W should now close the gap in bandwidth while doubling the capacity at the same time, but probably also be a bit more expensive than GDDR6 in terms of price. Broken down to a complete system, for example a graphics card, GDDR6W can be an alternative to the most modern HBM2E. The manufacturer emphasizes that the GDDR6W can also do without a major cost driver, an interposer, as is often necessary with HBM.
The technical basis for GDDR6W is a new stacking method. Fan-Out Wafer-Level Packaging (FOWLP) is what Samsung calls this, and a diagram makes it clear what the advantages are over conventional GDDR6. With additional chips, which ultimately account for the increased capacity and doubled bandwidth, Samsung has created a package that is actually 36 percent smaller than the original GDDR6 package.
FOWLP technology directly mounts memory die on a silicon wafer, instead of a PCB. In doing so, RDL (Re-distribution layer) technology is applied, enabling much finer wiring patterns. Additionally, as there's no PCB involved, it reduces the thickness of the package and improves heat dissipation.
Samsung emphasizes that the thermal and performance parameters of GDDR6 are observed. JEDEC also came to the conclusion that the memory there was already certified in the second quarter.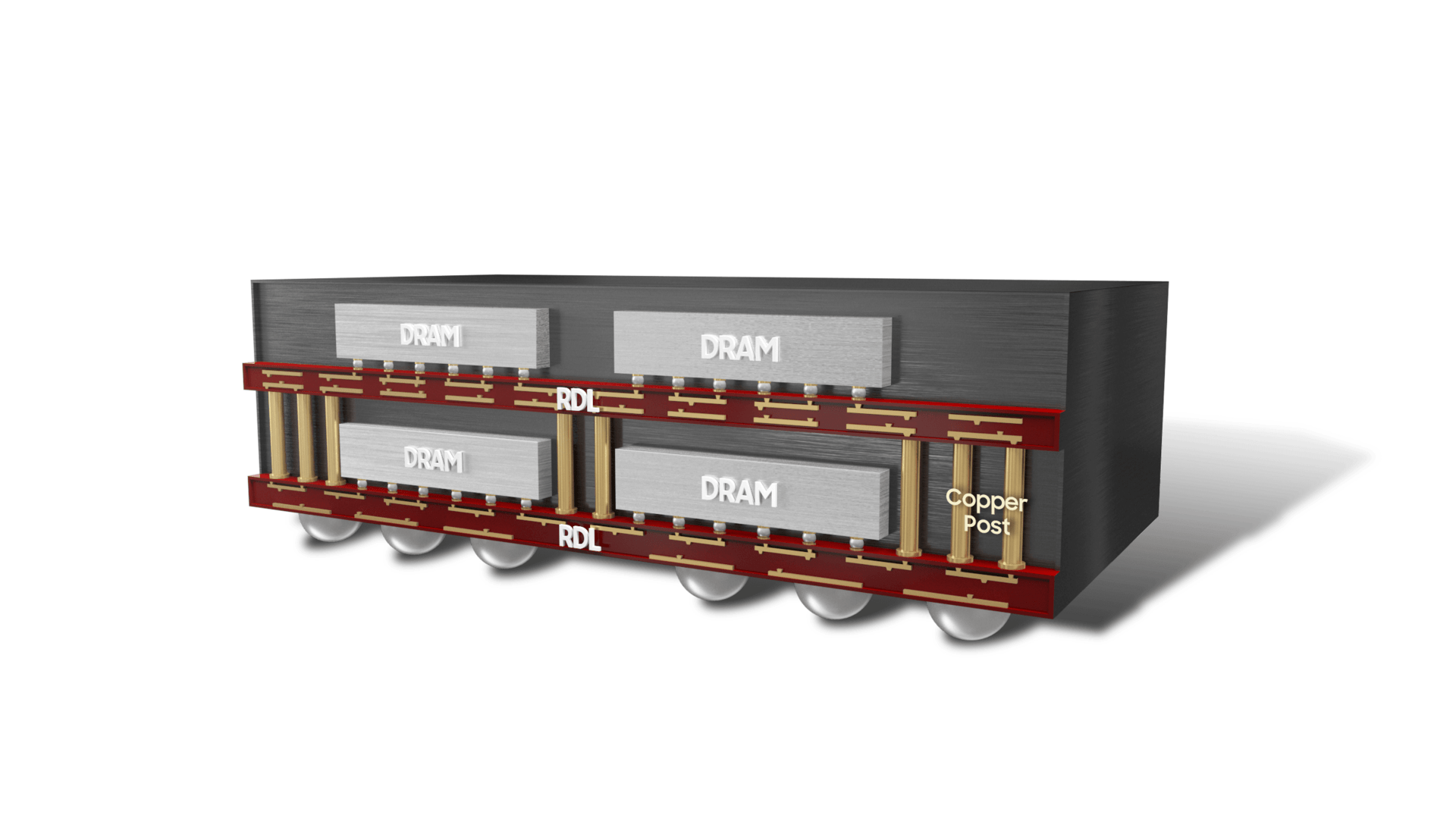 Named as potential customers Samsung naturally offers high-end graphics cards and accelerator solutions for artificial intelligence and the HPC segment, but also small form factor systems (SFF) such as notebooks that could benefit from the new memory. The former is to be developed in cooperation with a GPU partner, Samsung explains at the end of the presentation. The biggest bonus for the industrial implementation of GDDR6W is said to be the simple adaptation: anyone who is already using GDDR6 can quickly switch to GDDR6W.
Thanks to the unchanged footprint, new memory chips can easily be put into the same production processes customers have used for GDDR6, with the use of the FOWLP construction and stacking technology, cutting manufacturing time and costs.