In its annual mobile network test, Connect magazine chose Deutsche Telekom as the clear winner, awarding it the grade "outstanding" for the first time. However, Vodafone and O2 also do "very well" and show improvements despite stricter criteria. O2 in particular has significantly increased data.
For its test, the magazine carried out so-called drive and walk tests and collected further data via crowdsourcing. The own measured values ​​should cover around 21.6 million inhabitants, include around 25,000 km in the drive test, almost 424,000 data and 63,000 voice samples. A total of around 102 million residents were recorded via crowdsourcing because tests were also carried out for Austria and Switzerland. The winners there are Magenta and Swisscom.
All providers are at least "very good"
In a German comparison, Telekom maintained its leading position with 952 out of a possible 1,000 points and thus achieved the grade "outstanding" for the first time. It is followed by Vodafone with 915 points and O2 with 894 points, each with a "very good".
Telekom almost perfect when making calls< /h2>
In the language discipline, Telekom achieved an almost perfect result with 266 out of 270 points and impressed with a rating of 99 percent of the possible points in both the drive and walk tests. Vodafone achieves 95 percent in each case, O2 even 96 and 98 percent respectively, with which the network operator is named as an "interesting telecom alternative for frequent drivers", since a better result is achieved with 94 percent on connecting roads than with Vodafone with 92 percent. Telekom has 97 percent in this area. Small towns were only checked with drive tests, which resulted in 100 percent for Telekom, 97 percent for Vodafone and 95 percent for O2.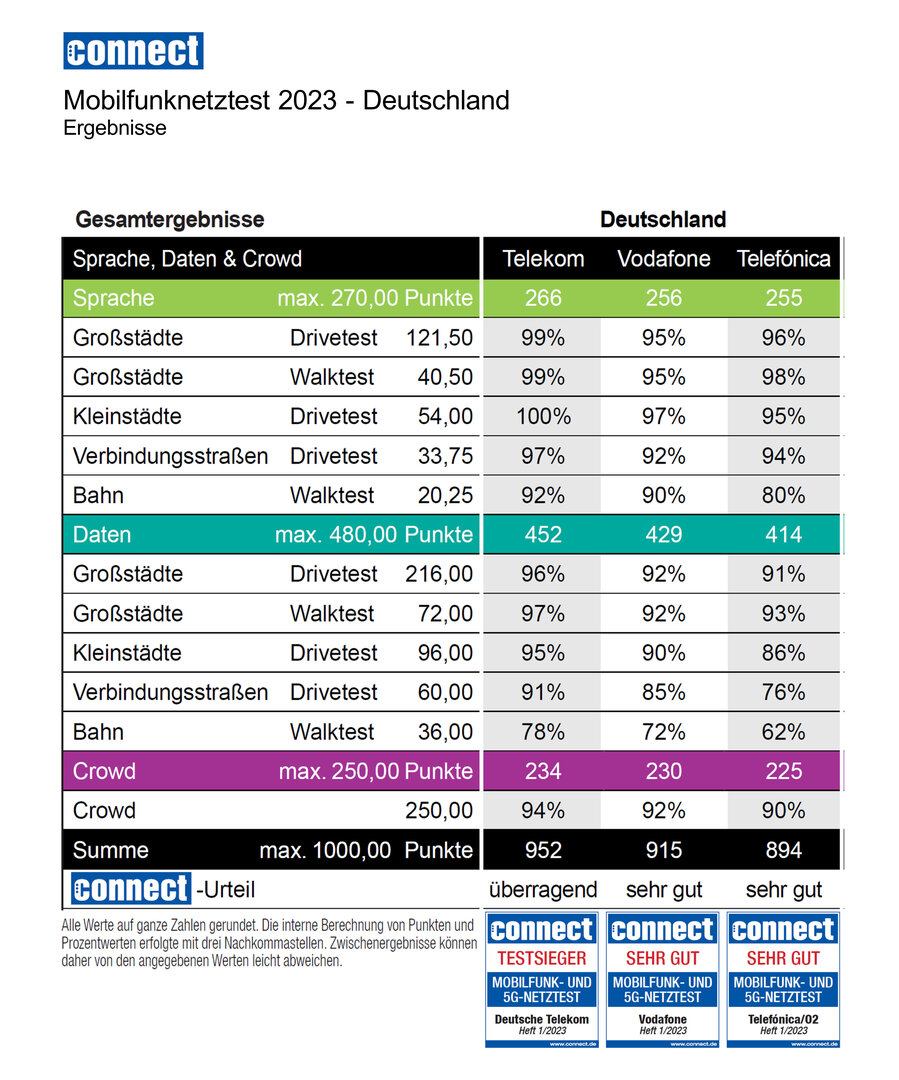 Telephoning on the train remains a weak point for all providers, although here too Telekom claims the lead with 92 percent of the maximum possible number of points. Vodafone achieves 90 percent, while O2 only reaches 80 percent and thus comes to the previous year's level. On the other hand, the rail service provided by the Swiss network operators is praised as "exemplary".
Telekom has the fastest data connections
At 480 out of 1,000 points, data accounts for the largest share in the network test. Here, too, there were drive and walk tests in large cities, drive tests in small towns and on connecting roads, and additional tests on the train. Galaxy S21+ and S22+ devices were used for the tests, which were set to "5G preferred" for the measurements. Telekom once again played to its advantage and scored 452 out of a possible 480 points. Vodafone has a bottom line of 429 points, and O2 has 414 points for data discipline. Telekom primarily wins with high basic data rates in the lower range and high peak values. However, all three German network operators have made good progress with their 5G expansion, O2 in particular has grown significantly.
All network operators are sagging on the train from
In the big cities, Telekom scores 96 and 97 percent of the possible points for driving and running, while Vodafone scores 93 percent each and O2 91 and 93 percent, respectively. The drive tests in small towns certify Telekom 95 percent, Vodafone 90 percent and O2 only 86 percent. The same order continues on the connecting roads with 91, 85 and 76 percent. In the train, on the other hand, all network operators sag and only come to 78 percent (Telekom), 72 percent (Vodafone) and 62 percent (O2) of the possible points. However, the magazine notes that numerous route renovations have often taken the trains off their main routes, which are better served by mobile communications. However, there are minor improvements for all three network operators compared to the previous year.
The publication of the mobile network test by Chip magazine is expected tomorrow, which compared to the Connect will take a detailed look into many metrics.