Subaru Solterra completes the invasion of electric SUVs that have been among the main protagonists of 2021. clear that the road of the SUV is; the one that convinces the most; people, but if many competitors have chosen the strategy of SUV shapes but with a ground clearance that is not; then so; huge, Subaru & egrave; among the very few who still believe in a car with good approach, breakover and departure angles; and with 21 cm of ground clearance to tackle any obstacle.
FIRST TEST ON THE ROAD (AND OFF-ROAD)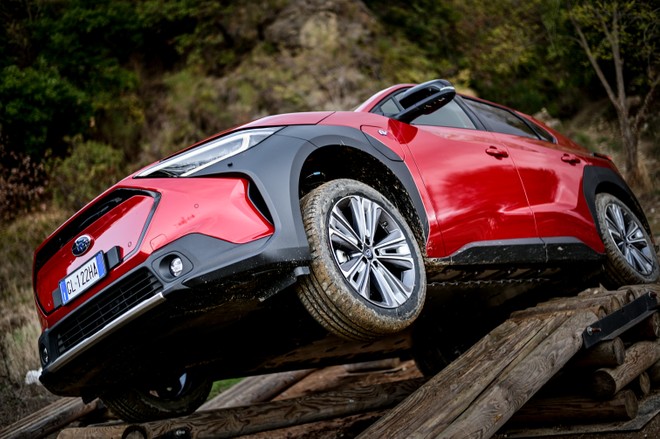 And he's not entirely wrong: assuming you really want to go off-road, doing it with an electric car is the best choice. the best way technically, because; electric motors have a lot of torque and can be managed digitally with greater precision and with more time. immediacy compared to a mechanical all-wheel drive which necessarily has a delay in response due to the mechanical transmission. Here the breakdown of the torque takes place instantaneously by activating more of the torque. or less the 80 kW electric motors, a perfectly balanced system in terms of power (total 160 kW, 218 HP) with a torque of 168.5 Nm each (336 Nm overall).
These are not truck data, by now we are used to seeing 600/800 Nm on many electric cars, but let's not forget that these are figures that are perfectly in line with medium-sized diesels and that they are enough to give a brilliant drive on the road, excellent when shooting and abundantly capable of moving the two tons of this car in the off-road.
On the off-road route, in fact, it is impressive to note how the digital traction management, with absolutely road-going original equipment tyres, it is such as to make the car move forward on a surface with poor grip, even uphill and with a trickle of gas that allows it not to skid while wearing totally unsuitable shoes! Subaru will have also borrowed the platform and engines from Toyota (actually, the project is joint and not a re-branding), but for the off-road part, he put his own and the The implementation proves it. Even the choice of tires confirms the more open-minded attitude. off-road, with /60 tires on 18″ and /50 on 20" to have a high and not narrow shoulder like many purely road SUVs.
The alliance between Toyota and Subaru provides for a 50:50 contribution between the two manufacturers. Toyota provides the TNGA platform, electrification and technology while Subaru takes care of the all-wheel drive, safety and dynamic behavior part of the car. With Solterra, specifically, Subaru & egrave; went to work on the steering feeling, on the suspension setup and on the braking behavior.
Still on the subject of numbers, while far from the world of old-school off-road vehicles, Solterra offers interesting characteristic attack angles: 17.7° attack angle, 18.2° bump angle ; and exit angle of 25.4°.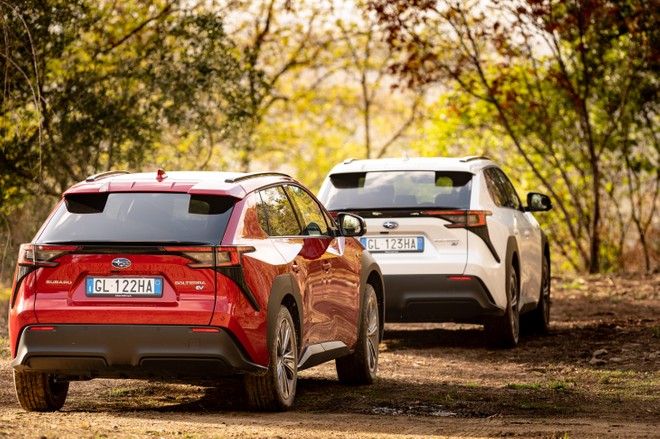 Since this is a first test, it is necessary to missed the opportunity; to balance the paths, specifically it is; the city part was almost absent, favoring off-road, motorway and extra-urban areas. For this reason, consumption is more; higher than usual, with an extra-urban average of 23 kWh/100 km with lots of uphill and downhill curves, and a motorway + extra-urban average of 24 kWh/100 km. Approximately 300 km of real range in winter under the conditions described above, even if a journey exclusively on the motorway raises consumption (the car itself is high off the ground and the aerodynamics are that of an SUV) and brings us around 26-27 kWh/100 km (250/270 km of autonomy).
Fluid, complete and connected infotainment with the Instrumentation app partially covered if you are very tall. uploads/5c2d6030d3b096aa7ac80e3e203d8b0b.jpg" />
TECHNIQUE
MOTOR: two permanent magnet synchronous electric motors
POWER: 160 kW, 218 HP
TORQUE: 336 Nm
TRACTION: All-wheel drive
SUSPENSION: MacPherson front, double wishbone rear

< li>BRAKES: 4 discs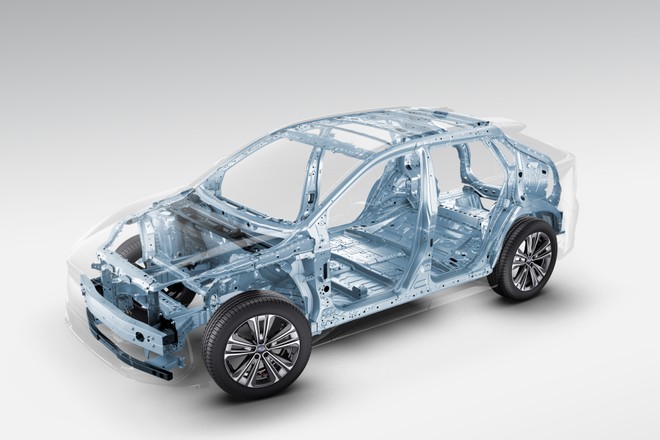 DIMENSIONS
LENGTH: 4,690 mm
WIDTH: 1,860 mm
HEIGHT: 1,650 mm
WHEELBASE: 2,850 mm
GROUND CLEARANCE: 210 mm
BOOT: 452 litres
WHEEL WHEELS: 18″-20″
TIRES: 235/60 R18, 235/50 R20
WEIGHT: 2,010 kg in running order
BATTERY: 71.4 kWh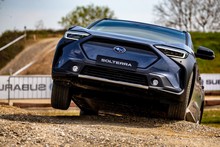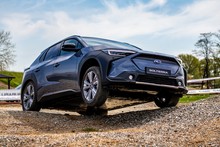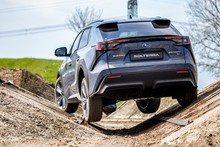 PERFORMANCE
SPEED; MAXIMUM: 160 km/h
ACCELERATION 0-100 km/h: 6.9 seconds
FUEL CONSUMPTION: 16.7 – 20.2 kWh/100 km (WLTP combined)
CO2 EMISSIONS: 0 grams per km (WLTP combined)
TURNING RADIUS: 5.6 meters
AC CHARGING: 7 kW
DC CHARGING: max 150 kW
DECLARED AUTONOMY: up to 464 km
WARRANTY: 8 years/160,000 km at 70% (battery)
PRICE: from 59,900 euros
PRICES AND EQUIPMENT
Two trim levels, 4E-xperience and 4E-xperience+. The choice of a very similar name for both makes it clear that philosophy is the essence of philosophy. once again that of the "full optional", a strategy used by many electrics. You pay more, there's no chance. an entry-level low on equipment, but you have it all.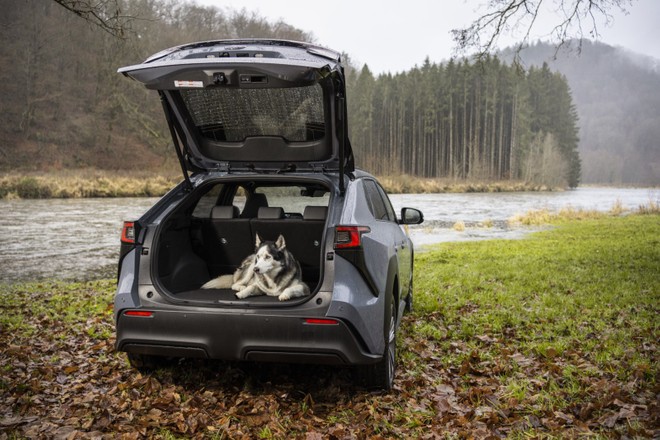 In fact, 4E-xperience includes 18″ alloy wheels, strongly recommended both for lower fuel consumption and for off-road use, driver's seat with electric adjustment, 12.3″ display. with navigator, heated front seats, mode; driving, S-PEDAL Drive (Subaru's one-pedal driving), telematics for connecting to the app and Subaru Safety Sense, the ADAS suite for Level 2 semi-autonomous driving.
< p>4E-xperience+ adds 20″ rims, panoramic roof, synthetic leather seats, Harman Kardon system, driver's seat memories, wireless charging for smartphones and heated steering wheel and rear seats. The goal of these packages is to that of going to place it among the best in the price/equipment ratio in the world of electric SUVs, net of any discussion on autonomy and performance.
SUBARU ONLINE CONFIGURATOR
VIDEO
The 5G smartphone for everyone? Motorola Moto G 5G Plus, buy it at the best price from Amazon Marketplace for 251 euros.