Deepcool's new AG series tower coolers consist of four models that cover a wide range of different sizes, performance categories and prices. The coolers betray their origin with their fin design in a "chessboard pattern", which creates a 3D structure.
Simple boxed upgrade
At the lower end of the spectrum is the AG200, which currently costs 14 euros and is an upgrade to boxed coolers from CPU manufacturers. It has two heat pipes and a 92 mm fan, which should be able to handle a TDP of up to 100 watts. The high maximum speed of 3,050 rpm helps to achieve this goal. It is mounted on AM4 and AM5 motherboards using AMD's standard bracket. Intel uses a plastic frame with push pins to which the cooler is attached. Deepcool does not provide a backplate – the cooler only weighs 304 grams.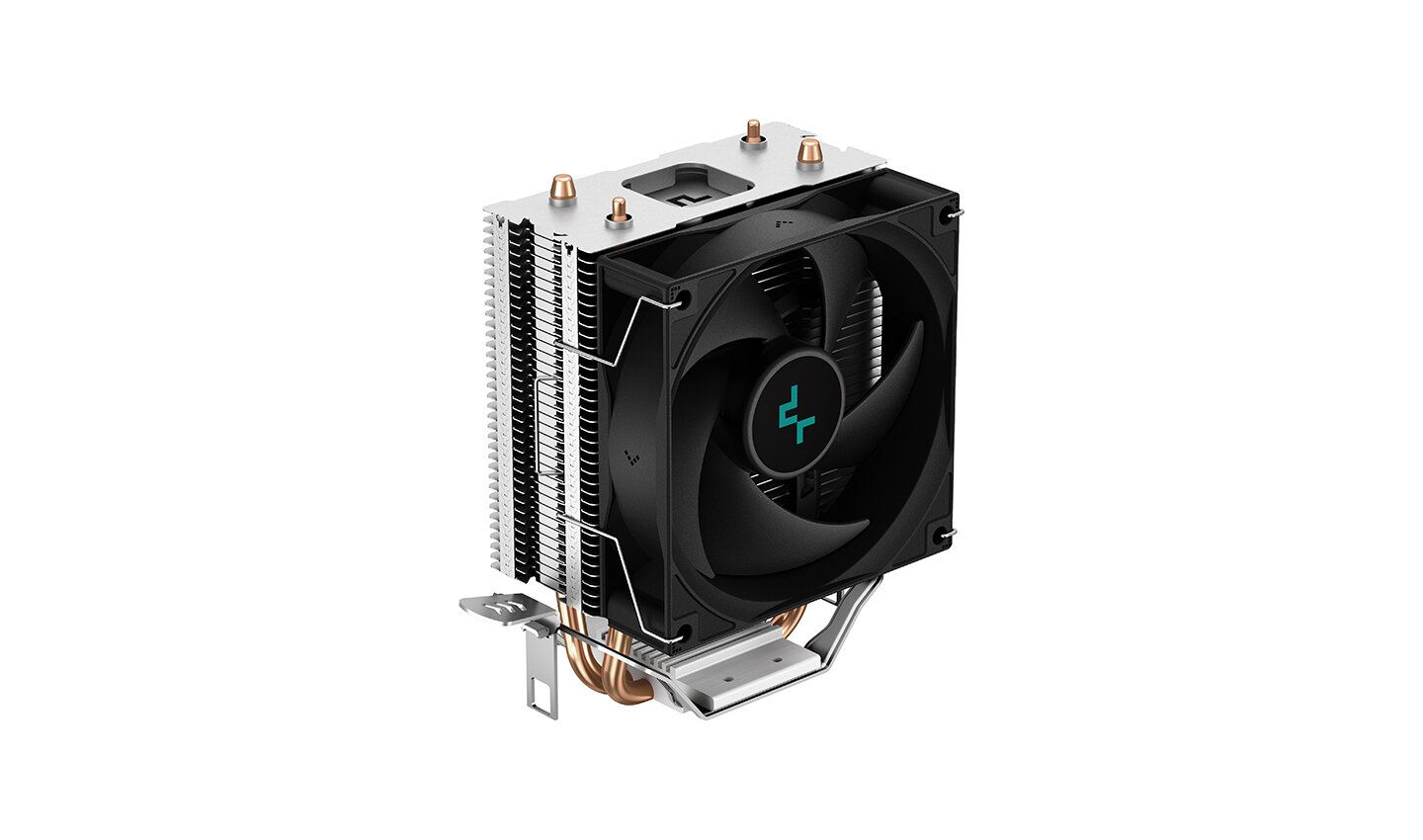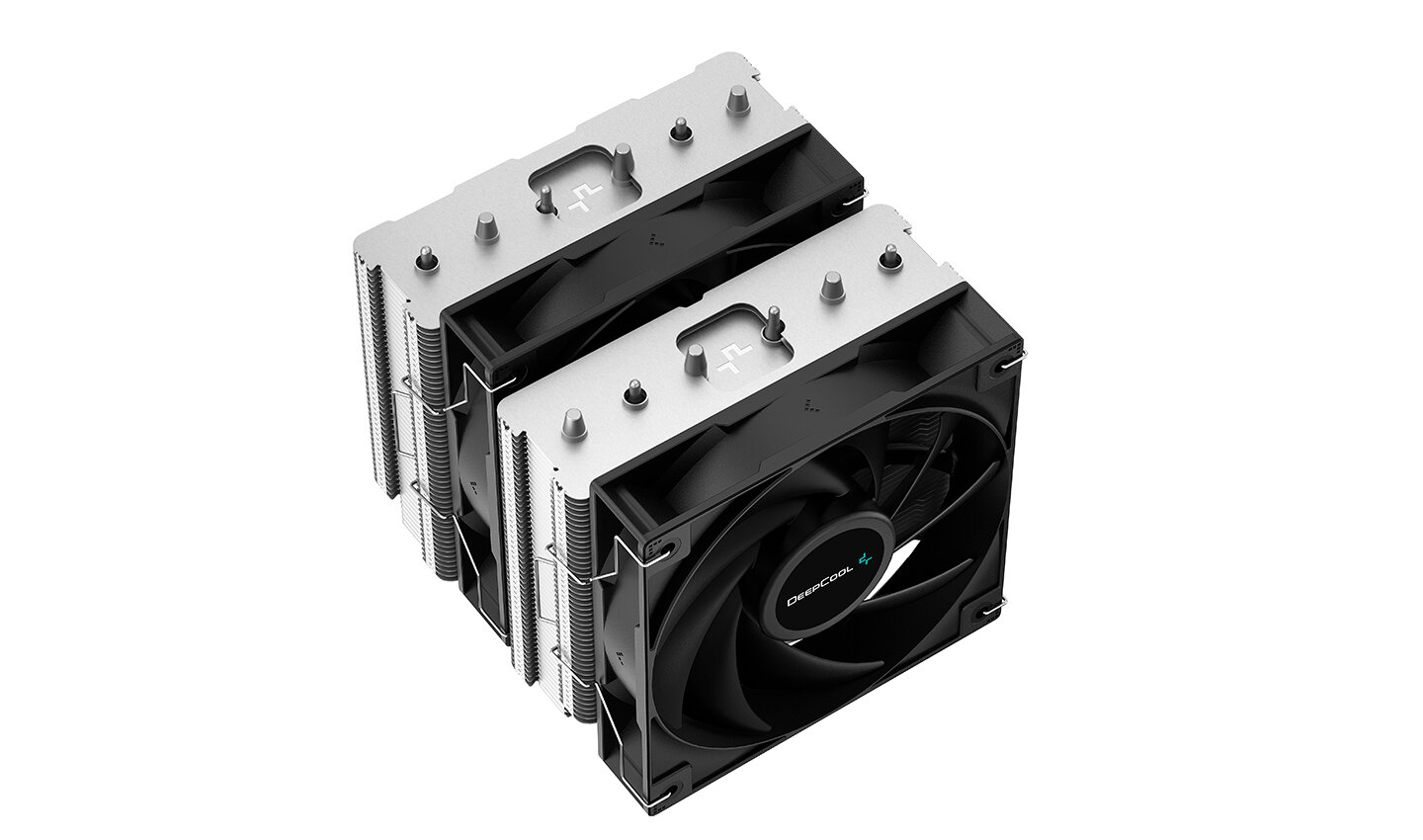 Deepcool AG200 Deepcool AG300 Deepcool AG400 Deepcool AG620 Design: Tower Size (L × W × H): 40 × 94 × 133 mm (without fan)
66 × 94 × 133 mm (with fan) 44 × 99 × 129 mm (without fan)
72 × 99 × 129 mm (with fan) 45 × 125 × 150 mm (without fan)
72 × 125 × 150mm (with fan) 110×129×157mm (without fan)
136×129×157mm (with fan) Weight: 304g (without fan) 350g (without fan) 614g (without fan) 1,300 g (without fan) Heatpipes: Copper, 2 × 6 mm (Ø)
Direct Touch/Contact copper (nickel-plated), 3 × 6 mm (Ø)
Direct Touch/Contact copper (coated), 4 × 6 mm (Ø)
Direct Touch/Contact copper (nickel-plated), 6 × 6 mm (Ø)
Copper base (nickel-plated) Fins: aluminum, 36 pieces
Spacing: ? aluminum, 40 pieces
distance: ? Aluminum (nickel plated)? (coated), 51 pieces
distance: ? Aluminum (nickel-plated)?, 50 pieces
distance: ? Radiator Mounting: Two-Stage Bracket
AMD: Retention Module Two-Stage Bracket with Back Plate
AMD: Retention Module Fan (Model 1): 1 × 92 × 92 × 25.0mm
Hydraulic Bearing
500 – 3,050 rpm
62.1 m³/h
2.9 mm H₂O
30.5 dBA
4-pin PWM 1 × 120 × 120 × 25.0 mm
Hydraulic bearing
500 – 2,000 rpm
128.3 m³/h
2.5 mm H₂O
31.6 dBA
4-pin PWM 2 × 120 × 120 × 25.0 mm
Hydraulic bearing
300 – 1,850 rpm
114.6 m³/h
2.0 mm H₂O
29.4 dBA
4-pin PWM Fan (Model 2): ​​- Fan Mounting: Attachment: Wire bracket
Decoupling: None Attachment: Wire bracket
Decoupling: Fan frame Compatibility: AMD: Socket AM4
Intel: LGA 1700/LGA 1200/115x AMD: Socket AM4
Intel: LGA 2066/2011/1700/LGA 1200/115x Price: from €14 from €17 from €33 from €55