After two years, Amazon is launching a new generation of the Fire HD 8. While the performance has been slightly increased, the display remains the same as it has been for years. It's getting critical with the software, because Amazon is pulling the reins tighter and tighter: The restrictions compared to Android tablets continue to increase.
Table of contents
1 Long runner with more and more limitations

Design and workmanship

2 Display, technical basis and runtimes

No increase in display
Slightly improved technology
Cross-country skiers instead of sprinters

3 Fire OS 8 and Kids+

Fire OS 8 and many restrictions
Kids+ takes over parental tasks

4 Alexa, multimedia and camera

Language assistant Alexa unchanged
Highlights and Shadows in Video, Audio, and Gaming Skills
Camera prefers snapshots

5 Conclusion

Hardware: A solid base
Software: More and more limitations
Design and processing
Amazon already realigned the design of the tablet with the last edition of the Fire HD 8 in 2020 (test) and, among other things, made a change from the portrait orientation, which has been maintained for many generations, to landscape mode. The front camera thus moved to the long side, which should prove to be more user-friendly, especially for video chats. The online retailer is now continuing this design in the second generation after the redesign. At 201.9 × 137.3 × 9.6 mm, the tablet is still more compact than the generation with the old design, although the area has remained roughly the same. At 337 g, the weight has dropped slightly compared to the last modernized generation.
On the other hand, the back of the black test device is now not only black, but also optionally in blue and in the HD 8 Plus in gray, which loosens up the appearance a bit. Amazon could have shown a little more courage to use stronger colors here.
Amazon Fire HD 8 (2022) Amazon Fire HD 8 Plus (2022) Amazon Fire HD 10 (2021) Amazon Fire HD 8 (2020) Amazon Fire HD 8 Plus (2020) software:
(at release) Fire OS 8 Fire OS 7.3 Display: 8.00″, 1280 × 720
184 ppi, 60 Hz
IPS 10.10″, 1080 × 1920< br>218ppi, 60Hz
IPS 8.00 inch, 800×1280
189ppi
IPS Control: Touch SoC: MediaTek MT8169A
6 × Cortex-A55, 2.00GHz
64-bit MediaTek MT8183
4 × Cortex-A73 2.00GHz
4 × Cortex-A53 2.00GHz
64-bit MediaTek MT8168
4 × Cortex-A53 2.00GHz
12nm, 64-bit GPU: Mali-G52 MC2 Mali-G72 MP3
800MHz Mali-G52 MC1
800MHz RAM: 2048MB 3072MB 3072MB
LPDDR3 variant 4096MB
LPDDR3 2048MB 3072MB Storage: 32/64GB (expandable) 32/64GB (expandable) 32/64GB (expandable) 1. Camera: 2.0MP, 720p
AF 5.0MP, 1080p
AF 5.0 MP, 1080p
f/2.4 2.0MP, 720p
f/2.2, AF 2nd Camera: No 3rd Camera: No 4th Camera: No 5th Camera: No 1st Front Camera: 2.0 MP 720p 2.0 MP 720p
f/2, 2 2.0 MP, 720p
f/2.2, AF 2. Front camera: No GSM: No UMTS: No LTE: No 5G: No WLAN: 802.11 a/b/g/n/ac Bluetooth: 5.2 5.0 LE location: No Other standards: USB 2.0 Type C, 3.5 mm jack SIM card: – Battery: ?, 15.0 W
permanently installed ?, 15.0 W
permanently installed, wireless Charging ?
fixed variant?
fixed, wireless charging ?
fixed ?
Permanently installed, wireless charging Size (W×H×D): 201.9 × 137.3 × 9.60 mm 247.0 × 166.0 × 9.20 mm 202.0 × 137.0 × 9.70 mm Protection class: – Weight: 337 g 465 g 355 g Price: from €55/€144.90 from €75/€164.99 from €80/from €120/from €110/from €150 from €70/from €119 € from 80 €/from 119 €
Chance for error corrections missed
The design, which has remained the same, also allows the firmly seated haptic controls with good pressure points and the connections to remain in the same positions. The power button and the volume control are still on the top right, and the headphone jack is again completely incomprehensible on the same side below. This arrangement also makes it impossible to hold the tablet normally when using wired headphones, forcing the user to turn it upside down. Thus, the use of the connection and the front camera for video chats are basically mutually exclusive. This was already the case with the predecessor and Amazon could have used the new version to correct the error.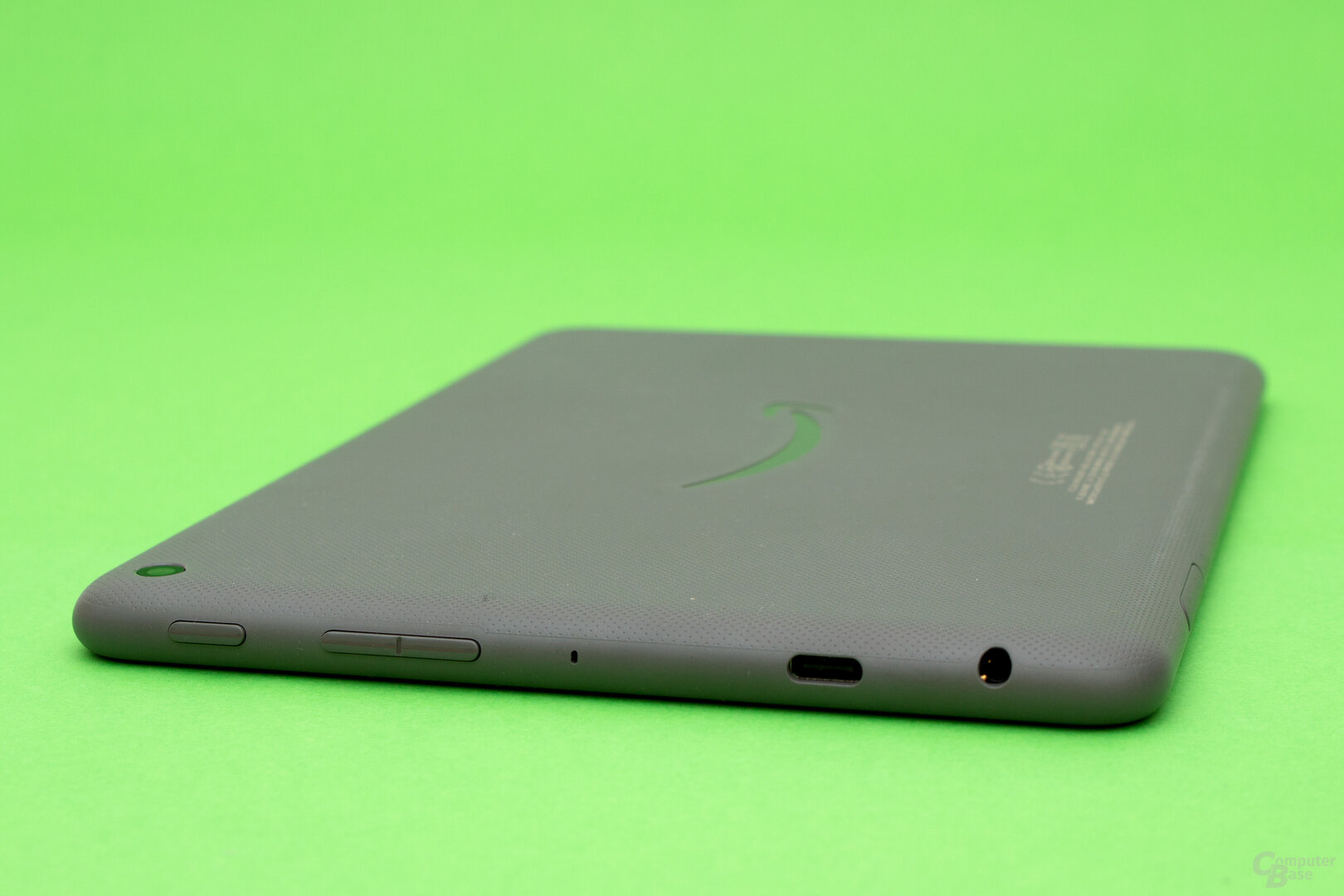 The USB-C port is again in the middle between the two ports mentioned, the slot for cards in microSD format is still on the underside. The two speakers, on the other hand, are attached to the top, as in the predecessor.
Price specifies materials
< p class="p text-width">With a sales price of 114.99 euros for the variant with advertising, no high-quality materials and extravagant design games can be expected. The new Fire HD 8 is also made entirely of plastic and is just as sober in appearance. However, the workmanship leaves no reason for criticism, the gaps are good and the HD 8 is stable. Most users probably chose the 8-inch tablet from Amazon anyway because of the price and should therefore be able to live with the external events.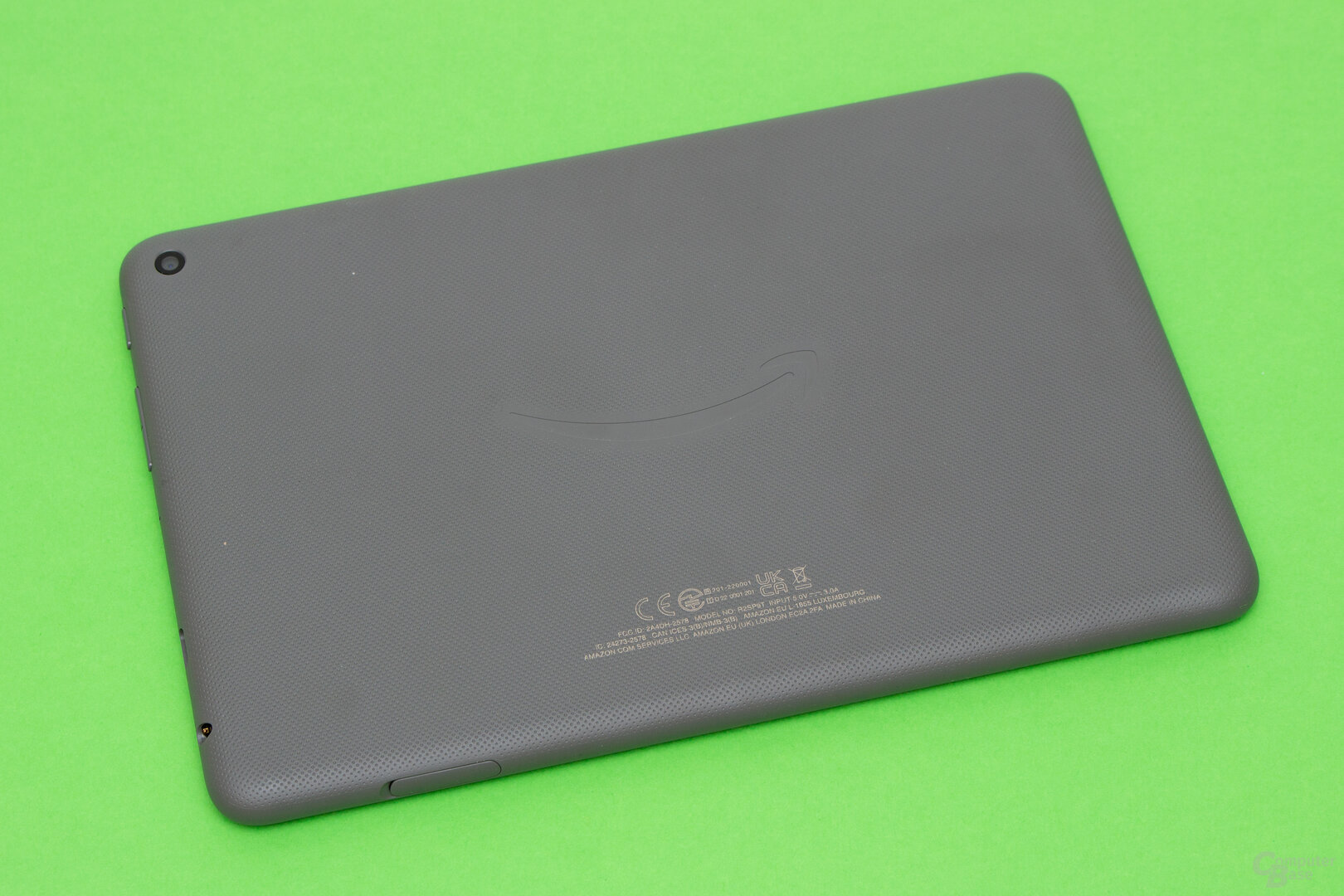 Kids versions and a plus without a real plus
In addition to the normal version, Amazon is again offering the Fire HD 8 in a plus version for a surcharge of 20 euros. In addition to a working memory that has been slightly increased to 3 GB, it includes a higher-resolution camera, wireless charging in the Qi standard and a power supply unit that is slightly more powerful at 9 watts. Every buyer has to decide for himself whether this increase is sufficient for the additional designation. Nevertheless, the question arises as to why Amazon does not only offer this variant.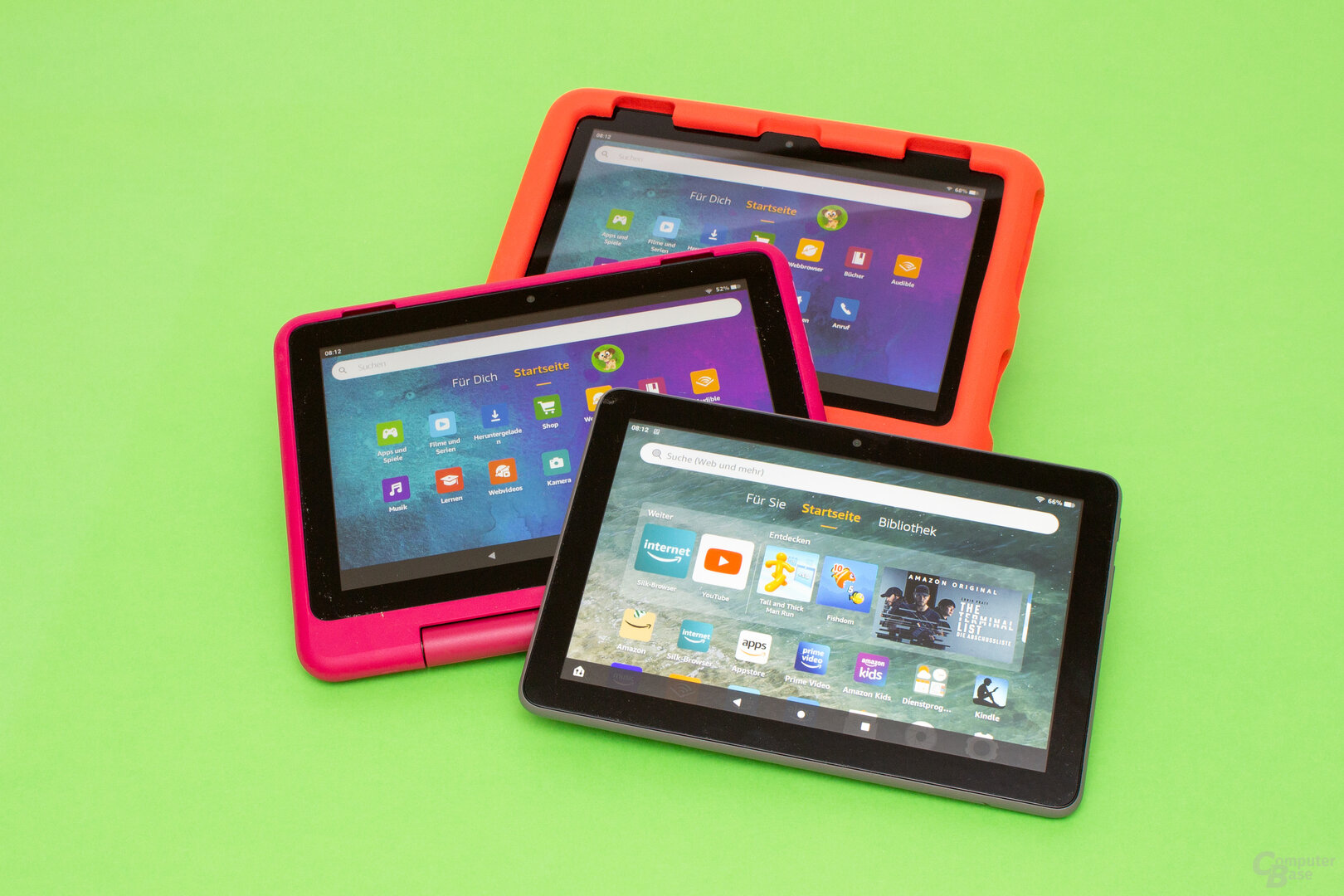 In addition, the HD 8 is again available in a version for children, whereby the division into a Kids and Kids Pro version introduced with last year's HD 10 is retained. The main difference between the two versions is ultimately only the target group and the proposed content: the pure HD 8 Kids is aimed at children from 3 to 7 years, which also includes a correspondingly thicker case with stronger colors in blue, purple and red . The HD 8 Kids Pro, on the other hand, is intended for school-age children and is a bit more subtle in terms of design and colors with "video games", "rainbow" and blue-green.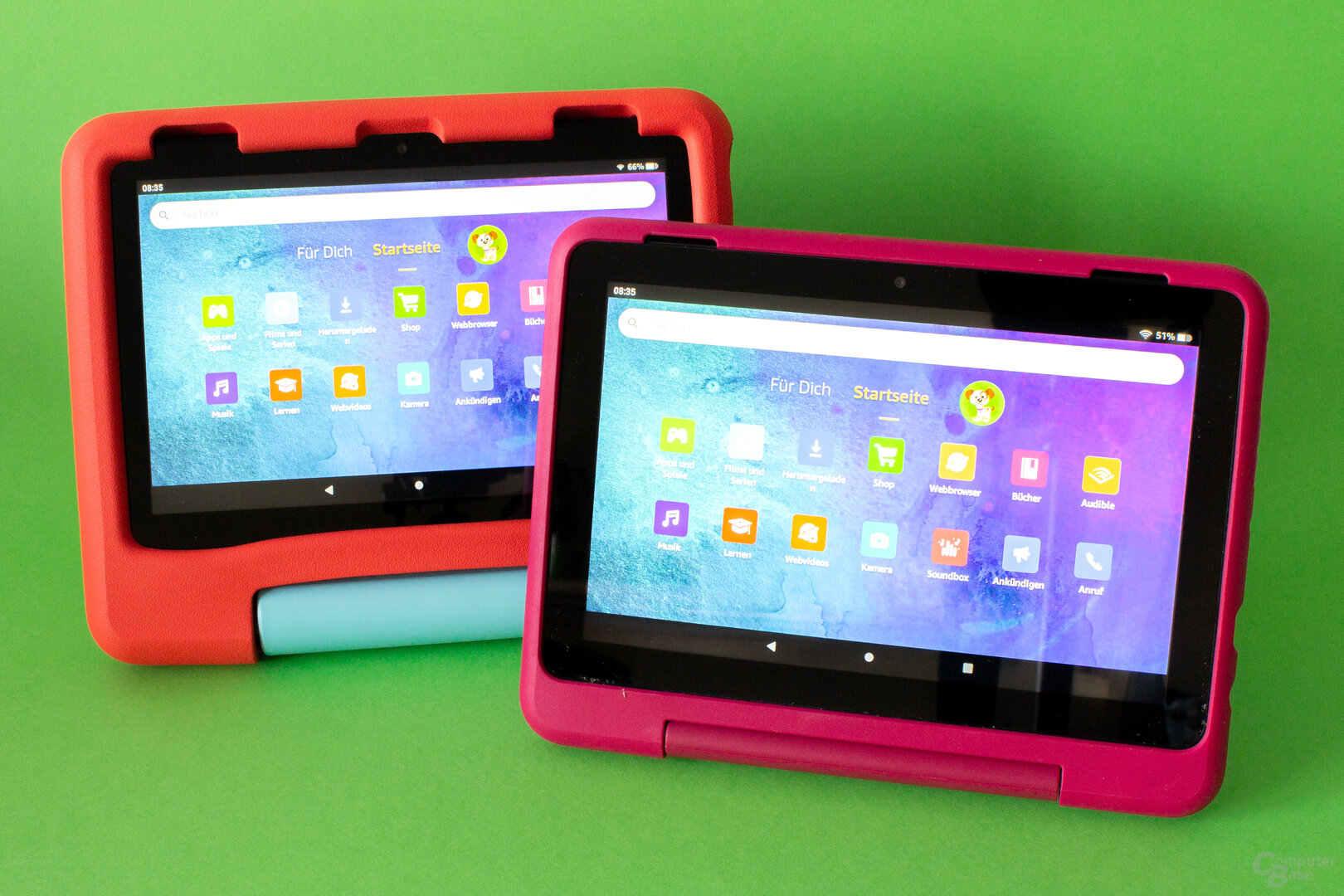 Both variants are offered by Amazon for 159.99 euros and still include the online retailer as " 2-year worry-free guarantee" and a free annual subscription to Kids+, which will be discussed in more detail later.
Page 1/5 Next page
Display, technical basis and running times