Vivo has presented the X90 Pro+, X90 Pro and X90 smartphones for the Chinese market, which are already based on the latest processors from Qualcomm and MediaTek. The X90 Pro+ uses the Snapdragon 8 Gen 2, while the X90 and X90 Pro use the Dimensity 9200. Two of the smartphones use a 1-inch, 50 MP sensor.
Snapdragon 8 Gen 2 and Dimensity 9200 are the first chips to bet on the new Arm IP of 2022. MediaTek was ahead of Qualcomm and is going the somewhat more progressive path than Qualcomm, which continues to rely on two 32-bit-capable performance cores, with only new CPU cores. The article on the announcement provides technical details on the Dimensity 9200, the same applies to the Snapdragon 8 Gen 2, for which ComputerBase was already able to carry out its own benchmarks, which delivered high results, especially in relation to the GPU. Both chips are equipped with graphics units that support hardware-accelerated ray tracing.
Vivo calls for 500 to 950 euros in China
At Vivo, the Snapdragon 8 Gen 2 is only offered in the X90 Pro+ and with 12 GB LPDDR5X and 256 GB or 512 GB of the new one UFS 4.0 standards combined, resulting in prices equivalent to around 880 euros and 950 euros. There are three variants to choose from for the X90 Pro with Dimensity 9200: 12 GB LPDDR5X/512 GB UFS 4.0 for 810 euros, 12 GB LPDDR5/256 GB UFS 4.0 for 745 euros and 8 GB LPDDR5/256 GB UFS 4.0 for 680 euros. The X90 marks the entry into the series with Dimensity 9200 in four versions: 12 GB LPDDR5/512 GB UFS 4.0 for 680 euros, 12 GB LPDDR5/256 GB UFS 4.0 for 610 euros, 8 GB LPDDR5/256 GB UFS 4.0 for 540 euros and 8 GB LPDDR5/128 GB UFS 3.1 for 500 euros.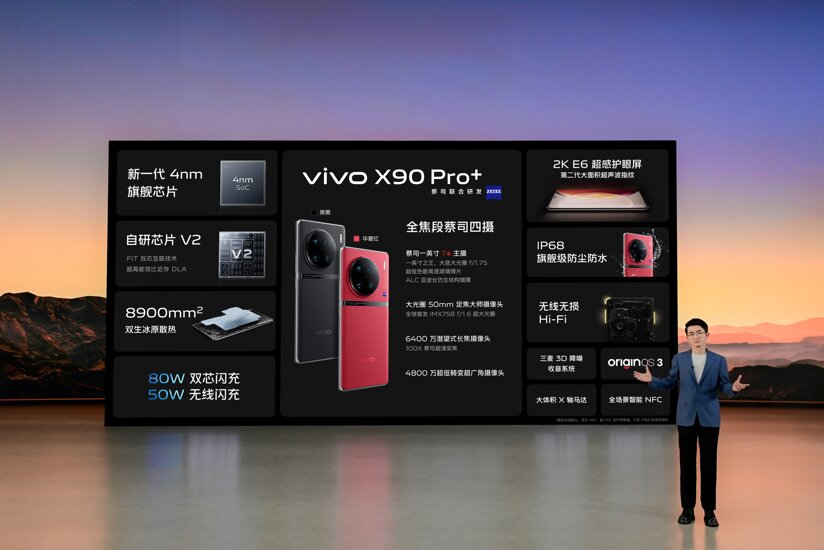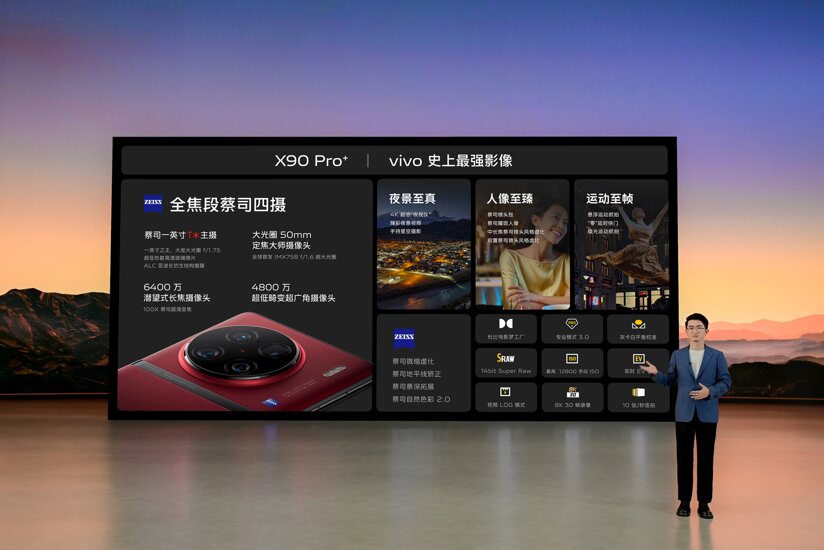 Fast OLED displays with different resolution
In addition to the Qualcomm processor, the flagship X90 Pro+ features a 6.78-inch OLED display with 1440p resolution and up to 120 Hz, which is said to achieve up to 1,800 cd/m² and is certified for Dolby Vision. X90 Pro and X90 come with the same diagonal at a slightly reduced resolution of 2,800 × 1,260 pixels at a refresh rate of 120 Hz and are specified in terms of brightness for 1,300 cd/m².
50 MP on 1-inch Sony sensor
At the beginning of November, Vivo presented its own image processor (ISP) with the V2, which is used in all three smartphones. However, only the X90 Pro+ and X90 Pro use the Sony IMX989 as the 1-inch, 50MP primary image sensor. The native pixel size is already a large 1.6 µm, but this can be increased to 12.5 MP by pixel binning to 3.2 µm. The X90 Pro+ features a 50MP 50mm focal length secondary camera specifically designed for portraiture, as well as a 90mm 64MP telephoto lens and a 48MP ultra-wide camera. The X90 Pro also comes with a portrait camera, but uses 12 MP for the ultra-wide-angle camera and does without the telephoto lens. The standard X90 has the IMX866 at 50MP for the primary camera, while portrait and ultra-wide come in at 12MP each.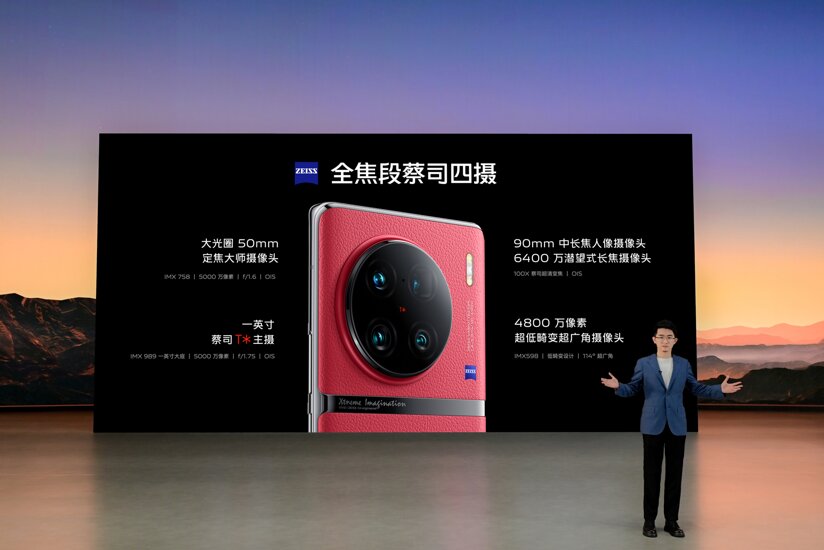 Charging with up to 120 watts
Other features of the X90 Pro+ include 80 watts of fast charging via USB-C and up to 50 watts of fast wireless charging when using a Vivo charger. X90 Pro and X90 even go to 120 watts for wired charging, only the X90 Pro comes again with 50 watts wirelessly. The battery capacities are almost identical at 4,700 mAh (X90 Pro), 4,870 mAh (X90 Pro) and 4,810 mAh (X90).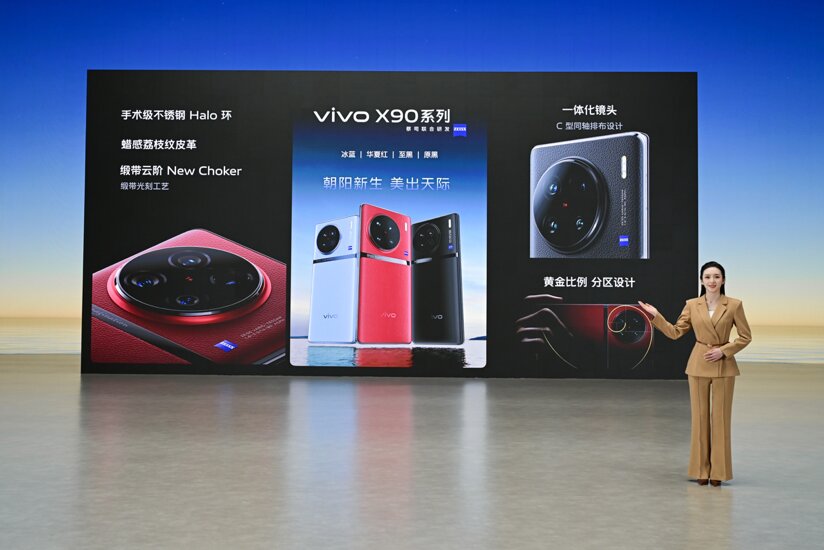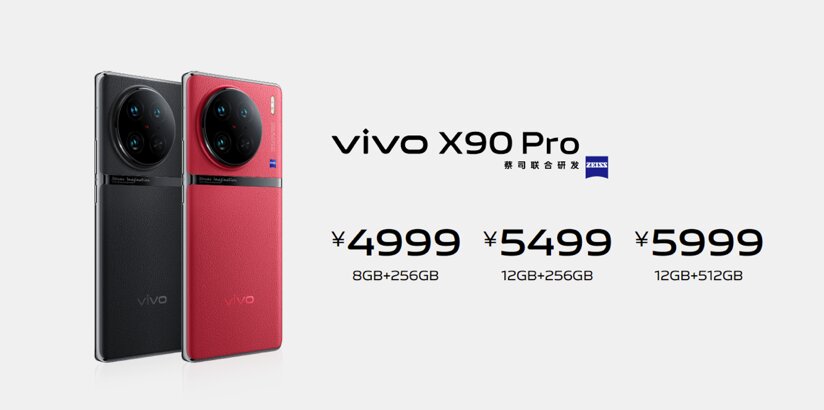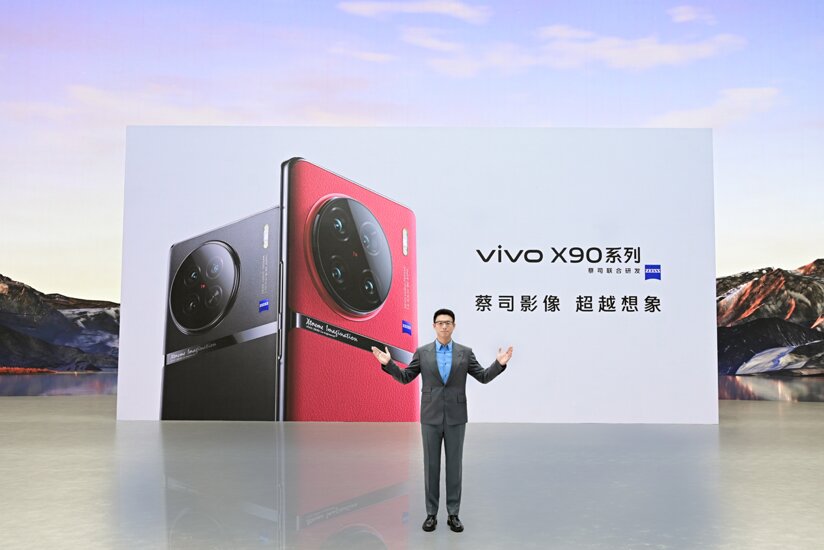 Market launch initially only in China
Vivo has so far only announced the three smartphones for China, which is why the devices run with the OriginOS 3 used there, which is true based on Android 13, but without any Google services. The X90 series will be available for pre-order on November 28th and go on regular sale on December 6th. So far, the company has not commented on the availability in other markets.