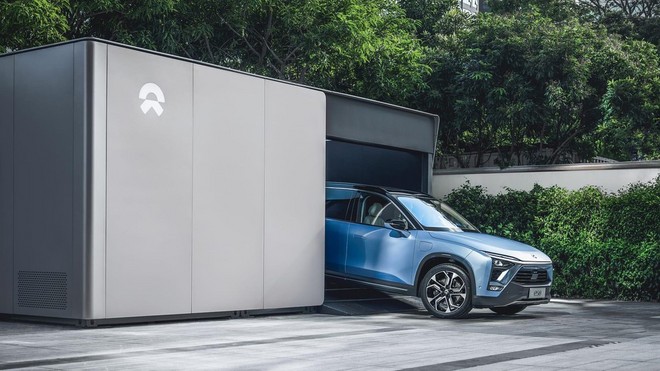 NIO's goal is to promote the success of the industry. that of installing and making 4,000 battery swap stations operational by 2025, 1,000 of which, however, outside China (mainly in Europe). The Chinese automaker is starting to install its battery swap stations in the Old Continent as well. The brand is started with the first installations in Norway and then moved on to Germany.
NIO Sweden's first battery swap station is officially launched and the first batch of ET7 has been delivered to Swedish users.

Sweden's head Kajsa lvansson-Sogne also attended the opening ceremony. #NIO #Sweden $NIO pic.twitter.com/3EOiVtEA2Z

— NIO 蔚来 (@NIOGlobaI) November 19, 2022
Now, the Chinese manufacturer has announced that it has installed the first battery swap station in Swedenas part of its expansion plan in the Old Continent. The inauguration took place held a few days ago. According to what was said, the station was was installed in Varberg, along the E6 highway between Göteborg and Malmö. The inauguration comes at the same time as the deliveries of the first electric cars from NIO to customers in this country.
Obviously, more battery swap stations will arrive in Sweden in the future.
TURNING TO THE NETHERLANDS
NIO has, however, already completed the project. anticipated the next European country where it will go; to install its battery swap stations. December 1st is the day. expected the inauguration of the first station in the Netherlands.
On Dec 1st we will open the first Power Swap Station in the Netherland

With more than 1,200 patented technologies, the NIO Power Swap charging solution is the first in the world where you have a new battery at lightning speed, even before your favorite song has been played. $NIO pic.twitter.com/FnQQ1WZ1DI

— NIO 蔚来 (@NIOGlobaI) November 20, 2022
In short, the Chinese manufacturer seems to be accelerating the creation of a battery exchange network in the Old Continent. Not an easy job to carry on. To support this strategy, we remind you that NIO has decided to build a factory in Hungary within which to produce the battery swap stations to be installed in the countries of the Old Continent.
This network of stations will allow ; to NIO to be able to carry on its expansion strategy in the Old Continent. The battery swap is used by the manufacturer to separate the cost of the batteries to make it more efficient. accessible electric vehicles. Customers, in fact, will be able to buy the car at a lower price. low even if it will then be low. it is necessary to pay a monthly subscription for the rental of the accumulator and access to the battery swap service.
The best Apple Smartphone? Apple iPhone 12, buy it at the best price from eBay for 689 euros.