In their report on global GPU sales in the third quarter of 2022, the market researchers at Jon Peddie Research (JPR) speak of the largest sequential decline since the recession in 2009. This declined by 10 percent down from the second quarter; compared to the previous year, the minus is even 25 percent.
Declining sales instead of growth
Normally, the transition from the second to the third quarter is marked by strong sales growth, writes JPR, but this year is very different. Compared to the second quarter, sales fell by 10.3 percent to 75.5 million units, which is well below the 10-year average of 5.3 percent plus.
With these numbers, JPR takes all graphics chips into account, including those that are built directly into processors (iGPU). Compared to the same period of the previous year, deliveries even fell by 25.1 percent. Desktop solutions (-15.43%) didn't go down as much as notebook solutions (-30%).
AMD was particularly badly affected : Deliveries fell by 47.6 percent, almost half. Intel was able to deliver 4.7 percent more, still mainly with iGPUs. Nvidia's decline was 19.7 percent.
The market shares of the entire GPU market according to units delivered have shifted accordingly. While AMD was still able to book 20 percent for itself in the second quarter, it is only 12 percent in the third quarter. Nvidia lost two percentage points and still has a 16 percent share. Intel emerges as the laughing third with a 10 percentage point increase and now 72 percent of graphics solutions for PCs.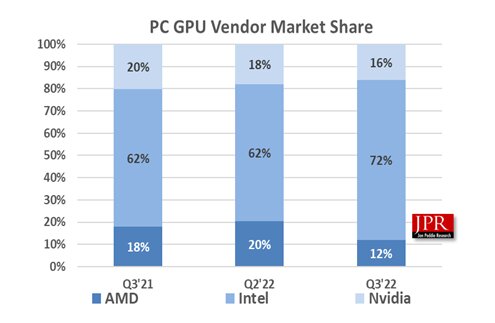 If only the desktop graphics cards are taken into account, Intel will continue to play only a small role, despite the new Arc series. As usual, JPR will probably publish these statistics separately elsewhere. But there was already an outlook: In the third quarter, 33.5 percent fewer graphics cards were shipped than in the previous quarter.
CPU sales didn't drop that much
CPUs for desktops and notebooks also went downhill, but not as much as graphics chips. JPR reports a decrease of 5.7 percent quarter-on-quarter and 18.6 percent year-on-year. In terms of shares by platform, desktop gained significantly, now at 38 percent, while notebooks fell 10 percentage points accordingly.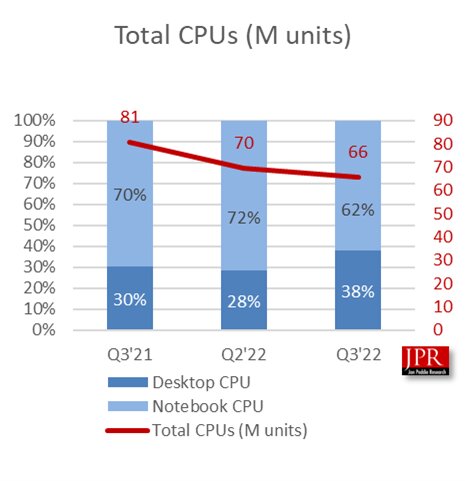 There are many causes
Primarily inflation, but also US sanctions and the restrictions imposed by the Zero -Covid strategy in China depresses global PC sales. In the case of graphics chips, there is also the extensive cessation of crypto mining, which is causing an entire market to collapse. At AMD in particular, gamers would also wait for the new graphics card generation (Radeon 7000) instead of buying now.
For the fourth quarter, the market researchers expect a further decline in sales, with a parallel increase in sales prices (ASP). There should therefore be no supply bottlenecks during the Christmas season.