The GeForce RTX 4090 HOF (Hall of Fame) is Galax' All-white flagship model of the Ada Lovelace generation, roughly comparable to Asus' ROG Strix OC. Thanks to LN2 cooling, the manufacturer achieves numerous new records in various benchmarks, including the GPU clock.
Galax is approaching the 4090 with the RTX 4090 4 GHz
Galax and the Greek overclockers from Team OGS were able to overclock the graphics card to 3,825 MHz, as reported by Wccftech. With the high clock, however, the RTX 4090 (test) only ran stably in the comparatively lightweight GPUPI benchmark; However, 3.7 GHz was possible in various 3DMark tests. The graphics card was supported by an Intel Core i9-13900K (test), which was also cooled by liquid nitrogen and overclocked to up to 7.6 GHz and operated on an Asus ROG Maximus Z790 Apex. At that time, the maximum GPU clock reached was 3.5 GHz.
With the higher clock, 14 new records were set, some of which were the 20 new records set just 10 days ago with the GeForce RTX 4090 HOF. In benchmarks from UL 3DMark, Superposition, GPUPI, Catzilla and Unigine, the Galax GeForce RTX 4090 HOF achieved the following results, each setting a new world record.
3DMark
3DMark 11 Performance – 3.7 GHz, 96,816 points
3DMark Fire Strike Extreme – 3.7 GHz, 43,481 points
3DMark Fire Strike Ultra – 3.7 GHz, 31,095 points
3DMark Port Royal – 3.7 GHz, 31,932 points
3DMark Vantage Performance – 3.7 GHz, 220,663 Points
3DMark Vantage Extreme – 3.7 GHz, 185,120 points
Catzilla
Catzilla 576p – 3.7 GHz, 206,018 points
Catzilla 720p – 3.7 GHz, 195,393 points
Catzilla 1080p – 3.7 GHz, 147,682 points
Catzilla 1440p – 3.7 GHz, 82,354 points
Catzilla 4K – 3.7 GHz, 35,829 points
GPUPI
GPUPI 3.3 1 trillion – 3.825 GHz, 0.857 seconds
GPUPI 3.3 32 trillion – 3.78 GHz, 48.124 seconds
Unigine
Unigine Superposition 8K – 3.66 GHz, 18,145 points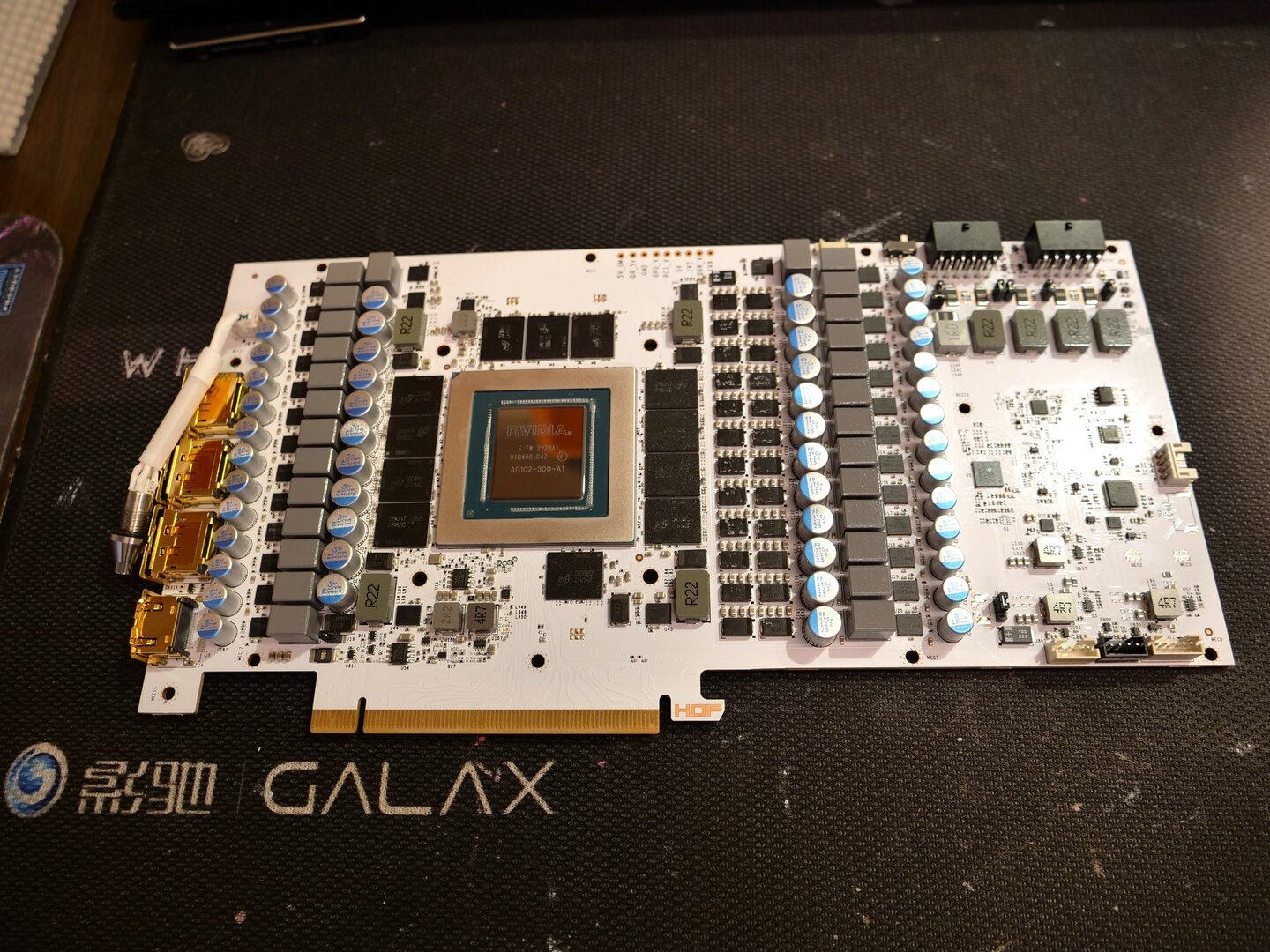 The fact that Galax' white spearhead is the only graphics card with Nvidia's Ada Lovelace architecture to offer two 12VHPWR sockets for a maximum power consumption of up to 1,275 watts and 1,266 watts respectively. The massive power supply with 28+4 VRM phases was photographed by overclocker @bl4ckdot earlier this month.
A lonely leader
It remains to be seen whether the GPU clock of 3.825 MHz that has now been achieved in a benchmark with the RTX 4090 will soon reach the 4 GHz mark – but if that is the case, it will be in all probability again a Galax HOF cooled by LN2: Asus' GeForce RTX 4090 ROG Strix only offers a 12VHPWR connector, MSI has not yet promised a Lightning variant of the most powerful Ada Lovelace graphics card and there will be no EVGA GeForce RTX 4090 Kingpin.
When the Galax GeForce RTX 4090 HOF will officially appear and how expensive the custom design will be is not known – the previous record holders are prototypes.