Das Keyboard produces noble luxury keyboards that stand out from the crowd with unusual features. In the "6 Professional" model, these are a large, hi-fi-style rotary control and two USB 3.0 ports with Type-C plugs. Elsewhere, the input device, which costs around 200 euros, offers less than the competition.
The distinguishing feature of a Das Keyboard Professional in Generation 6 is the separate area above the number pad. Due to its size and position, the control dial was easy to operate on the similarly designed Das Keyboard 4 Professional (test). The large controller also distinguishes the Professional series from the slimmer but otherwise similar MacTigr for macOS.
The flat media keys next to it are harder to reach. The configuration of the new keyboard also changes. The button for the sleep mode, which is supposed to "save energy and the planet" in completely exaggerated marketing, is supplemented by a button for the brightness of the key illumination and only two media keys. They are assigned play/pause and "next track". They only offer the most frequently used media functions. The keyboard also goes its own way with the adjustable feet. They are not clipped into the housing, but are stowed away separately and screwed on if necessary.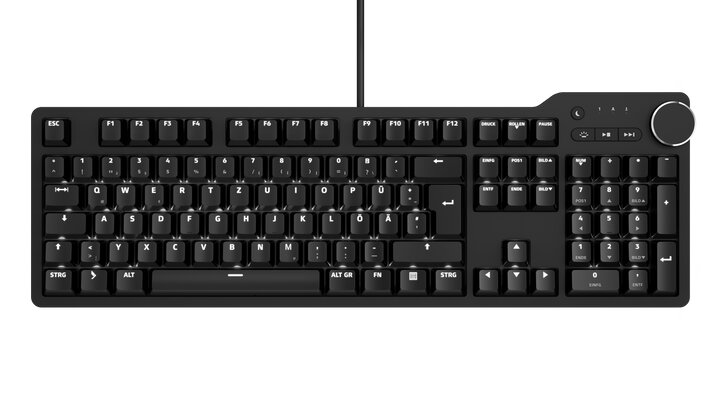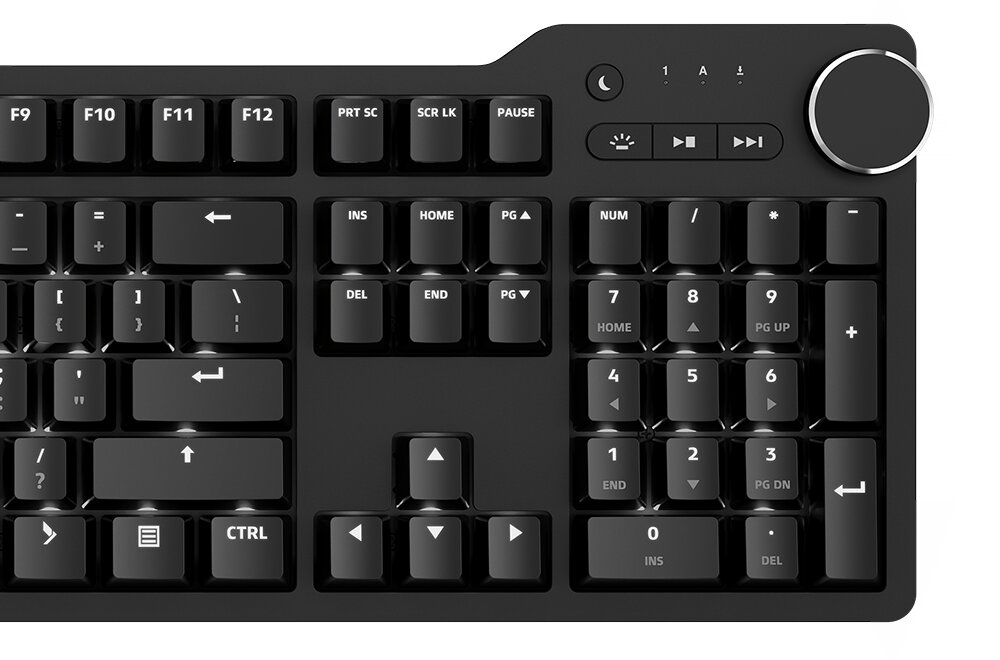 The keys of the Das Keyboard 6 come from Cherry. Buyers can choose between MX Brown and MX Blue. The manufacturer does not offer buttons without a pressure point; the model should primarily be a work tool, where tactile buttons are often better received. The keyboard saves more features that are now common in the 200 euro price range. The keys are illuminated monochromatically in white, which ensures a pure color tone, but eliminates the options for the RGB diodes. On the other hand, the fact that no flashing pattern can be selected fits the image of a no-frills tool. Keycaps are labeled for durability, but they are just made of ABS plastic.
The Das Keyboard 6 Professional can be purchased from the manufacturer's web shop at the suggested retail price.
The Keyboard 6 Professional Size (L × W × H): 44.5 × 12.5 × 3.0 (3 ,6) cm Layout: 105 ISO (extended) Weight: 1,310 g Cable: USB 2.0 Hub function: – Key rollover: N-KRO Switch: Cherry MX Brown/Blue Keys: Shape: cylindrical
Material: ABS Plastic
Labeling: double-shot molding Additional keys: 2 × media
2 × extra
Scroll wheel (volume) Media functions: volume, play/pause, forward/back Additional functions: brightness (adjust, switch off) Lighting: colour : White macros & Programming: – Price: 200 €