On the way to predominantly e-mobility at BMW and the electric transformation of brands such as Mini and Rolls-Royce, the company is making sustainability a bigger priority and has several technologies and concepts for this and strategies developed to get closer to these goals, especially with the "New Class".
Table of contents
50 percent less cobalt in the cathode
Everyday consumption figures
Solid-state batteries ready for series production by 2030
Higher proportion of secondary material
Vegan steering wheels from 2023< /li>
Alternatives to leather under development
Maritime waste becomes cladding parts
Green electricity for aluminum and steel production
Track the CO2 balance of individual components
Generative design for optimal use of materials
Sustainability costs a lot of money
New class starts in the 3 Series and X3 segment

< /ol>

From 2025, the "New Class" will be the next big step at BMW, following the iX and its innovations, and is intended to introduce a new IT and software architecture as well as a new electric drive and battery generation. BMW had already presented the new round-format battery cells used at the beginning of the month. The round cells are manufactured with a standardized diameter of 46 mm and two heights of 95 mm and 120 mm. A distinction is made between the vehicle model and the available space in the underbody, for example in sedans or large SUVs.

50 percent less cobalt in the cathode

< p class="p text-width">The new cells are said to be more environmentally friendly thanks to a 50 percent reduction in the proportion of cobalt in the cathode with a higher nickel content and 20 percent less graphite in the anode with a higher proportion of silicon. The volumetric energy density in the cell increases by more than 20 percent. The company in Munich explains that BMW can save 40 percent on the copper foil for the anode. The manufacturer wants to reduce the price of these 6th generation lithium-ion cells by up to 50 percent to the level of vehicles with modern combustion engines. The CO2 emissions in production should fall by up to 60 percent compared to the 5th generation.

The new round cells from BMW with 95 mm here (old in the background)

Image 1 of 5

The new round cells from BMW with 95 mm here

The new round cells from BMW with here 95 mm

The new round cells from BMW

Transition from Gen 5 to Gen 6 from 2025

Everyday consumption information

For future buyers, BMW promises up to 30 percent longer ranges (WLTP) and 30 percent faster charging. The "New Class" will have an increased voltage of 800 volts. A significantly increased charging capacity can be achieved at DC fast charging stations with a current of up to 500 amperes. Speaking of WLTP: In the future, BMW also wants to use a "Best Fit" to provide consumption information that is close to everyday life through realistic use cases and test vehicle configurations. The use cases should include dynamic driving situations, long-distance journeys as well as journeys in extreme temperatures and when towing a trailer. The aim is also to depict the vehicles with "customer-representative equipment".

Consumption data according to WLTP and use cases

Image 1 of 3

Factors influencing consumption

Adjusting screws for one lower consumption

BMW will continue to develop its own battery cells and produce prototypes in the future, but will outsource battery cell production. The company relies on certified mines and wants to ensure responsible mining of the raw materials. To reduce the carbon footprint, cell manufacturers should use cobalt, lithium and nickel, some of which consists of secondary material, and only use green electricity from renewable energies for production, resulting in 60 percent lower CO2 emissions. In the long term, the battery cell should become recyclable, i.e. offer a closed circuit for the reuse of nickel, lithium and cobalt.

Solid-state batteries ready for series production by 2030> h2>

The 6th generation of battery cells also offers the option of using lithium iron phosphate (LFP) cathodes. The raw materials cobalt and nickel in the cathode material can thus be completely dispensed with. In our own competence centers, we continue to work on solid-state batteries, which should be ready for series production by 2030. A vehicle with this technology on board is to be presented "well before 2025".

Higher proportion of secondary material

Apart from the battery cells, secondary material is also to be increasingly used for the exterior and interior. New recycling processes are to be used, natural fibers are to be used more and alternatives to animal raw materials are to be found. From next year, the group wants to offer completely vegan interiors for the BMW and Mini brands for the first time. BMW expects increasing demand for vegan and leather-free interiors, especially in the USA, China and Europe. Compared to leather, 85 percent of CO2 emissions can be saved along the value chain, explains BMW. 80 percent of the previous emissions are attributable to the methane gas from cattle breeding, another 20 percent to the energy and water-intensive processing of the cattle hide.

Vegan steering wheels from 2023

A last remnant of already largely vegan interiors without leather upholstery is the steering wheel, which places high demands on the material used in terms of appearance, wear resistance and durability. The vegan surface material, which will be available from next year, is designed to withstand wear and tear from abrasion, sweat and moisture. With the help of a prototype for the iX, the editors have already been able to get up close and determine practically no difference to the previous implementation made of leather. The only distinguishing feature of the new material will be a new grain on the steering wheel rim. The vegan steering wheel is used in the basic equipment, but customers will still be able to order real leather for an additional charge. BMW does not want to force any buyer to turn away from animal products, so they are not that consistent. Around 1 percent of animal raw materials will remain in automobiles in the future anyway, for example for waxy substances such as gelatine as a component of protective coatings, lanolin in paints, tallow as an additive in elastomers and beeswax as a flux for paint.

< /figure>

Vegan steering wheel for the BMW iX

The BMW Group wants to achieve climate neutrality by 2050 at the latest. On the way there, seemingly inconspicuous changes, such as the mono-material floor mats already used in production instead of a material mix that is difficult to recycle, also help. The company explains that this saves 23,000 tons of CO2 and 1,600 tons of waste, because recycled floor mats and offcuts can be reused within the production process.

Alternatives to leather under development

With future vehicle generations, BMW intends to offer further alternatives to leather. Mirum is a plant-based material, but it is designed to mimic all the properties of leather. Deserttex, on the other hand, consists of powdered cactus fibers and a bio-based polyurethane matrix. Compared to the leather imitations previously used, CO2 emissions can be reduced by a further 45 percent. At Mini, a vegan interior is planned for the coming model generation, which uses a mono-material made of recycled fibers as the starting material for the complete seat surfaces made of velor fabric, which can be recycled separately. In Munich, BMW showed seat studies made from textile waste, which are processed into a synthetic yarn. This manufacturing process uses around 98 percent less water than using cotton and reduces CO2 emissions by around 80 percent compared to conventional processing of polyester.

< figure class="gallery__figure"> Deserttex made from cactus fibers and bio-based polyurethane matrix
Image 1 of 3 < /figure>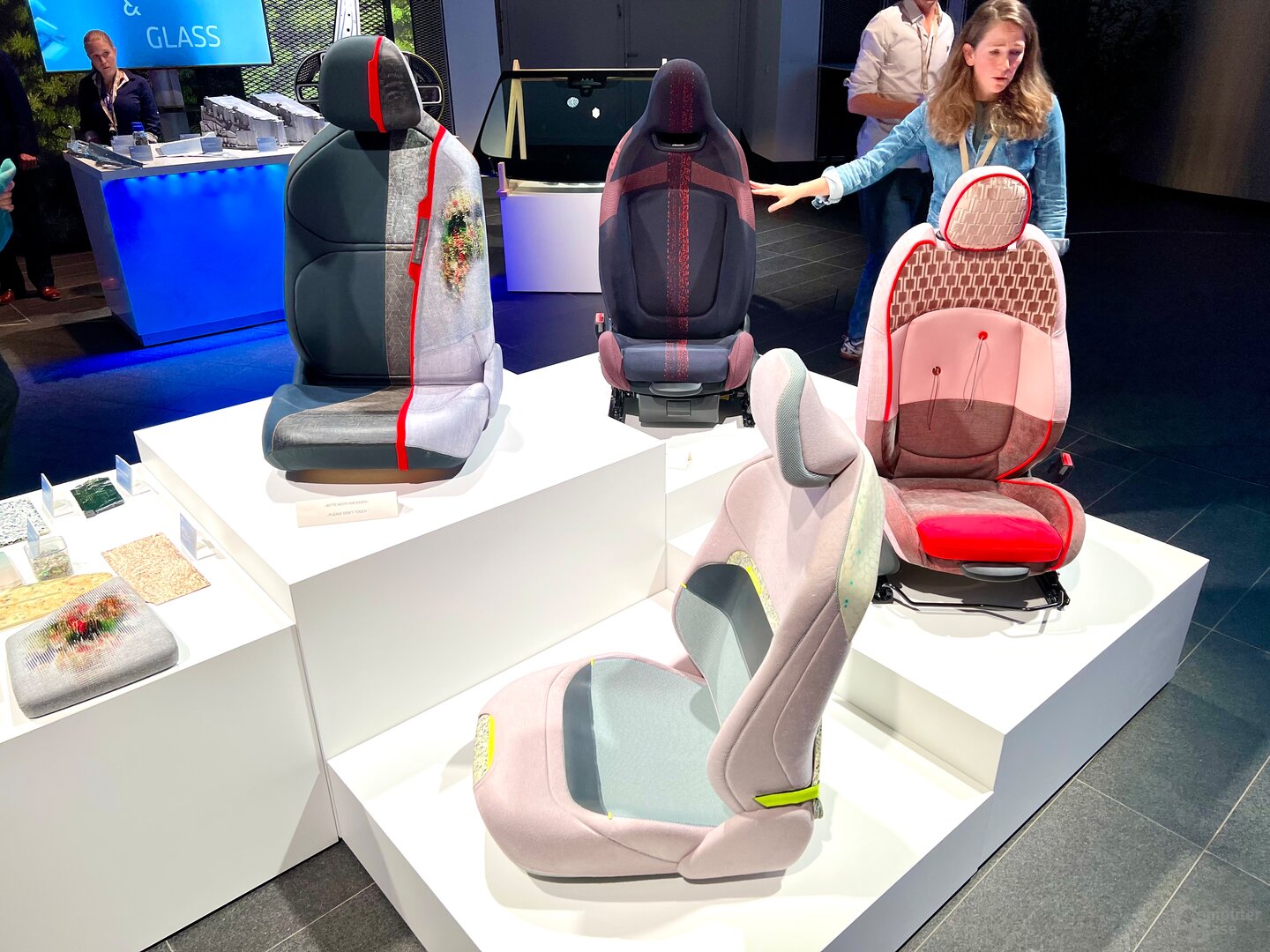 Maritime waste becomes cladding parts
For the first time, the "New Class" planned for 2025 will feature plastic trim parts, the raw material of which consists of around 30 percent recycled fishing nets and ropes. This raw material is proactively sourced from ports around the world to ensure it is not dumped at sea, BMW says. Residues from the maritime industry often end up in the sea instead of being properly disposed of on land. The components used by BMW are said to have a CO2 footprint that is around 25 percent lower than the same components made of conventionally manufactured plastics. Already today, recycled nylon waste forms the basis for a plastic thread from which the floor coverings in the iX and X1 are made. BMW wants to increase the proportion of secondary material in the thermoplastics used from the current level of around 20 percent to an average of 40 percent by 2030.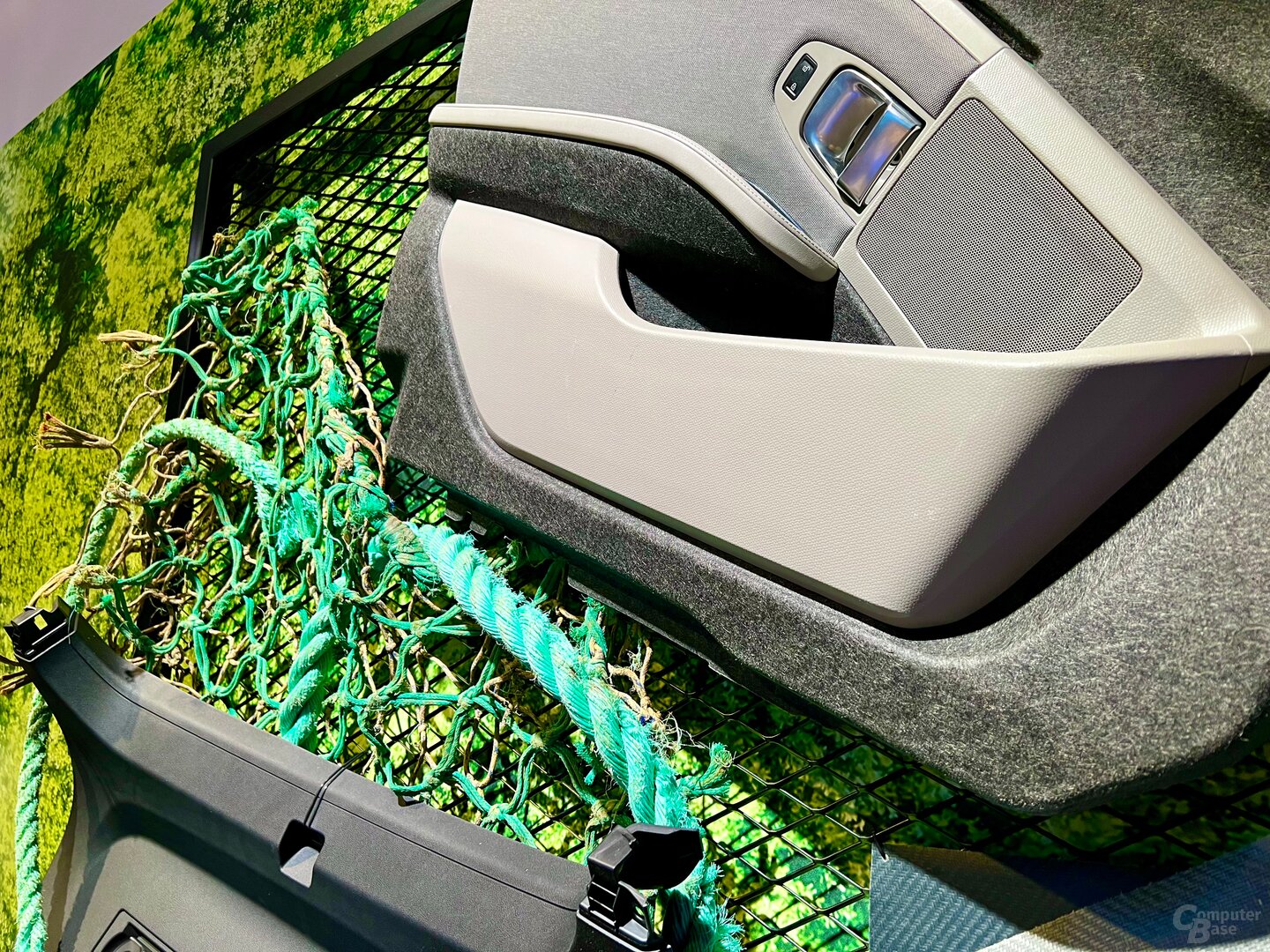 Green electricity for aluminum and steel production
In addition to the secondary material, BMW sees the use of green electricity in aluminum and steel production as an important lever for reducing CO2 emissions. From 2025, steel will also be sourced from a Swedish manufacturer that uses hydrogen and electricity from renewable sources for production. Another company is to supply steel from "CO2-reduced production", so that more than 40 percent of the requirements for vehicle production in the European BMW Group plants can be covered in this way. This should reduce CO2 emissions by around 400,000 tons per year. Depending on the alloy, secondary raw materials in the steel are to be gradually increased from 25 percent to 50 to 80 percent. In the USA, where all X models are produced, and in China, negotiations are currently still being held with suppliers in order to achieve a CO2 reduction there too.
The production of aluminum leads to significantly higher CO2 emissions, which is far ahead of batteries, plastics and steel in this respect. Since 2021, BMW has been purchasing aluminum produced from green electricity for the first time from the United Arab Emirates, where the light metal is produced using solar power. The company wants to increase the proportion of aluminum produced with green electricity in the long term and emit 2.5 million tons less CO2 by 2030. By 2024, all cast aluminum wheels purchased from the BMW Group are to be produced exclusively with green electricity. This specification includes both the electrolysis in the production of aluminum and the casting of the wheels.