Hardly any components cannot yet light up. The list is now one entry shorter thanks to the Roccat Vulcan II Max: The keyboard manages to turn its palm rest into an RGB light body. Some keys are also doubly illuminated to indicate additional functions.
In order to make a wrist rest glow, Roccat does not need any complex technology that would require LEDs in the rest and thus power and data lines to the keyboard. Instead, LEDs are placed in the body of the Vulcan II, which shine from there into a layer of translucent material. Color gimmicks with LEDs have a practical function elsewhere. 24 keys have a second LED, which only lights up as a status display when secondary functions are activated. Effects can be synchronized across the board with other products from the manufacturer.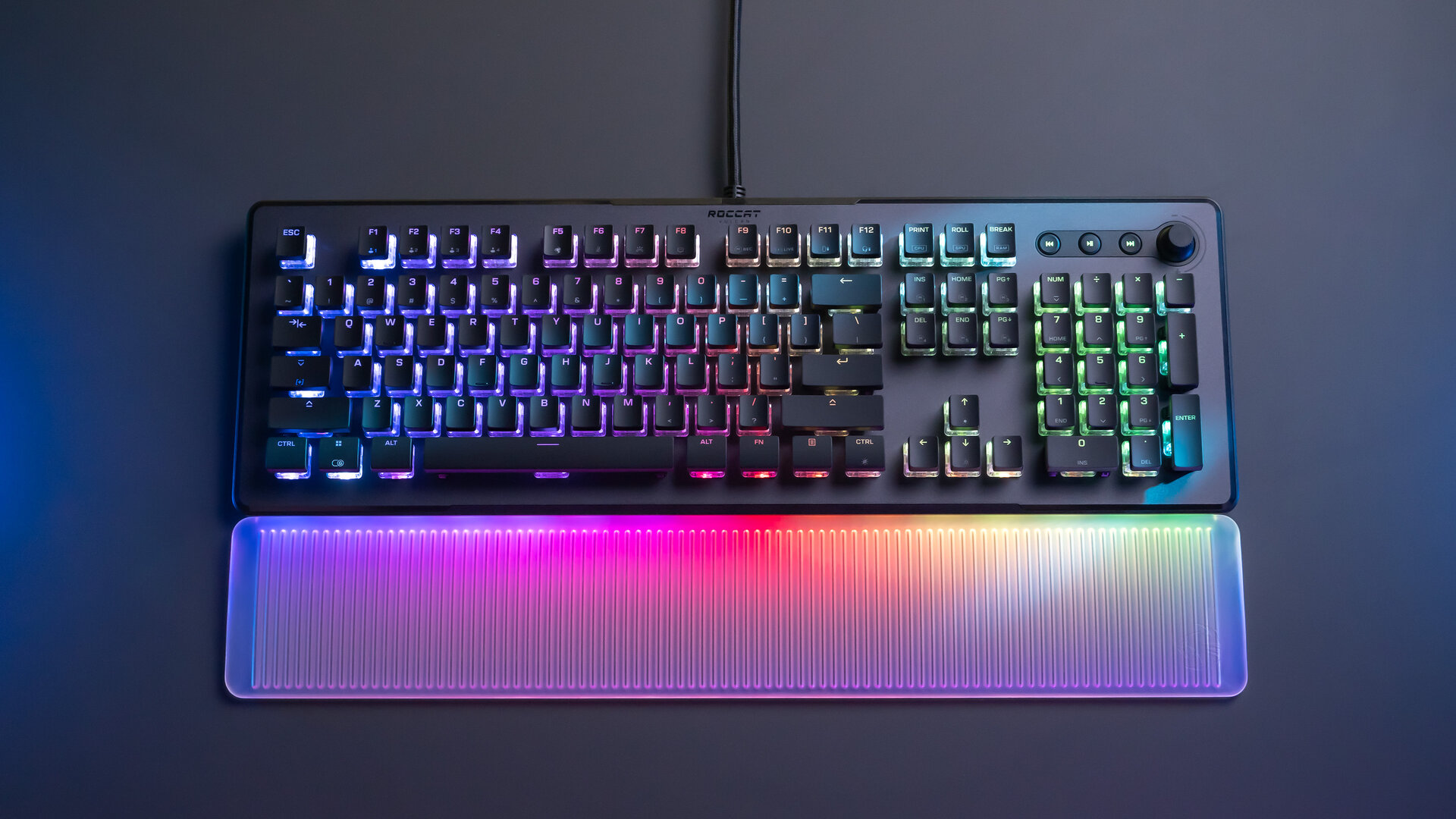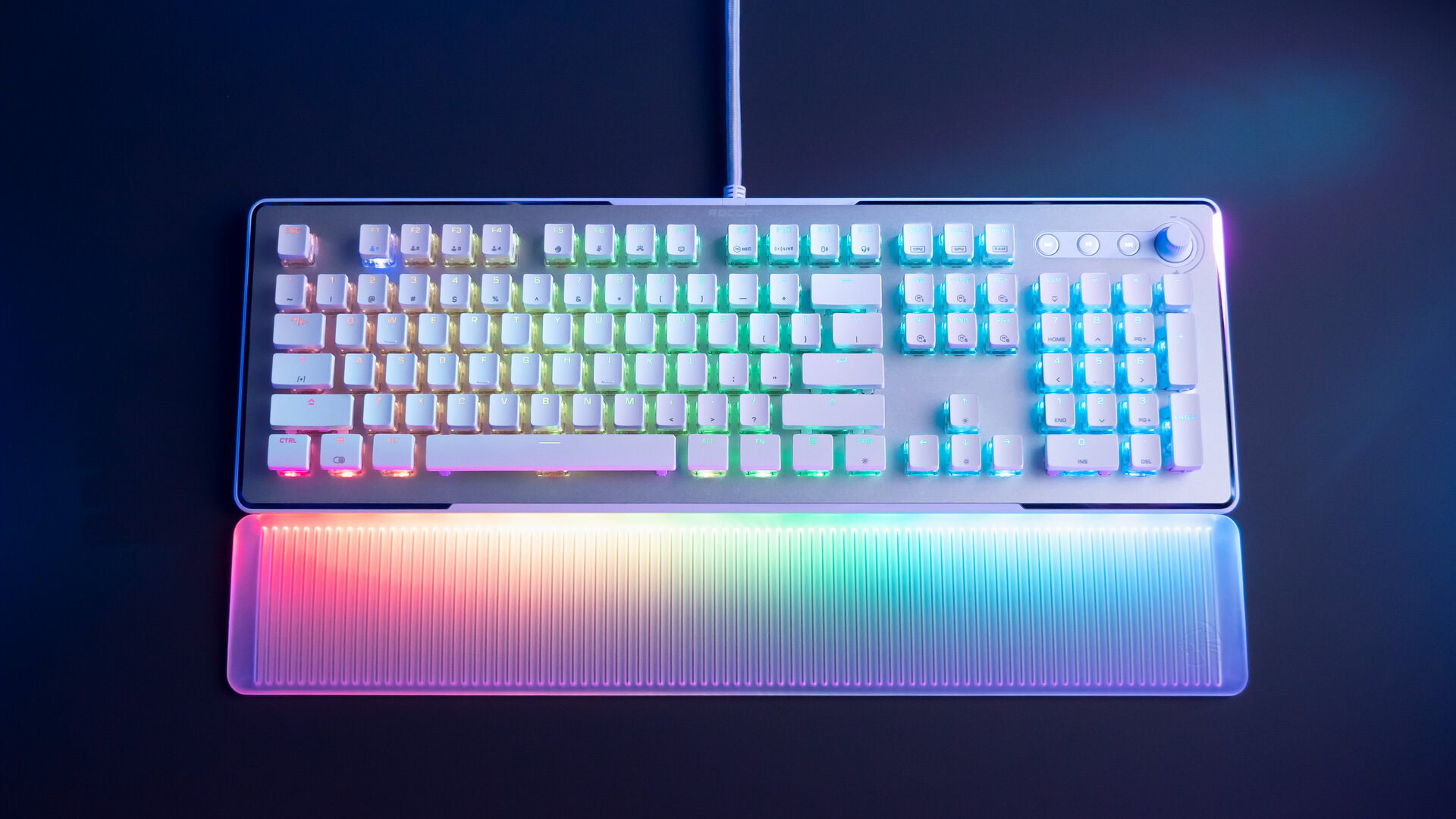 Like most Roccat input devices, the Vulcan II can also be programmed on two levels. This second level is separated from the FN level and activated via a different key combination. The keyboard can also be programmed in four different profiles, which are stored on the 4 megabyte memory.
Buttons will be revised
Roccat's optical titanium styli, which generate signals with the help of an infrared barrier, are used for signal acquisition. They are said to have been improved in the second generation. According to the pictures on the homepage, only the stamp has changed on the outside. Instead of the box-shaped border of the recording, a standard design in the style of the Cherry MX is now used. However, the first Titan generation was already compatible with keycaps with a cross mount.
Roccat Titan Linear Roccat Titan Tactile Characteristics: linear tactile Travel: 3.6 mm Position of the signal point: 1.4 mm 1.8 mm Resistance at the signal point: 45 g Resistance at the pressure point: – Service life (stops): 100 million .
With the Vulcan II, buyers can choose between buttons with and without a pressure point. The stroke is a little shorter than usual, and a signal is also triggered earlier than with normal buttons. This usually creates a feeling of responsiveness. Only the three media buttons and the rotary control with which the audio volume can be selected are non-mechanical. Roccat again makes the keycaps particularly flat, but there is no mention of the material. ABS plastic is therefore probably used, which is also due to the unusual format.
Roccat will be offering the Vulcan II Max from October 17, 2022, initially in its own web shop for around 230 euros. It is still unclear when the free trade will also sell.
Roccat Vulcan II Max Size (L × W × H): 46.3 × 23.6 × 3.4 cm
Palmrest Layout: 105 ISO (extended) Weight: 1,040 g Cable: 1.80 m , 2 × USB 2.0 Hub function: – Key rollover: ?, ? Switch: Roccat Titan Tactile Buttons: Shape: cylindrical
Material: ABS plastic
Labeling: laser cut Additional keys: 3 × media
Scroll wheel (volume) Media functions: volume, play/pause, forward/back Additional functions: Switch Profiles, Gaming Mode, Macro Recording, System Features Lighting: Color: RGB
Modes: Breathing Effect, Wave Effect, Reactive Mode, Circumferential Activation, Color Loop
Other: Custom LED Profiles Macros & Programming: 4,096 kB, 4 profiles, hardware playback
?, programmable without software Price: €230