The next doubling of storage capacity is imminent: Kioxia has developed the prototype of a microSDXC memory card that offers 2 TB for the first time. So far, such cards with a maximum storage volume of 1 TB have been commercially available. Other alleged 2TB microSD cards are fake.
Kioxia says this is "the industry's first working prototype 2 terabyte (TB) microSDXC memory card" . In fact, none of the other NAND flash manufacturers like Samsung or Micron have such a product in their range.
For its 2 TB model, Western Digital's Japanese partner stacks 16 dies of 1 terabit each (125 GB × 16 = 2,000 GB) on top of each other in the single chip housing. The generation of the so-called BiCS Flash 3D is not revealed. It also remains unclear whether QLC or TLC-NAND is used, but from the editorial point of view QLC-NAND with 4 bits per memory cell is likely. The controller for the memory card should come from the company itself. UHS-I with up to 104 MB/s is used as the interface; However, some manufacturers surpass this speed with proprietary technology.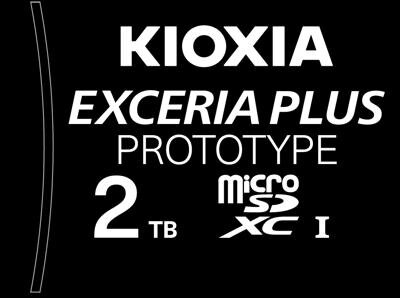 In its announcement, Kioxia writes that the SD Association's SDXC specification has supported memory cards with a capacity of 2 TB for more than a decade. However, "no cards with 2TB have been successfully manufactured yet," according to the company. NAND flash dies with 1 terabit have been around for a long time, and 16 chips have already been stacked in one housing in the SSD segment.
The first one will be available MicroSD card with 2 TB, but not before next year, because only then should mass production begin.
Fraud with alleged 2 TB cards
If you are already looking for a microSDXC card with 2 TB, you will see fraudulent offers. These only pretend to have this storage capacity, but in reality they offer significantly less storage volume. The fakes are often adapted to the design of the major manufacturers so that buyers can fall for them more easily.