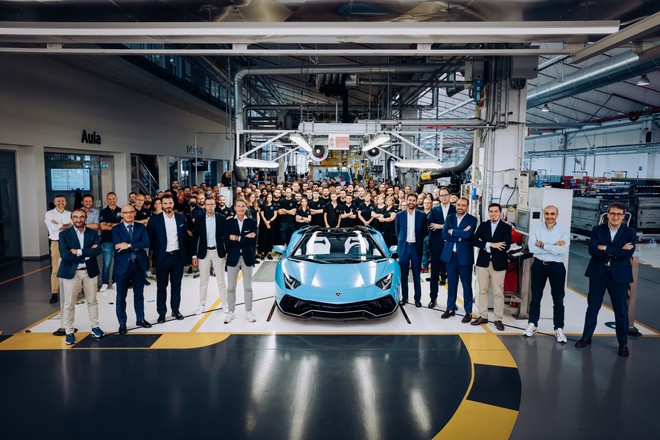 With the last specimen released from the production lines, the era of the Lamborghini Aventador ends. The latest example of the supercar equipped with a & quot; pure & quot; V12 engine (not electrified) has an Ad Personam blue color and & egrave; intended for a Swiss customer. This concludes the story of a very successful model that debuted at the Geneva Motor Show in 2011 as the Aventador LP 700-4.
A commercial success as the manufacturer points out that the number of Aventadors sold exceeds that of all previous Lamborghini V12 models added together. In its fifth year of production, the brand reached 5,000 units & agrave; delivered, the equivalent of all specimens of Murci & eacute; lago ever produced. The model number 10,000 of the Aventador is; It was delivered in September 2020.
The brand also says that every Aventador delivered could be considered almost as a unique model. In fact, 85% of the units they have been customized by the owners with Ad Personam elements. For Aventador have been created more & ugrave; of 200 unique colors and finishes .
The supercar of the Lamborghini house is; was also the protagonist of two lap records obtained on the N & uuml; rburgring Nordschleife : in 2015, the Aventador LP 750-4 SV completed a lap under seven minutes recording a time of 6: 59.75, while the Aventador SVJ claimed the record for Lamborghini in 2018, with a time of 6: 44.97.
The latest variant of the supercar, the Aventador LP 780-4 model, is arrived last year precisely to celebrate the end of the history of this car. Car with a 780 bhp V12 and 0 to 100 km/h in 2.8 seconds.
THE FUTURE IN THE SIGN OF ELECTRIFICATION
Lamborghini's plans are well known and provide for electrification of the whole range of cars. The first 100% electric model should also arrive in 2027/2028. As for the heir of the Aventador, we already have; saw several spy photos that allowed us to take a first look at the look of the future supercar.
Not much is known about the specifications of the powertrain yet. It should always be a V12, perhaps with a displacement of less than the current 6.5 liters, combined with an electric motor. To get the complete specifications you will need to & agrave; obviously wait for the official presentation of the car.
The 5G smartphone for everyone? Motorola Moto G 5G Plus, buy it at the best price from Amazon Marketplace at 251 euros .