A "significantly improved manufacturing process", which is jokingly called Intel 7 Ultra internally, is said to make Intel Raptor Lake legs and AMD Ryzen 7000 problems. The resulting voltage-clock frequency curve should enable much more clock with the same or even less consumption. There are also more cores.
Raptor Lake is based on Alder Lake
Raptor Lake is the refresh from Alder Lake that was pushed in at fairly short notice for CPU conditions in order to bridge the time until Meteor Lake in the coming year. The basic architecture remains the same, but Intel has tightened a few adjustment screws, together with a further optimized 10 nm process, also made more clock available. The result is the fastest Intel processors – but anything else would be surprising.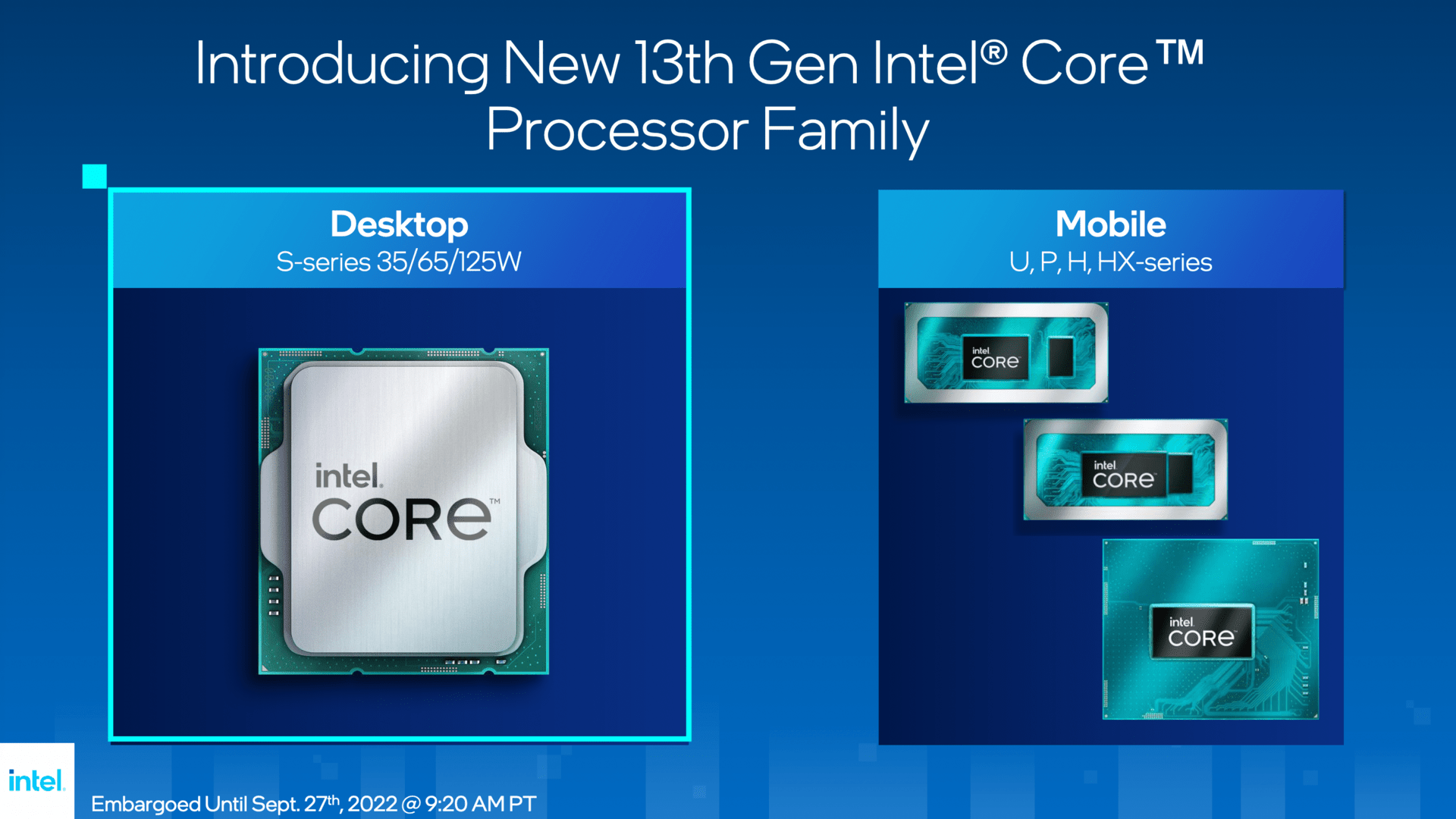 Intel Raptor Lake is being brought to almost every area of ​​the desktop and notebook. Since the CPU is almost an Alder Lake 2.0, the platforms are compatible, which is why a simple upgrade is possible almost everywhere. Initially, however, there are only 3+3 desktop processors (3×K and 3×KF), but other S models and an extensive portfolio of notebook solutions are to be released in the near future. Today Intel already promises 22 desktop SKUs, mobile solutions should not appear as numerous, but there is still a great variety.
In the desktop, Intel advertises nothing other than the fastest desktop processors. The now even higher clocked performance cores are flanked by a doubled number of efficiency cores, plus larger L2 and L3 caches and DDR5-5600 memory support. This should provide significantly better performance in every area.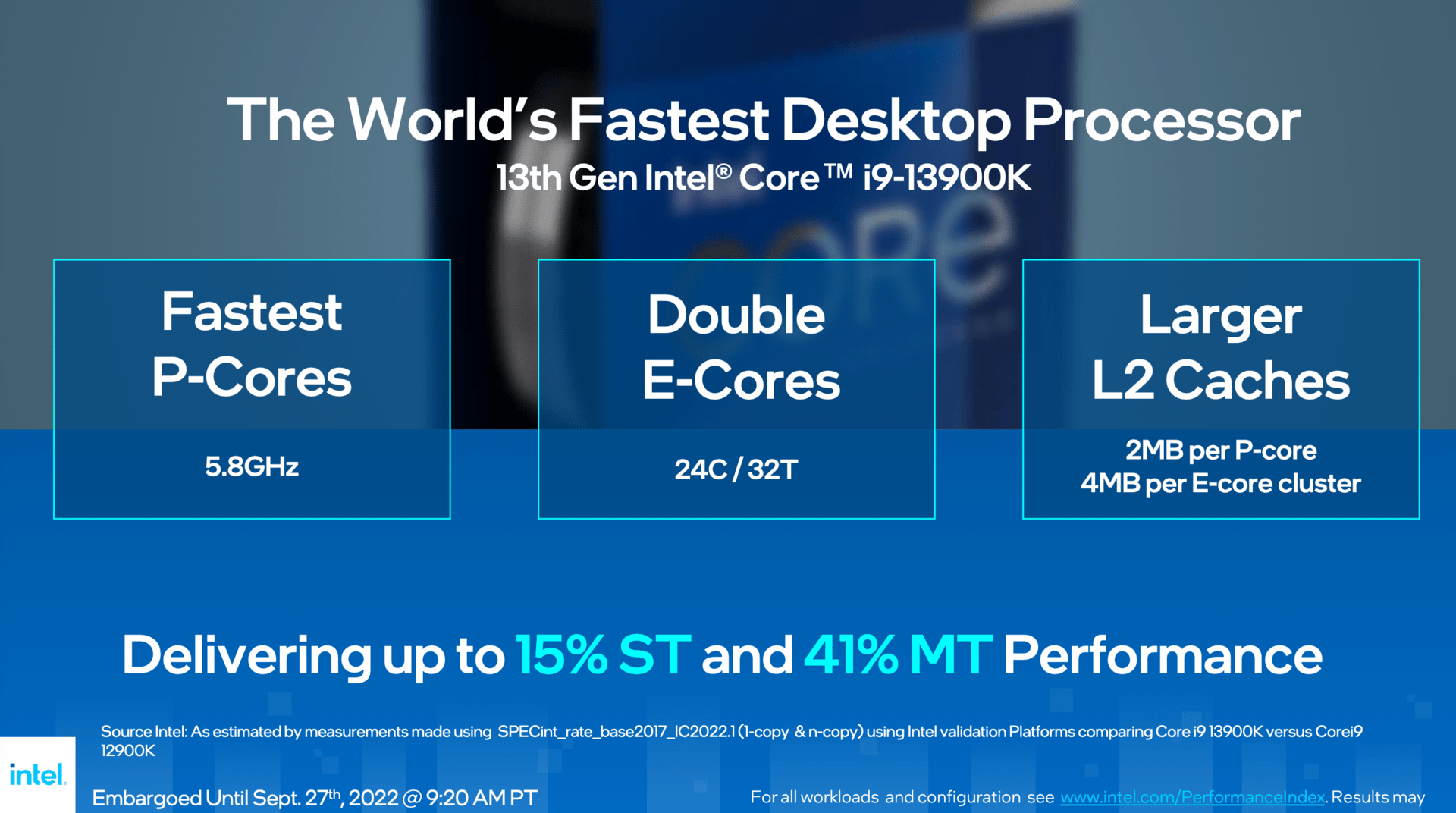 Optimized V/F curve for more clock with same/lower consumption
According to Intel, Raptor Lake enjoys the third stage of "Intel 7" production. This marketing description identifies the latest optimizations to the ongoing 10 nm process, as this solution was once called. However, this cannot reinvent the wheel or overturn the physics, as a look at the bar details reveals. Because Intel has to keep an eye on the consumption, it only allows the new processors a little more here, instead of 241 watts as the PL2 value for peak loads, it is now 253 watts. And so the base clock even drops in many areas, because this TDP is set up in the K/KF models with 125 watts exactly as in the predecessor. But the more (E) cores and the larger caches take their toll.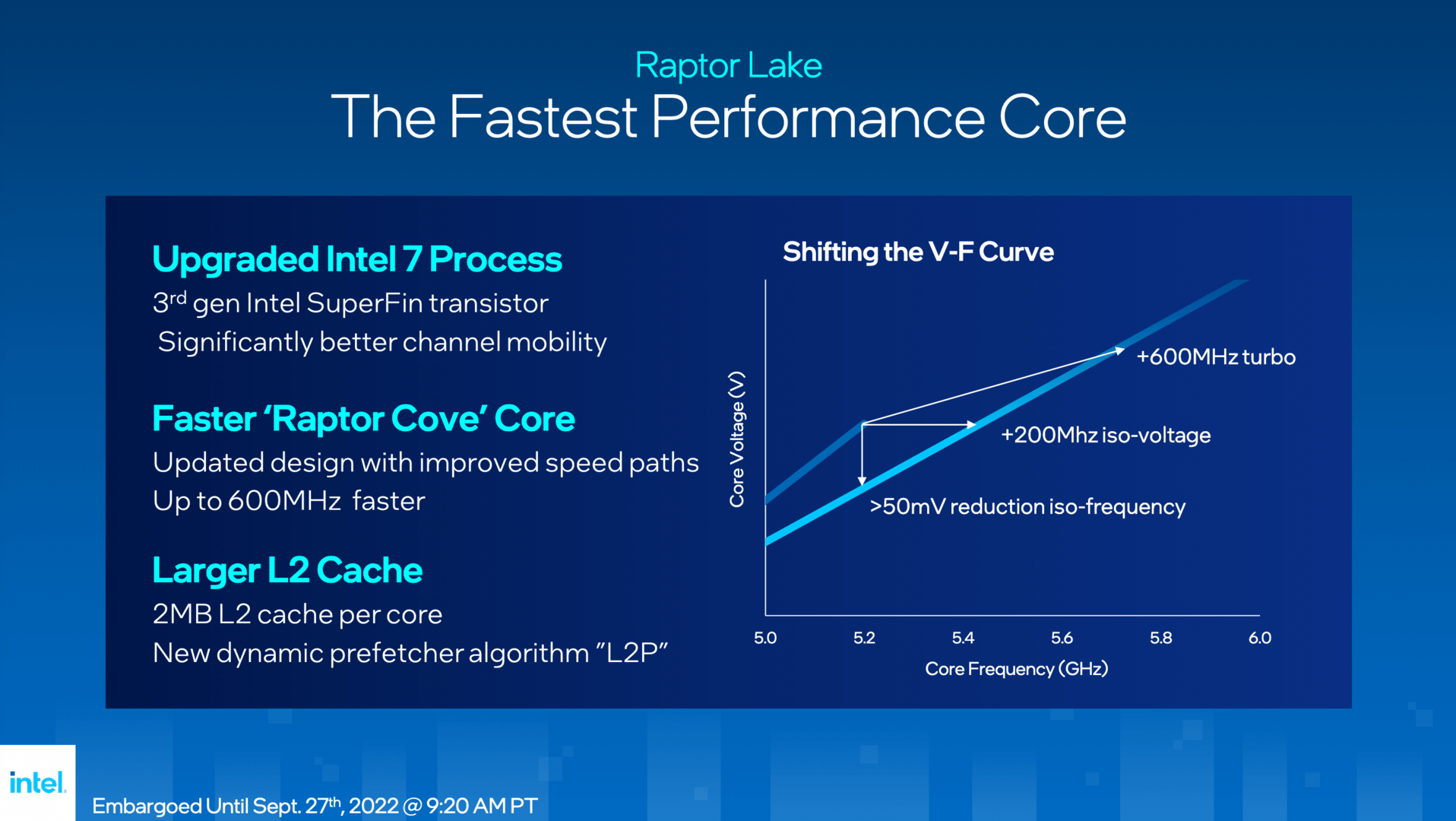 The highest clock is only available with all special features
The up to 600 MHz more than the predecessor Alder Lake-S, which Intel advertises, only appear when all the parameters are right. Because once again they only apply when using Turbo 3.0 and also Thermal Velocity Boost and Adaptive Boost, known from the penultimate generation Rocket Lake-S. High-end mainboards, which overcome many of these limits anyway, should always come close to these values, provided the cooling can do its part.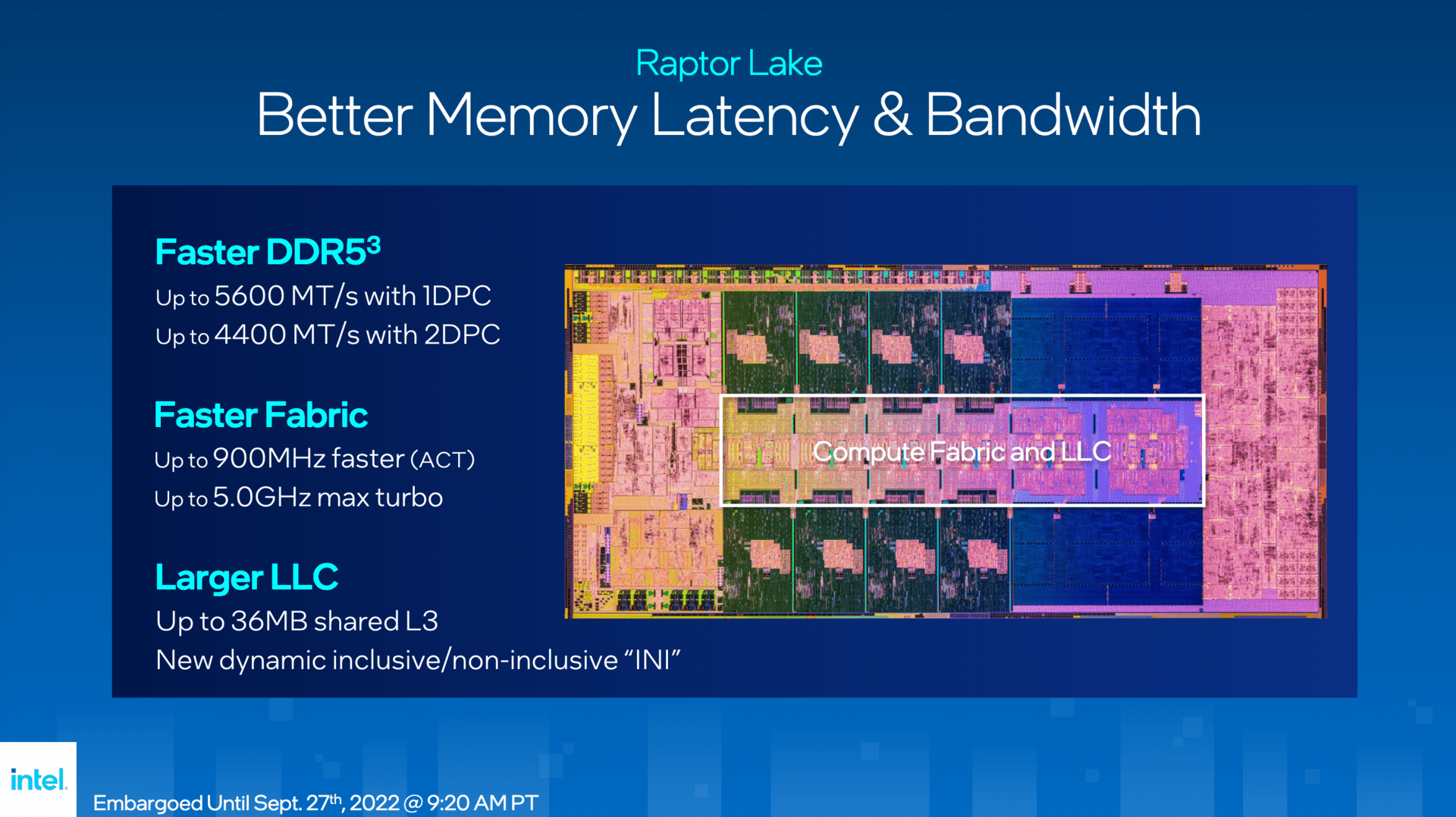 Intel also wants to become more efficient
However, Intel's information on other consumption values ​​and the possible performance are also interesting. AMD recently showed with the Ryzen 7000 that the CPUs are mercilessly overbred at the top, far too much power is consumed for a few percent more performance. This is also a known problem with Intel. Thanks to the adjustments to the voltage curve, but above all thanks to the additional E-Cores, Raptor Lake should work much more efficiently than its predecessor in selected tests.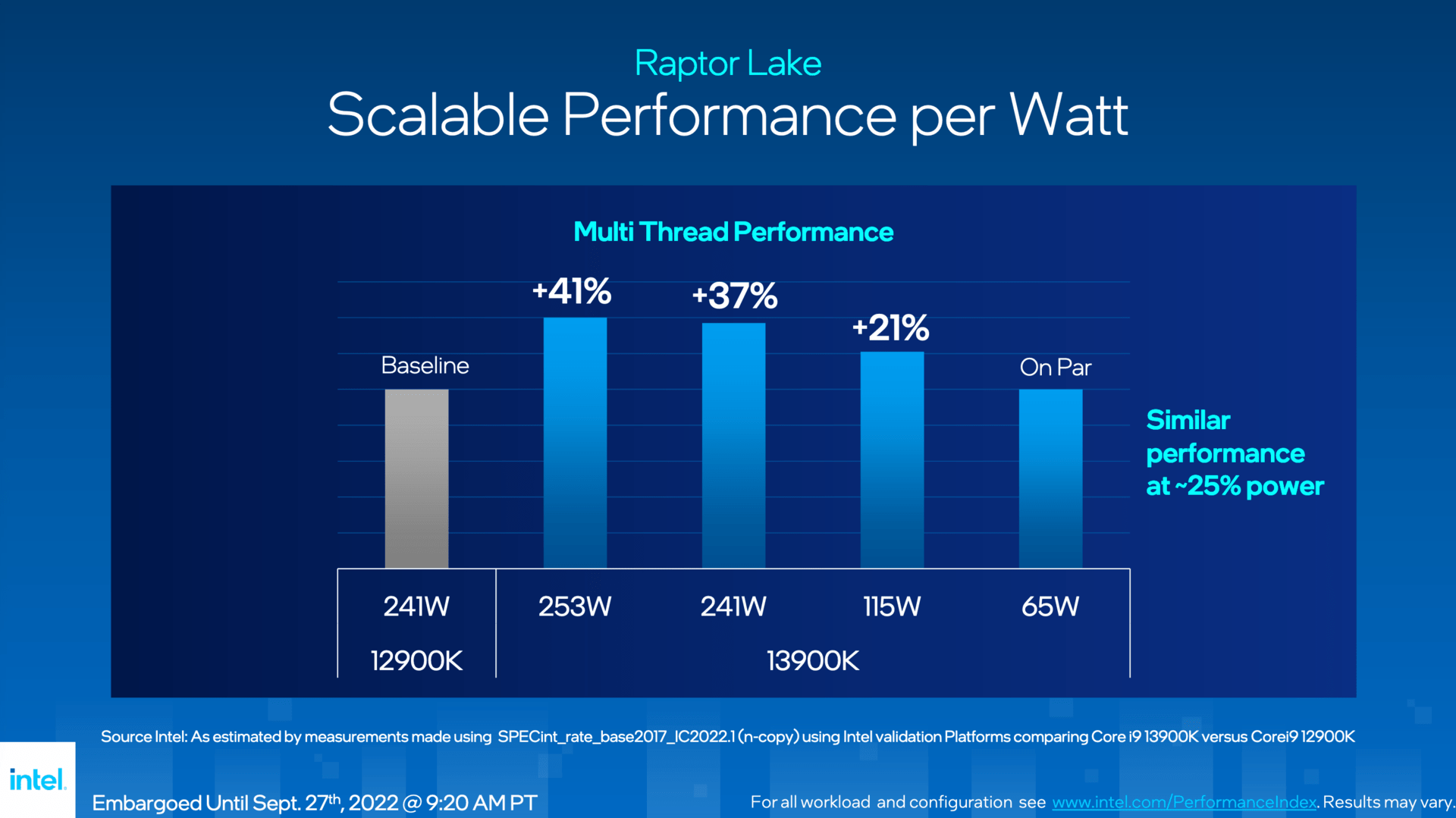 Overview of model range: Raptor Lake vs. Alder Lake
In the tabular overview, the differences between the 12th and 13th generation become clear. A new Core i7-13700K corresponds to a previous Core i9-12900K or even almost a Core i9-12900KS, but at the price of the previous Core i7. This is probably the biggest challenge not only in-house, but also to AMD. A new Ryzen 7 7700X costs 399 US dollars according to the RRP and is in exactly the same league.
In addition to support for DDR5-5600 and also DDR4-3200, the CPUs still offer the integrated graphics unit UHD 770. This is deactivated in the F models – at a price advantage of 25 US dollars.
Multi-core performance increases significantly
The effect on performance in perfectly parallelized applications through the E-Core upgrade in every class promises to be big. Numerous leaks had already indicated this over the past few weeks and an authentic test result of a Core i7-13700K in Cinebench R23, which ComputerBase has available, confirms this.
Cinebench R23 nT
nT:

Intel Core i7-13700K
DDR5-5600CL3831.047
Intel Core i9-12900KS
DDR4-3200CL1429.011
Intel Core i7-12700K
DDR4-3200CL1422.861

1T:

Intel Core i9-12900KS
DDR4-3200CL142.132
Intel Core i7-13700K
DDR5-5600CL382.126
Intel Core i7-12700K
DDR4-3200CL141.948
Unit: Points < p class="p text-width">The new Core i7-13700K benefits from several factors compared to its predecessor: More E-Cores, more clock and an increased TDP. In addition, there is also an increased IPC, so that a significantly higher result is revealed in the multi-core test. The new Core i7 is now at least what a Core i9 was with Alder Lake.
The model shows that the Core i7 and also the Core i5 are to be expected with Intel, because cores and clock rates are also increased with the Core i5. Alder Lake's position against Ryzen 5000 was already very good in this area, Raptor Lake could play this card again against Ryzen 7000.
It will be interesting to see how Raptor Lake in which expansion stage scales over a wide TDP range.
Intel's own tests see broad spectrum of gains
Intel's own benchmarks look a little better; the manufacturer traditionally chooses a positive overall picture for its own product. Nevertheless, it is clear that Raptor Lake-S is faster than Alder Lake-S across the board. In the end, the only question is how much, exactly, which, as usual, depends heavily on the game or the application in question.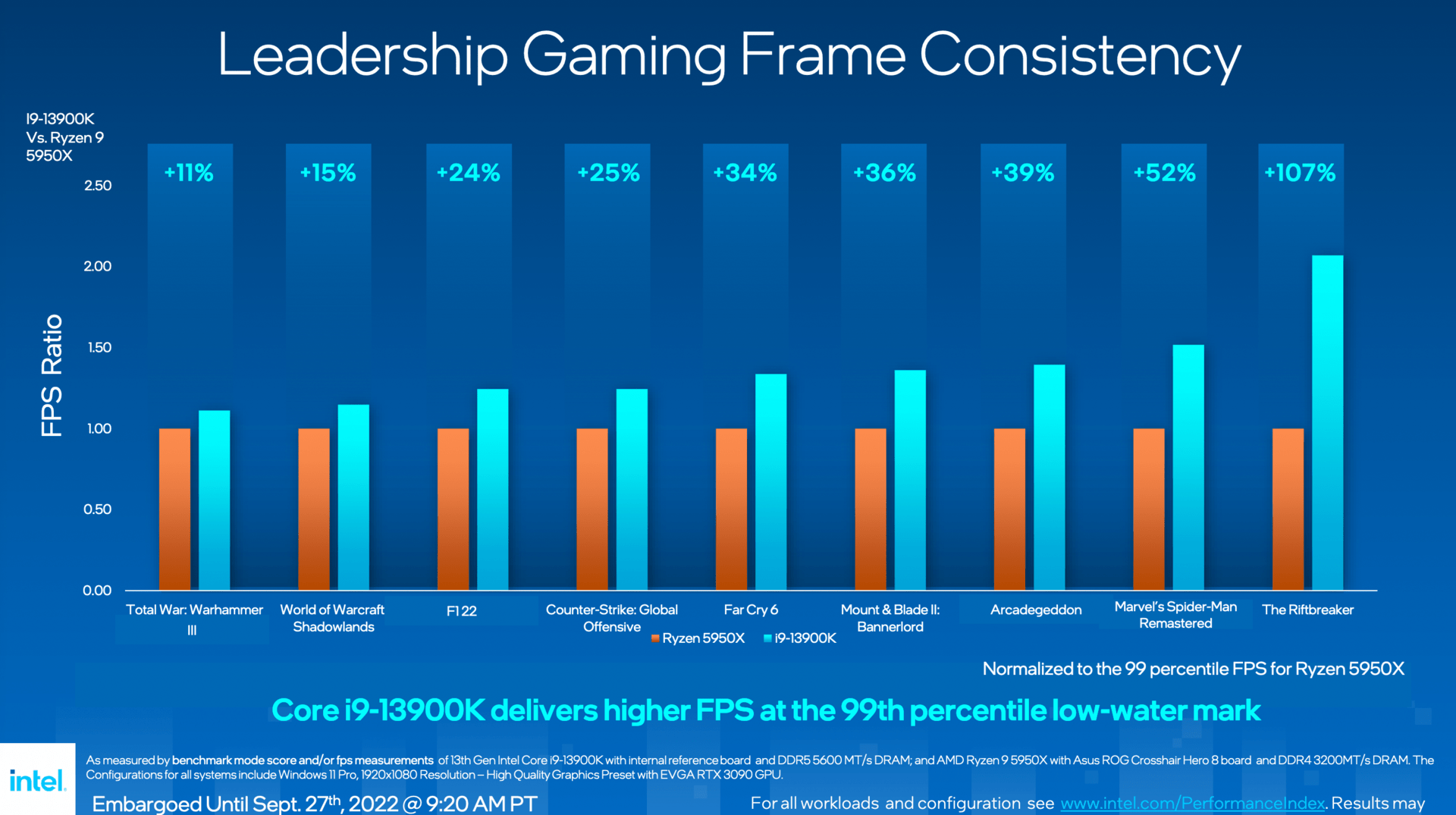 Starting on October 20
Independent tests are expected during October, and Intel today confirmed the rumors of October 20th as the market launch as the final date. However, in order to take the butter off AMD's bread a little, benchmark values ​​that Intel tolerated should appear almost daily by then. Because as of today, all mainboards with a Z790 chipset should at least be presented, the team ultimately forms the new platform.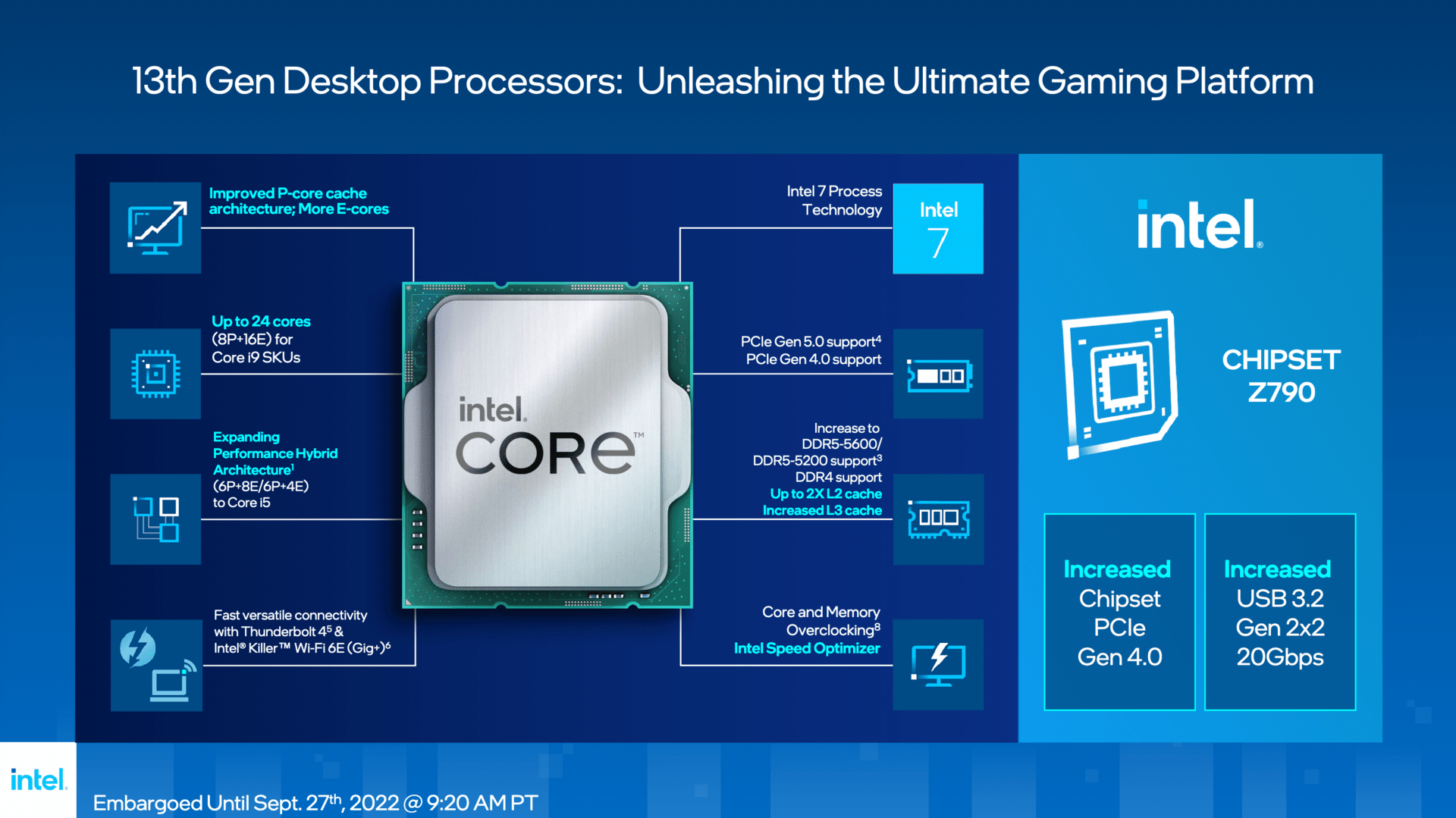 Update 09/27/2022 6:50 p.m.
At the event, CEO Gelsinger explained that there will be over 50 processors in the new series. He also gave a teaser for the 6 GHz solution: It should appear as a limited version at the beginning of 2023. Until then, Intel should have some of the best Core i9-13900K, precisely for this fastest model.