In the fourth quarter, prices for SSDs are expected to drop massively. TrendForce market researchers are forecasting price reductions of 15 to 20 percent for both client and enterprise SSDs in the fourth quarter. >Selling off the full chip stock
There is currently an oversupply of memory chips. Global crises and the associated high inflation are reducing the willingness to buy electronic goods and thus also computers and smartphones equipped with NAND flash memory. Manufacturers' warehouses are full to bursting with memory chips. Due to the oversupply, there is a veritable sale with significant price reductions.
TrendForce had already revised the forecasts downwards for the third quarter. First, NAND flash was only supposed to be up to 5 percent cheaper, then it was more like 8 to 13 percent.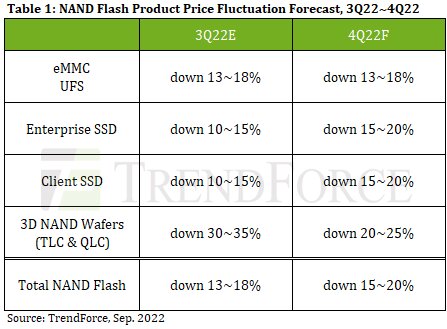 Now there is even a price drop by 13 to 18 percent. The contract prices for the purchase of NAND flash wafers are even expected to drop by up to 35 percent.
SSDs are becoming even cheaper
The price reductions will also reach the end products with a little delay. Client SSDs are expected to be 10 to 15 percent cheaper in the third quarter and 15 to 20 percent cheaper in the fourth quarter. The same is expected with enterprise SSDs. The eMMC and UFS variants used in smartphones should be around 13 to 18 percent cheaper.
TrendForce expects NAND flash makers (Samsung, SK Hynix, Micron, Kioxia, and Western Digital) to gradually move into the red as prices drop. It is therefore likely that at least some will reduce their production.
Even if fewer and fewer people will have money left over for SSDs or smartphones in the coming months due to rising living costs, it can be said you will probably save quite a bit compared to the normal price.
Budget SSDs with lower-quality components are already showing prices of less than 60 euros per terabyte or 6 cents per gigabyte. If TrendForce's forecasts are correct, the 5 cents per GB mark should fall this year.