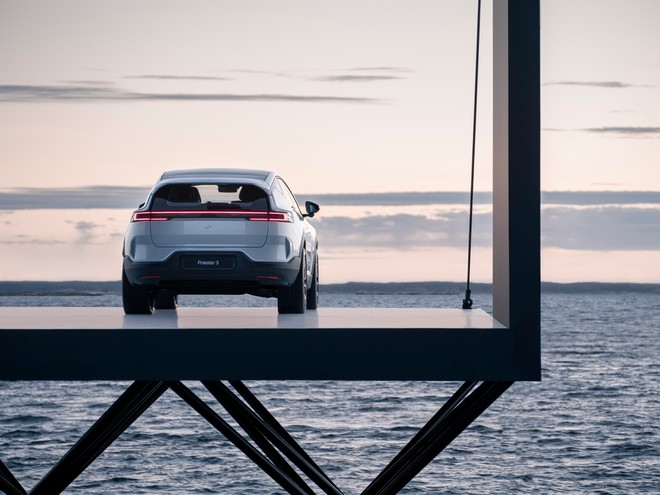 The Polestar 3 electric SUV will be & agrave; officially unveiled on 12 October . The event that you can & agrave; follow in streaming will be held; in Copenhagen, Denmark. Finally, the automaker will remove the veils on this new model of which we have talked a lot in the past and of which we already know; some things, especially regarding its appearance. Announcing the date of the presentation of the new battery-powered SUV, the automaker has also shared a new teaser that shows the rear of the car where the light clusters connected by an LED light bar stand out./p> WHAT DO WE KNOW?
If we already know about the look of the Polestar 3; much thanks to the various teasers shared by the brand, as regards the technical characteristics the car manufacturer has now added some details. According to the announcement, at the time of launch, all variants of the electric SUV will be equipped with a powertrain consisting of a double electric motor with & quot; rear bias and vectorization of the electric torque by means of a double clutch system on the rear electric motor & quot ;.
This equipment & egrave; made possible by the presence of adaptive double-chamber air suspension and active shock absorbers as standard, which allow the Polestar 3 to vary the dynamics of the suspension from soft to rigid and to adjust the shock absorbers according to road conditions every two milliseconds (500 Hz ).
Customers can also choose the optional Performance package which offers a maximum power of 380 kW and 910 Nm , in addition to the Polestar Engineered chassis tuning for the active shock absorbers and air suspension. Characteristic & laquo; Swedish Gold & raquo; details have also been added. by Polestar, including seat belts and a laser-engraved internal light band.
The autonomy should be around, according to what has been told in the past, around 600 km. In addition, the SUV will be able to & agrave; rely on an advanced assisted driving system for the highway based on the LiDAR sensor of the Luminar company and on the computing power of the centralized NVIDIA platform.
Therefore, very interesting premises for an important model for Polestar's future growth strategy. There is still no precise information on prices. However, in the past there was talk of a cost between € 75,000 and € 110,000.
THE FUTURE MODELS
Polestar intends to grow rapidly. For this, it will launch; several electric models over the next few years. In 2023 it will be; presented the Polestar 4, an SUV Coup & eacute; and in 2024 the Polestar 5, an electric sedan, production version of the Polestar Precept concept car. Finally, in 2026 will come & agrave; the exclusive Polestar 6 electric roadster. The carmaker is also expanding its presence into new markets. Coming soon. also in Italy.
The best of OnePlus? OnePlus 9 Pro, buy it at the best price from eBay at 494 euros .