Nvidia and CD Projekt have once again cooperated for a promotion and launched three GeForce RTX 4090 FE in the design of Cyberpunk 2077, which have now been advertised as a prize for Twitter users. The developers of the dystopian action RPG will hold a kind of creative contest with screenshots from the game.
3× GeForce RTX 4090 FE "Cyberpunk 2077 Edition
After the presentation of the GeForce RTX 4090 and the two completely different GeForce RTX 4080, Nvidia and the Polish development studio CD Projekt Red start marketing for the release of the first GeForce RTX 4000 on October 12th. The three "Custom Founders Edition" to be raffled differ only in the design of the backplate and smaller details such as the small Cyberpunk lettering on the radiator cover.
Three competitions for gamers and connoisseurs
With three creative competitions, which should also include tasks in the game Cyberpunk 2077 such as very specific screenshots, Nvidia and CD Projekt would like to award the three very special GeForce RTX 4090 to real gamers.
1. Challenge – from 09/26/2022 to 10/02/2022
2. Challenge – from 10/03/2022 to 10/09/2022
3. Challenge – from 10/10/2022 to 10/16/2022
CD Projekt has announced further details about the competitions and further links in a news item on its website.< /p>
Want your chance to WIN a GeForce RTX 4090 with a custom @CyberpunkGame Backplate!?

Details here 👉 https://t.co/VfoDPbUGG3#BeyondFast https://t.co/JaYsRMNiHW pic.twitter.com/I7hrc5KVV8

— NVIDIA GeForce (@NVIDIAGeForce) September 26, 2022
In each of the three competitions, Nvidia and CD Projekt will award the most creative entry with a strictly limited GeForce RTX 4090 FE "Cyberpunk 2077 Edition".
All further information will be available soon via published the official Twitter account (@CyberpunkGame) of the developer studio.
Cyberpunk 2077 serves as Nvidia's flagship title
The action role-playing game serves as Nvidia's flagship title for the Ada Lovelace generation and DLSS 3 and should be rendered on the new GeForce RTX 4090 with DLSS 3 ("Performance") with around 4× as many FPS as on a GeForce RTX 3090 Ti with native Resolution.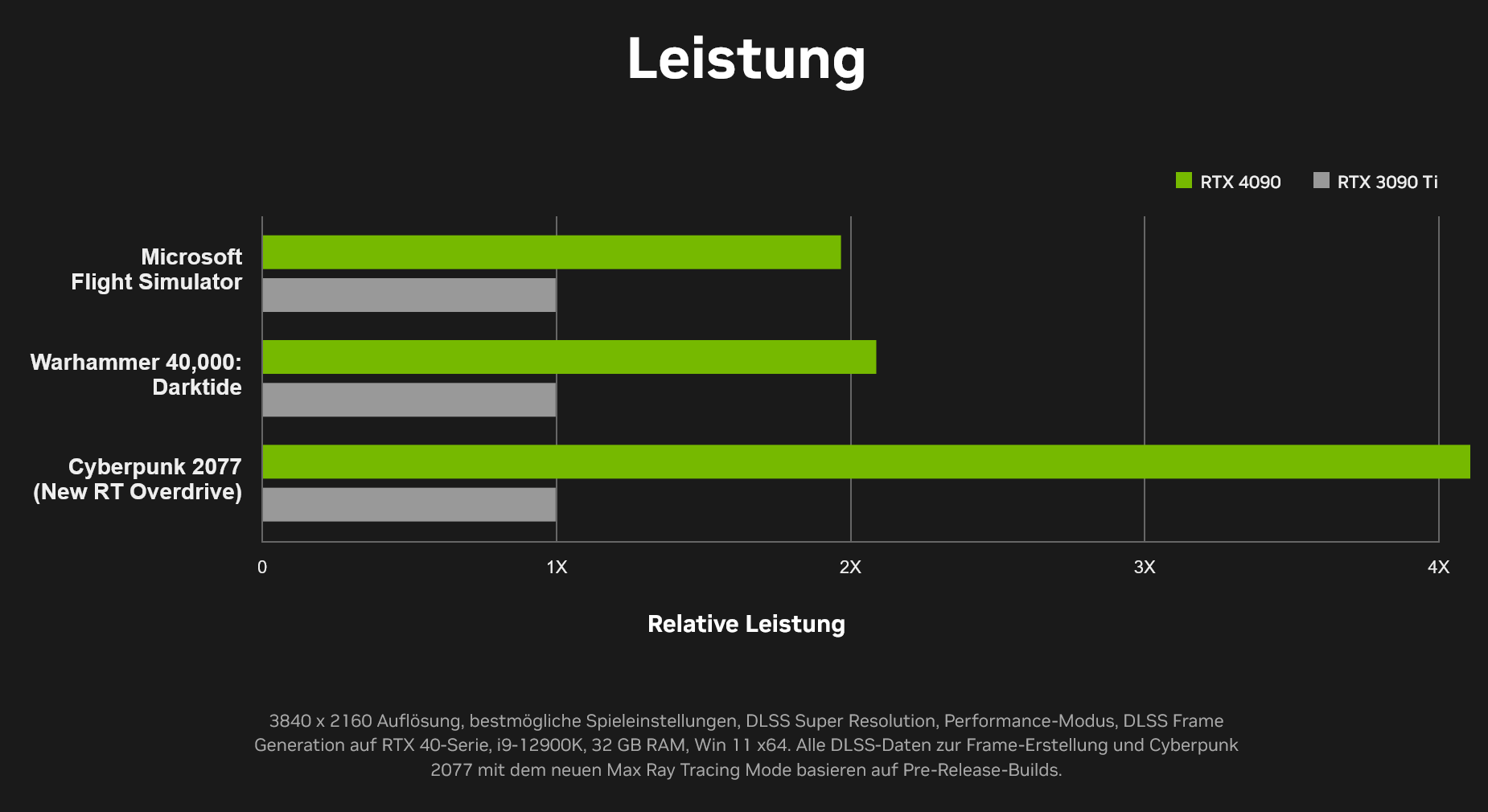 The manufacturer's benchmarks should be viewed with caution for the time being We always enjoy and talk about the relative performance in combination with Nvidia's AI upsampling DLSS, in this case DLSS 3.0, in performance mode.