IONITY has opened a new construction site in Italy for the construction of a new charging station for high power of electric cars. Specifically, it will be; built a new station along the Adriatic coast in Civitanova Marche . This is interesting news especially given that on the Adriatic coast IONITY & egrave; little present. According to the announcement, 6 350 kW HPC charging points will be installed. Therefore, those who travel to these places will be able to & agrave; in the future, count on a new station where you can fill up with energy quickly.
The timing of the commissioning of this new infrastructure is unknown. In any case, currently in Italy there are 22 active IONITY stations and 7 under construction . How can you & ograve; see from the coverage map, Northern Italy & egrave; well covered. Where there is still to work & egrave; especially in Central Italy where there are still few active stations. To fill this gap, the stations of Rome and Naples will soon arrive.
This expansion of the IONITY network in Italy is part of the ambitious growth plan of this company. As we know, 700 million euros will be invested to have around 7,000 350 kW charging points by 2025. The total number of stations will rise, again by that date, to around 1,000.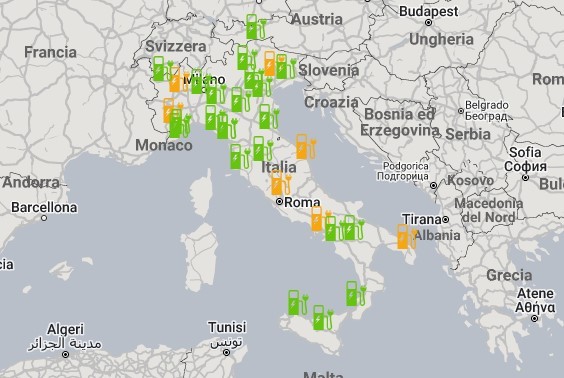 We remind you that IONITY offers electric users a pay-as-you-go rate and a subscription for those who make extensive use of their infrastructure. The Pay per Use rate provides for a cost of 0.79 euros per kWh. The IONITY Passport subscription costs 17.99 euros per month and allows you to recharge at a cost of 0.35 euros per kWh.
IONITY partner car manufacturers can then offer specific packages to their customers that allow you to fill up with energy at a discounted price.

Electric cars, how much does it cost to recharge in Italy? The main rates compared 473
Auto 24 Set
WHERE ARE THE IONITY STATIONS IN ITALY?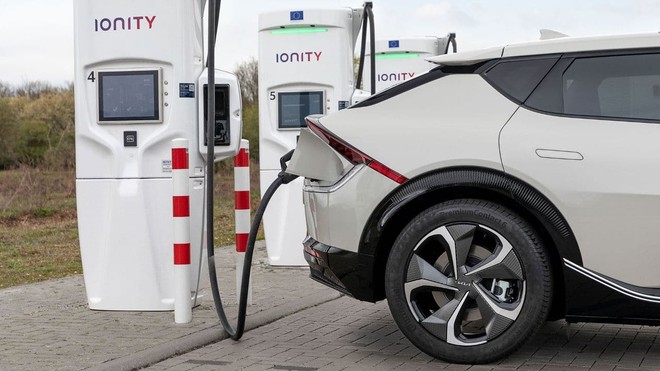 Italy The stations active in Italy The stations active in Italy strong> to date are the following (22):
Scarlino: 4 columns
Gioia Tauro: 5 columns
East Versilia: 6 columns
Les Iles de Brissogne Nord: 4 columns
Battipaglia: 6 columns
West Versilia: 6 columns
Monselice: 6 columns
Agira : 4 columns
Portogruaro: 6 columns
Piacenza: 6 columns
Potenza: 4 columns
Trento: 6 columns
Basile Palermo: 2 columns
Binasco: 6 columns
Montecchio Maggiore: 4 columns
Forl & igrave ;: 6 columns
Rinovo Nord: 5 columns
Ceriale Sud: 6 columns
Brugnato Ovest: 4 columns
Brennero: 6 columns
Carpi: 6 columns
Valdichiana Outlet Village: 4 columns
Under construction , however, we have the following stations (7):
Mondov & igrave;
Cavagli & agrave;
Conegliano
North Rome
Lecce
Naples Afragola
Civitanova Marche
A computer inside a smartphone? Motorola Moto G100, buy it at the best price from eBay at 398 euros .