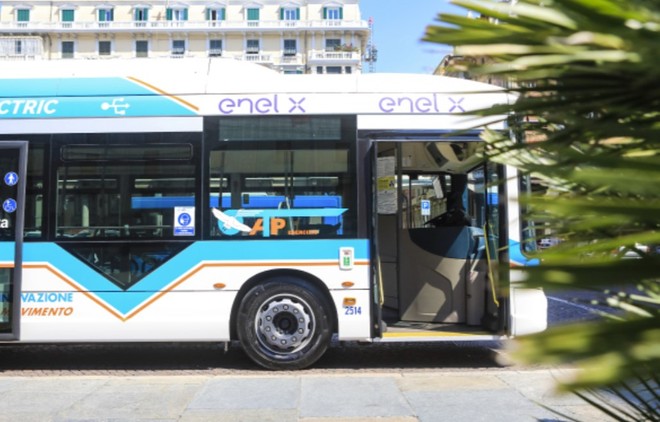 The public transport of the city & agrave; of Turin becomes even more & ugrave; green thanks to an agreement between Enel X and the Autoguidovie Group (through the Cavourese company). Together, these two companies they will work to electrify part of the city's bus fleet . More & ugrave; specifically, Autoguidovie si & egrave; awarded a call for tenders launched by the Torinese Trasporti Group and chose Enel X as a strategic partner for the first Italian & ldquo; bus as a service & rdquo; which involves the use of 14 e-buses. As part of the project, specific charging stations will also be built for these vehicles.
HOW DOES IT WORK?
But what exactly does Bus as a service mean? Specifically, it is a particular solution developed by Enel X which is based on the supply of energy per km traveled. In practice, customers buy the electric km needed to cover the routes thus guaranteeing; an efficient and sustainable delivery of the service. In addition to electric buses, Enel X will supply; maintenance, charging stations (9), electrical infrastructures in the cabin and depot and software for remote monitoring of charging operations to avoid peaks in energy consumption, as well as the entire financing of investments.
Thanks to this initiative, the Municipality of Turin will do & agrave; a new important step towards a zero impact public transport system. Giovanni Tresoldi , Chief Executive Officer of Cavourese, commented:
Cavourese & egrave; a reality history of Piedmont that has always stood out for its drive towards innovation and sustainability. The award of this important tender underlines, not only the goodness; of our project, but also the urgency to focus on zero-impact public transport, a real driving force for the local economy. We are convinced that our service will have; immediately a positive impact not only on the environmental level, but on the economic and employment level by creating the technical skills that will characterize the sector already; in the near future.
Francesco Venturini , Head of Enel X, underlined, however, how the electrification of public transport can represent an opportunity to redesign cities. in a more perspective smart.
Electrifying local public transport does not only mean replacing a thermal vehicle with an electric vehicle, but & egrave; an opportunity to redesign mobility of our cities in a more logical way; smart and sustainable. Today Enel X takes a very important step by bringing the " bus as a service '' model to Italy, the solution that offers partners and administrations the full range of innovative services to electrify the local transport fleet. Let's start from Turin, one of the most & ugrave; important and modern cities of the country, which thanks to our help will put & agrave; available to citizens new electric buses that guarantee excellent performance, are efficient and respect the environment.
Thanks to the use of electric buses, the Piedmontese company will reduce drastically CO2 emissions: the new e-buses will in fact guarantee savings to the atmosphere of 5 thousand tons of CO2 per year, equal to the capacity; absorption of 27,000 trees equivalent to 30 football fields.
A computer inside a smartphone? Motorola Moto G100, buy it at the best price from eBay at 398 euros .