Apple Watch Ultra teardown
iFixit has made a teardown video of the Apple Watch Ultra, showing that the smartwatch is a challenge to fix. The Ultra does have four visible screws on the back, for quick access to the interior. But that means nothing. When you open the back, you immediately break the seal, which should ensure the improved water resistance. Opening the Ultra out of curiosity is therefore not such a good idea. Also parts such as the battery and the Taptic Engine are difficult to reach. This only works if you remove the screen and that is not easy.
The teardown shows that the Apple Watch Ultra does indeed have a 542 mAh battery, which is 76% more than that of the Apple Watch Series 8. In the video you can see more details, including the larger speaker that can be heard more clearly when you are on a call.
The Apple Watch Ultra has been on sale since Friday and costs €999 in European countries. You can choose from three different straps, each in three colors and in several sizes. One type of strap, however, is mysteriously missing: the Trail strap, which resembles a new version of the Sport Loop. An employee of the Apple Store was unable to clarify this for us and responded that we should check the website. The orange Alpine strap seems to be the most popular with buyers, perhaps because it matches the bright orange programmable action button on the side. The Apple Watch Ultra itself offers water resistance to a depth of 100 meters, up to 60 hours of battery life with an upcoming software update and a flat screen.
Ultra in a decompression chamber
More videos to come about the Apple Watch Ultra. An interesting one is that of DC Rainmaker, who made a video from Amsterdam in a decompression chamber. He tested the depth sounder and the water temperature sensor. After a water depth of 130 feet (over 40 meters), the depth sounder stops counting and only reports that it is "more than 130 feet" is.
With the hammer
Fans of the rough chop might prefer to watch the video from TechRax, which previously put the iPhone 14 Pro's Crash Detection to the test. Now they've made a video of them trying to break the Ultra with a hammer and brute force. However, instead of the Apple Watch, the table broke first. The screen is not indestructible, but it is more robust than the back of the Ultra. If you want to see a hammer hit right away, jump to 2:30 minutes.
See also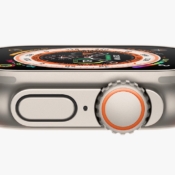 This is the extra-large Apple Watch Ultra: dear athletes
Apple has announced the Apple Watch Ultra, the new larger Apple Watch for athletes. There are exclusive functions, the design has been adjusted and the screen is larger. You can read everything you need to know about the new Apple Watch Ultra here.
Would you like one? Take a look at these stores:
View at Amac
View at MediaMarkt
View at YourMacStore
View at Belsimpel
View at T-Mobile
Prices Apple Watch Ultra
Orange strapBlack strapGreen strapBeige strapMidnight strapYellow strapWhite strapBlue strap