Lenovo has new servers with AMD Epyc ("Genoa") based on the Zen 4 architecture, the stuck new Intel Xeon ("Sapphire Rapids") and that of Huawei -Subsidiary HiSilicon presented the first 64-core ARM processor Kunpeng 920. Lenovo is now just as broadly positioned worldwide with supercomputers.
New servers with AMD Genoa and Intel Sapphire Rapids
As part of its in-house ThinkInnovation event, Lenovo has new servers with the x86 CPUs AMD Epyc 9xxx ("Genoa") and Intel Xeon ("Sapphire Rapids") from the ThinkSystem Servers V3 series, which rely on DDR5 and PCIe 5.0. While the ThinkSystem SR635, SR645, SR655, SR665 and SR675 models combine up to two AMD Epyc with a maximum of eight AMD Instinct MI200 for AI acceleration, the SR630, SR640 and SR650 models rely on Intel Xeon.
Lenovo Infrastructure Solutions V3 delivers advanced Lenovo ThinkSystem, ThinkAgile, and ThinkEdge servers and storage with next-generation AMD, Intel and also Arm-based processors.

Lenovo
Lenovo announces 50 new products
Lenovo announced a total of more than 50 new server and cloud solutions in various categories at its in-house exhibition, covering the following areas of application.
Mission Critical
High-Volume Tower
ThinkEdge Solutions
ThinkSystem Flash Storage
Lenovo Open Cloud Automation
ThinkAgile HCI Systems
High-Volume Rack
High Density
Arm -Solutions from Nvidia and HiSilicon
19 new products are based on AMD Genoa, 22 server solutions use Intel Sapphire Rapids and the other models are either freely configurable or rely on a particularly efficient Arm64 basis. The manufacturer has confirmed to the servethehome.com website that both Nvidia Jetson Xavier and the HiSilicon Kunpeng 920, which was introduced in 2019, are used here.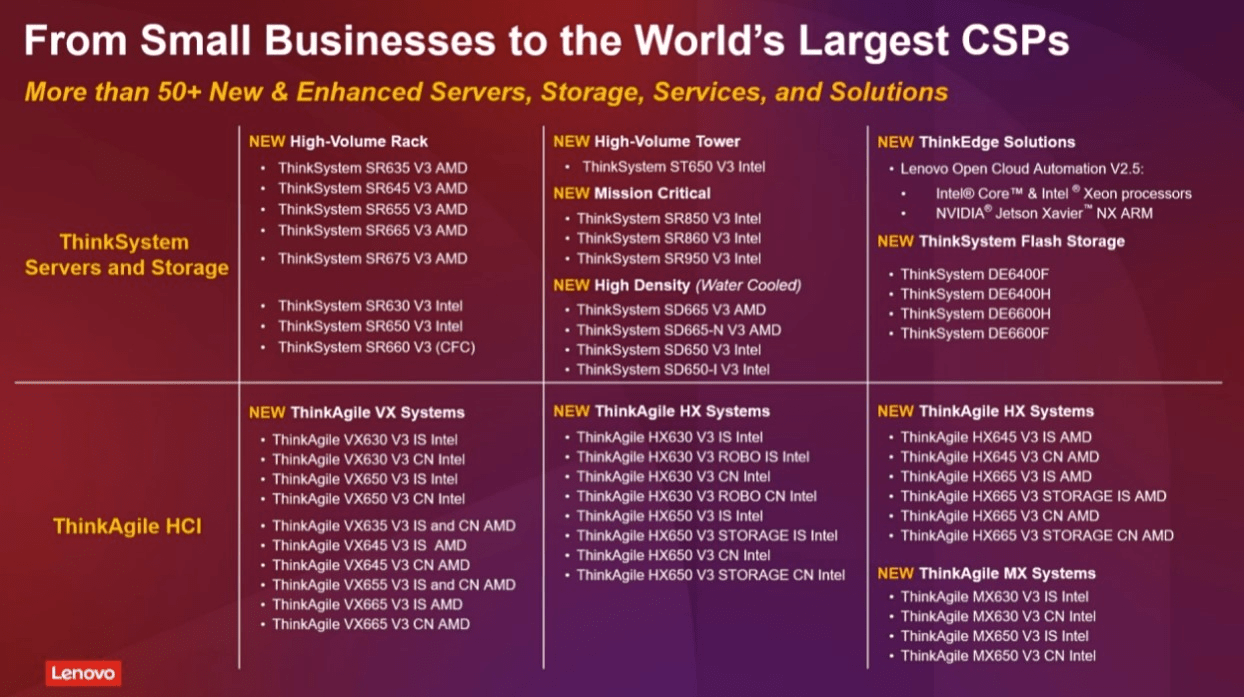 The company also demonstrates that it is now number one in the field of supercomputers, clearly outshining its big competitor HPE. In the June edition of the Top 500 of the world's fastest supercomputers, Lenovo dominates with 180 systems, while Hewlett Packard Enterprise only has 84 supercomputers. According to the manufacturer, experience in this area also has a positive effect on the reliability of their own systems.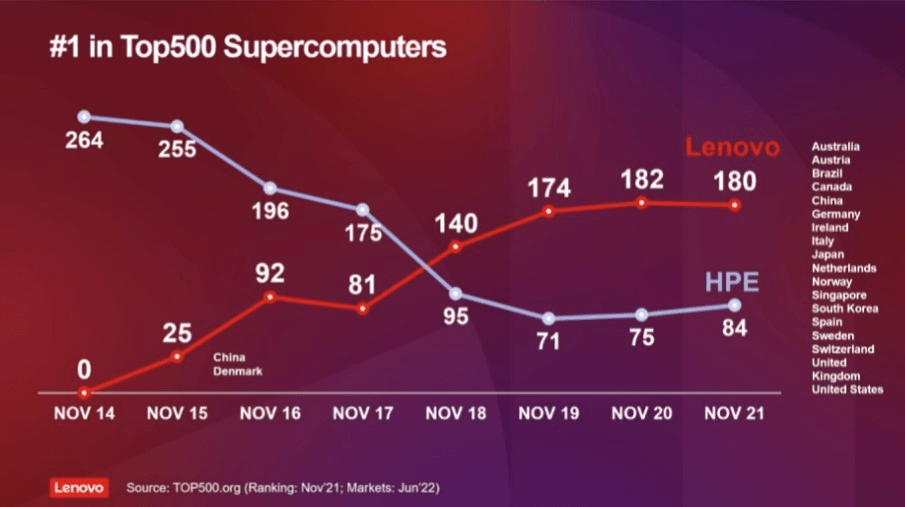 In addition to the new models in the ThinkSystem and ThinkAgile series, the main focus of the new products is on the Liquid cooling systems sold in various versions in the Lenovo Neptune series.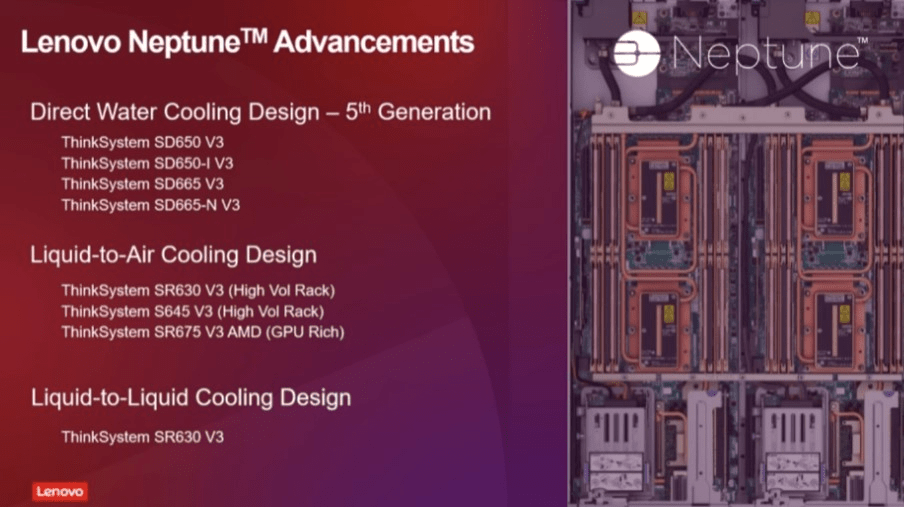 Since Intel Sapphire is still stuck in traffic and is not expected until 2023 and AMD is also expected Genoa will only release smaller deliveries for the statistics this year, the new server systems from Lenovo can only be expected in the course of the coming year.
Cooling 512 AMD Epyc with liquid
For example, Lenovo demonstrates to servethehome.com in a round how a server with a total of 512 AMD Epyc server processors can be cooled with liquid 25-minute presentation on YouTube.