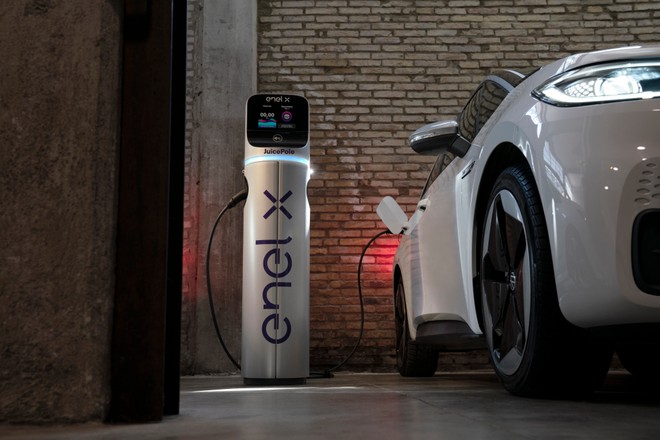 Enel X Way has announced some adjustments to the rates for charging electric cars . Increases that concern only the consumption rates for energy supplies at the direct current columns . The tariff for AC top-ups and subscriptions were not affected by this tariff adjustment. The new prices will take effect from 8 October 2022 .
The reason for the increase? Obviously it depends on rising energy prices . Precisely for this reason, Tesla too has recently had to increase charging costs at its Supercharger stations across Europe.
We work every day to support mobility electricity through flexible, innovative and sustainable solutions. For this reason, despite the continuous increase in energy costs, Enel X Way has decided to keep the prices of its subscriptions and the Pay per Use rate in AC unchanged. Instead, new prices will be applied for DC top-ups starting from 8 October.
HOW MUCH DOES IT COST TO TOP UP WITH ENEL X WAY?
Let's see, therefore, the complete list of consumption rates of Enel X Way which will enter & agrave; effective from October 8, including that for top-ups in Europe using the Enel X Way app or card.
Top-up in Italy
Pay Per Use AC: € 0.58 per kWh
Pay per Use DC up to 150 kW: € 0.89 per kWh
Pay per Use DC over 150 kW : 0.99 euros per kWh
Top-up in Europe
Pay Per Use AC: 0.70 euros per kWh
Pay Per Use DC up to 150 kW: € 0.95 per kWh
Pay Per Use DC over 150 kW: € 0.99 per kWh
As mentioned in the & # 39; start, the subscriptions remain unchanged:
Flat Small: 70 kWh per month for 25 euros
Flat Large: 145 kWh per month for 45 euros
The best value for money 5G Smartphone? Redmi Note 9T, buy it at the best price from Amazon Marketplace at 205 euros .