We have found the notch on the iPhones since 2017. After this cove became a lot smaller last year, Apple completely redesigned the notch of the iPhone 14 Pro to create the new Dynamic Island. But it doesn't just look different, because it actually has a function. Unfortunately, this handy extra is currently only available on the Pro models, but that will change with the iPhone 15 models next year, according to display analyst Ross Young.
'Ordinary iPhone 15 with Dynamic Island'
In a tweet, Ross Young, a display analyst who often makes accurate predictions when it comes to screens of new Apple products, says that in addition to the iPhone 15 Pro (Max), the standard models of the iPhone 15 series also have the Dynamic get island. So it would be the iPhone 15 and iPhone 15 Plus. The Dynamic Island delivers all kinds of fun extras and collects system-wide notifications (such as low battery, connecting AirPods, and receiving an AirDrop) in the new pill-shaped cutout. It looks slick and also provides additional options. This way you can always see the current track thanks to the small album art display when you play a song.
< p lang="en" dir="ltr">Yes, Dynamic Island expected on standard models on the 15. Still not expecting 120Hz/LTPO on standard models as supply chain can't support it.

— Ross Young (@DSCCRoss) September 18, 2022
Incidentally, the new Dynamic Island of the current screen techniques of Pro models is the only function that, according to the analyst, makes the switch to the standard models. The ProMotion screen and always-on display would remain exclusive to the iPhone 15 Pro models. In this way, the necessary distinction between the models remains. Another reason for this is that manufacturers may not be able to supply enough copies of the necessary parts to provide all models with these features. In 2024, the cards may have been shuffled differently and these features may come to all models.
In recent years, there have also been rumors that Apple might want to get rid of any notch or notch altogether, but with the The arrival of the Dynamic Island might well change that. After all, if Apple removes the Dynamic Island and puts all sensors behind the display, you also miss the functions of the Dynamic Island.
Also see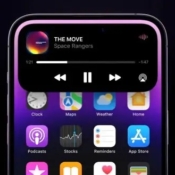 Dynamic Island on the iPhone 14 Pro: this is how it works
With Dynamic Island, Apple has come up with a genius solution to hide the notch on the iPhone Pro models. Read here exactly how it works.