New features in iPad 2022
The iPad 2022, also known as the tenth-generation iPad, is the new entry-level model that is expected to be released this fall. That in itself is no surprise: Apple releases a new model of the entry-level iPad every year (and usually in the fall). But what can be called a surprise is that this model gets more new functions than just a faster chip and a slightly better screen. Major improvements and new features are coming to the iPad 2022, multiple sources say. The entry-level iPad of 2022 will therefore look much more like the latest iPad Air. In this article we list the expected innovations for you. Please note that all information is still rumored and nothing is 100% certain yet.
New design
Apple Pencil 2
Usb-c
Larger display
A14 chip
#1 Finally a new design
The entry-level iPad was the only model with a design reminiscent of the very first iPad Air from 2013. That means that this design is now nine years old! Time for something new, and Apple must have thought that too. Renders of the design of the new entry-level iPad have been leaked, showing that this model is also switching to the design with the flat sides. This seems to end the old design and so all iPads in the line-up have almost the same design. However, there are some individual differences. For example, it seems that the iPad 2022 will have a larger camera bump than the current iPad Air and there will still be a home button below the screen. Incidentally, the new design of the iPad 2022 also brings something new.
Also see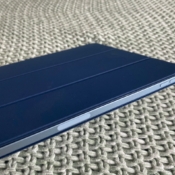 Rumor: '2022 entry-level iPad, but It looks like the new entry-level iPad from 2022 will get a new design. Apple would opt for a flat-sided design, just like the other models. But that does not mean that we will also say goodbye to the home knob in this model. #2 Support for Apple Pencil 2

It looks like this entry-level iPad will also get support for the second-generation Apple Pencil. All iPads with a flat side work with this improved version, which you can stick magnetically to the side. This allows you to charge the Apple Pencil at the same time, so that it is no longer necessary to insert it into the bottom of the iPad. The Apple Pencil 2 has several improvements compared to the first generation. For example, the finish is matte instead of shiny, there is a flat piece along the entire length for charging and to prevent it from rolling away easily, you can switch between a double tap on the Apple Pencil with your finger. pencil and an eraser. Incidentally, there have been no sources that state that the new entry-level iPad will work with the Apple Pencil 2, but that is only logical given the new design and the third improvement in this article.

< img src="/wp-content/uploads/af6b3dcb72f41115538ef7332edf5ad1.gif" />

Other Keyboards for we think it's iPad will also be supported, but given the high price (almost as expensive as the expected price of the iPad itself), that won't be that interesting for most users.

#3 USB-c instead of Lightning

The entry-level iPad would get usb-c this year, instead of the well-known Lightning connection. With that, every model of iPad would have switched to the more universal connection. But, as mentioned before, that also has consequences for the Apple Pencil. You had to charge the first generation Apple Pencil via the Lightning port. Without that port, you can no longer charge that model Apple Pencil directly via the iPad, so that the choice for the second generation Apple Pencil seems the most logical option.

But USB-C entails even more. This also makes it easier to connect all kinds of accessories, such as an external drive or a photo camera. That makes the entry-level iPad a lot more versatile, although we do wonder whether the target group of this model needs all those extras. You can read more about what you can do with usb-c on an iPad in our article.

Also see

USB-C on the iPad: you can connect this , this works and doesn't

Recent iPad Air and iPad Pro models have a USB-C connector instead of Lightning. What are its benefits and what can you do with it? We dive into the uses of USB-C on the iPad Pro 2018 and newer.

#4 Larger 10.5-inch display

According to various reliable sources, Apple opts for a 10.5-inch display in the iPad 2022. That's 0.3-inch larger than the current 10.2-inch screen. Although the difference is not very big, it can give you just a little more space for your apps. The 10.5-inch format does not come out of the blue: the iPad Air 2019 (and iPad Pro 2017) already had this format. So Apple could very well reuse the display of these older models, something Apple has always done with the entry-level iPad. The exact specifications of the screen are not yet known. We expect True Tone in any case, but whether the display is also laminated and has an anti-reflection coating is not yet known.

The leaked renders showed that the screen, unlike the current iPad Air, has no rounded corners. So, as mentioned before, there is still a home button below the screen. It would be the first time that Apple incorporates a rectangular and non-borderless display in a design with flat sides. This distinguishes this model from the current iPad Air.

#5 Faster A14 chip

This improvement seems like a no-brainer: Apple puts a faster chip in it. In recent years, the intap iPad has been given a newer generation chip. The current model still has an A13 chip and although it can still go along just fine, according to Apple's previous claims, the A14 chip is a lot faster than the previous generation. It is made using a 5 nanometer technique and also has a better GPU. This should yield noticeable improvements when using intensive apps and games, as well as functions such as multitasking. The A14 chip makes the difference between the entry-level iPad and iPad Air a lot smaller, although the iPad Air is still one step ahead thanks to the M1 chip and functions such as Stage Manager.

The release of the iPad 2022 is planned for this fall. There are sources that say the model will be released in September, but according to others, Apple will unveil the iPad 2022 in October. That seems more logical to us for this year, since iPadOS 16 is presumably delayed. Additionally, Apple may unveil the model at the same time as the iPad Pro 2022.

See also

When will the 2022 entry-level iPad come? It may be a little later this year (and here's why)

The iPad 2022, or the tenth-generation iPad, is expected to be announced later this year. Normally the release of the new entry-level iPad is in September, but this year it could just be a little later. This is why.

Opening image and render: Renders by Shailesh