With active noise cancellation, transparency mode and multipoint, the Pixel Buds Pro are Google's best wireless in-ear headphones yet. However, it is not enough for the top field in terms of sound, ANC and functions. The Android and Assistant integration is again very good, iOS users don't benefit from this.
Table of Contents
1 Pixel Buds Pro Specifications and Features

Bluetooth 5.0 with AAC and Multipoint
Smaller audio drivers for the Pro model
ANC with custom SoC and pressure compensation< /li>
Spatial audio will follow via update
Bigger and heavier
11 hours of battery life without ANC
The case also has a sensor
IPX4 protects against water

Touch control offers hardly any options

Auto-Pause and Auto-Play
No adjustment for ANC or transparency mode
Very good single usage

Pixel Buds app for Android only

Check earbuds
Google Assistant
No adjustment of controls and sound
Find lost Buds

Loose fit with little pressure
The sound of the Pixel Buds Pro
Analysis of the frequency response
ANC of the Pixel Buds Pro
Very good transparency mode

Wind noise is slightly reduced

Telephony
Latency of the Pixel Buds Pro
Conclusion< /li>
After the Pixel Buds (test) and the Pixel Buds A-Series (test), Google follows up with the Pixel Buds Pro and equips its own wireless in- Ear headphones with active noise cancellation (ANC) for the first time.
The Google Pixel Buds Pro have been available since late July. Buyers can choose between the four colors Coral, Fog, Charcoal and Lemongrass – in the test, the color variant Fog comes into its own. The Pixel Buds Pro cost 219 euros in the Google online shop. Up until now, they have hardly been available in stores at prices starting at around 215 euros.
In addition to the earphones and the charging case, Google also supplies three silicone attachments of different sizes and a quick start guide. However, the company does not use a USB-C charging cable.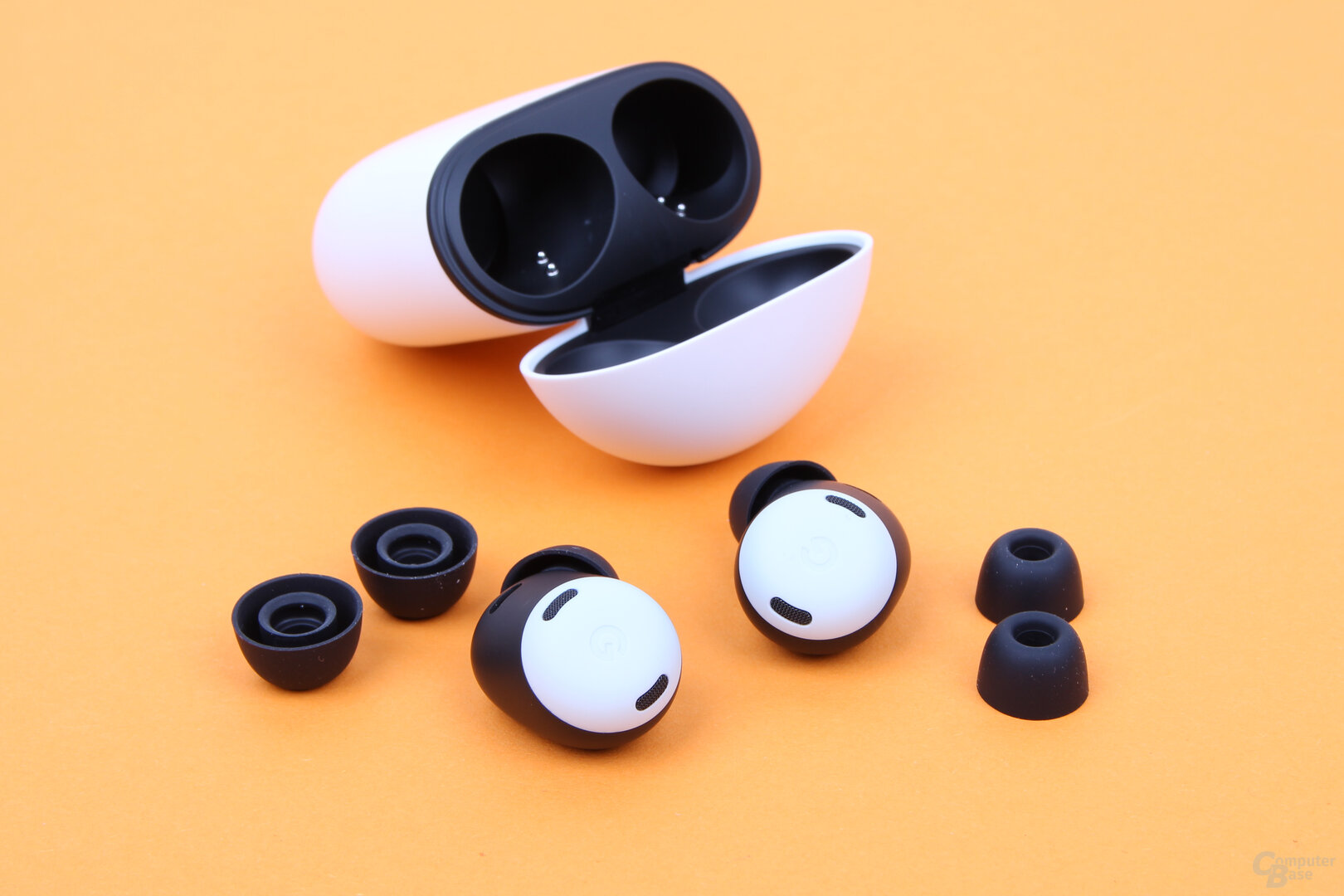 Technical data and functions of Pixel Buds Pro
Bluetooth 5.0 with AAC and Multipoint
For the wireless connection, Google also relies on Bluetooth 5.0 for the Pixel Buds Pro and again dispenses with an HD codec with the two supported audio codecs SBC and AAC. For the first time, the Pixel Buds Pro now master multipoint in order to be able to switch seamlessly between different devices for playback or answering calls by being able to be connected to two devices at the same time. However, multipoint must first be activated in the Android app, which limits pure iOS users. Of course, the Buds Pro can also handle Google Fast Pair for quickly connecting to an Android device, so that when you open the charging case without a Bluetooth connection, they are offered for pairing on an unlocked Android device.
Smaller audio drivers for the Pro model
The dynamic audio drivers of the earphones have a diameter of 11 mm. These are therefore not the same drivers as in the Pixel Buds and Pixel Buds A-Series, which have a diameter of 12 mm.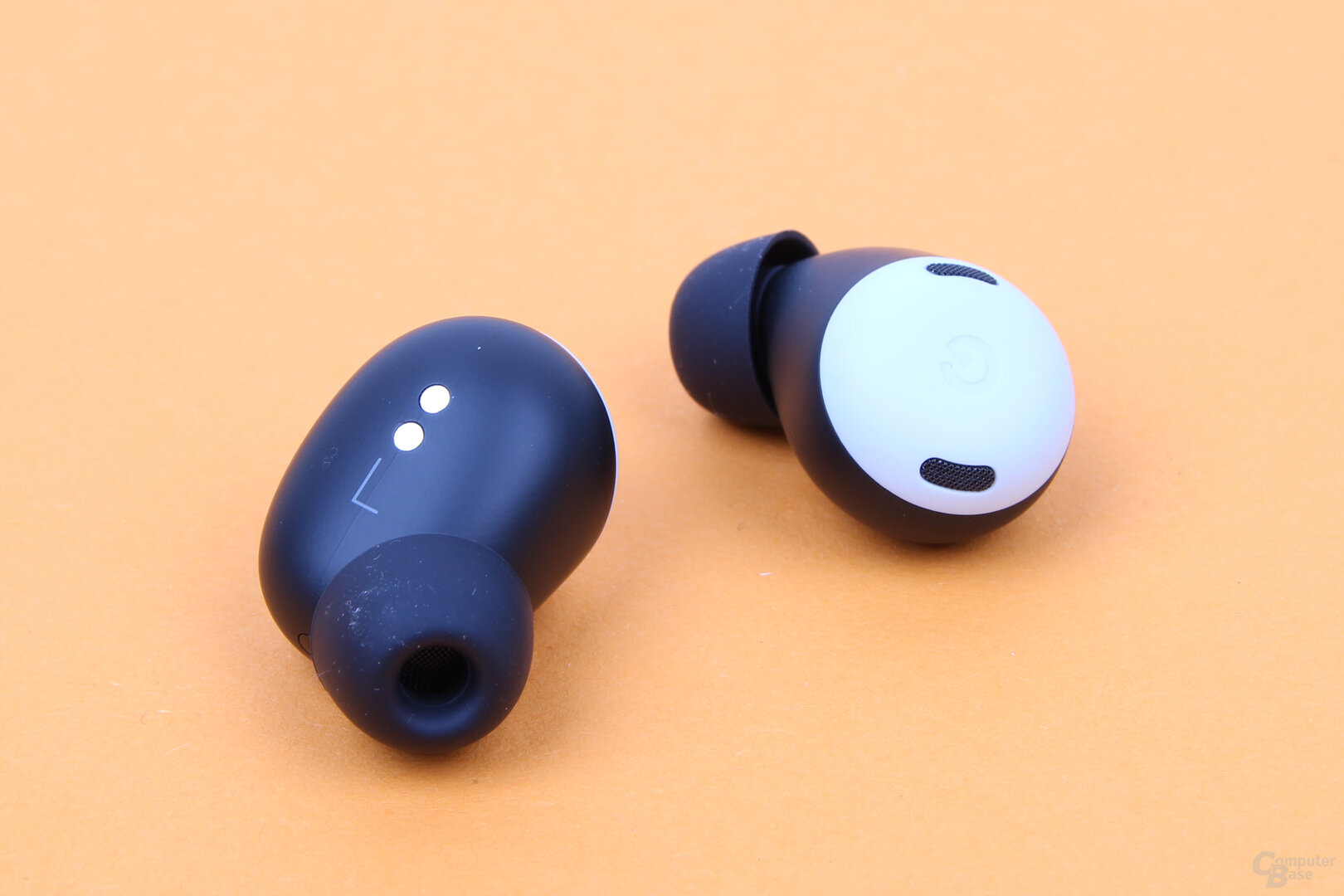 ANC with custom SoC and pressure compensation
As mentioned, the Pixel Buds Pro offer active noise cancellation for the first time. Google promises to deliver some of the best adaptive noise cancellation on the market right from launch. For this purpose, the group relies on an adapted SoC with six cores for processing and in particular for a fast ANC, which should not have a negative effect on latency despite high damping performance and feedforward and feedback adjustment with microphones pointing inwards and outwards.< /p>
An active pressure reduction should increase the wearing comfort so that no diving bell effect occurs when the ANC is activated. The first two Pixel Buds have an ambient noise channel that reduces pressure in the ear by deliberately equalizing air.
Three microphones are used for each earphone. A bone conduction sensor is also used for telephony and speech recognition to better separate speech from background noise.
The Buds Pro also have a transparency mode to consciously listen to the surroundings of the wearer – for example to be able to understand announcements.
Spatial audio follows per update
The 3D audio technology Spatial Audio is to be provided later by a software update in the course of the year, so it is not yet available. Find My Device can search for a misplaced earbud and show the last known location on Google Maps. It is possible to activate the Google Assistant by voice at any time via "Hey Google".
Bigger and heavier
The headphones weigh 6.2 g each. Compared to the Pixel Buds (5.3 g) and the Pixel Buds A-Series (5.0 grams), the earphones have become heavier. In order to be able to accommodate the technology, they also had to be larger – they measure 22.33 × 22.03 × 23.72 mm. The charging case is slightly lighter than the 56g for the Pixel Buds at 50g and heavier than the 42.8g charging case for the Pixel Buds A-Series.
The dimensions of the charging case are 63.2 × 50 × 25 mm (H × W × D), which is only has grown slightly.
11 hours of battery life without ANC
According to Google, the battery life is up to 11 hours without using active noise cancellation. If ANC is used, the battery life should drop to up to 7 hours. The test ended after 6:45 hours with ANC activated, medium volume and a colorful music mix. The earphones are fully charged almost twice via the charging case, so that in practice around 19 hours of music playback can be achieved with ANC.
The case can be charged via USB-C or wirelessly according to the Qi standard. The Pixel Buds previously also offered wireless charging, but the cheaper Pixel Buds A-Series did not.
If the headphones are charged in the charging case for 5 minutes, the battery capacity is sufficient for up to 1 hour playback time when ANC is active. With a 15-minute charge, however, you can listen to music with ANC for around 3 hours again.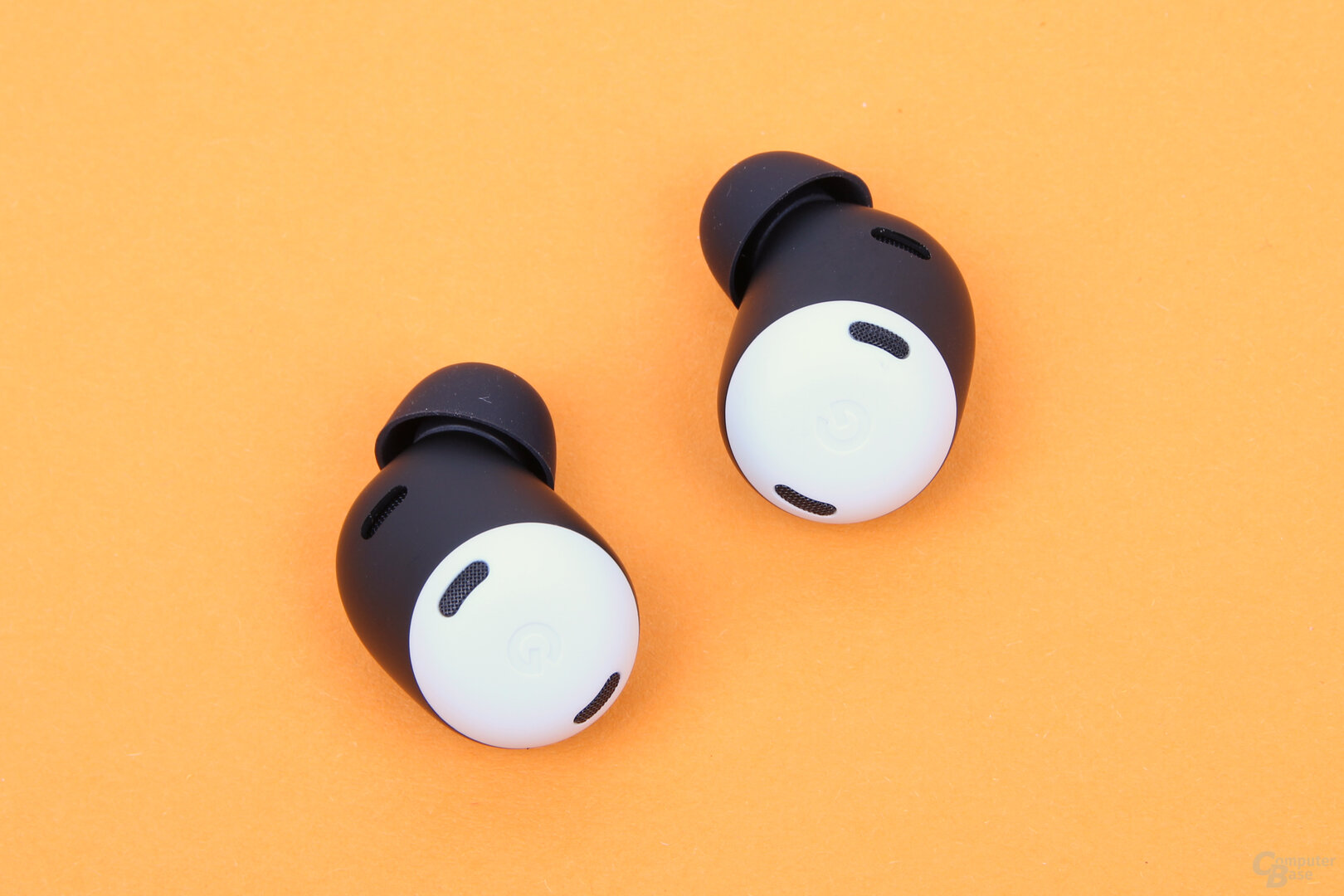 Google Pixel Buds Pro Google Pixel Buds Google Pixel Buds A-Series Apple AirPods Pro Bluetooth standard: 5.0 Audio codecs: SBC, AAC Operation: Touch Battery life of the earphones: 11.0/7.0 (ANC) h 5.0 h 5.0/4.5 (ANC) h Battery life with charging case: 31.0 h 24.0 h Wireless charging: Yes – Yes ANC: Yes – Yes Single use: Yes IP certification: IPX4 Weight per earbud/charging case only: 6 .2/50.0g 5.3/56.0g 5.0/42.8g 5.5/46.0g USB charging port: USB-C Lightning Charging case dimensions: 63.2×50.0× 25.0 mm 63.0 × 47.0 × 25.0 mm 45.2 × 60.6 × 21.7 mm Price: from €195 €199 €99 from €209
The case also has a sensor
Google builds a capacitive touch sensor into each earbud for controls, an IR proximity sensor for wear detection to automatically play and pause media, an accelerometer, and a gyroscope for motion detection. A hall effect sensor in the charging case was also thought of to detect when the case is opened or closed.
IPX4 protects against water< /h3>
The earphones are protected against water according to IPX4, while the charging case is protected according to IPX2. Rain or sweat does not damage the in-ears.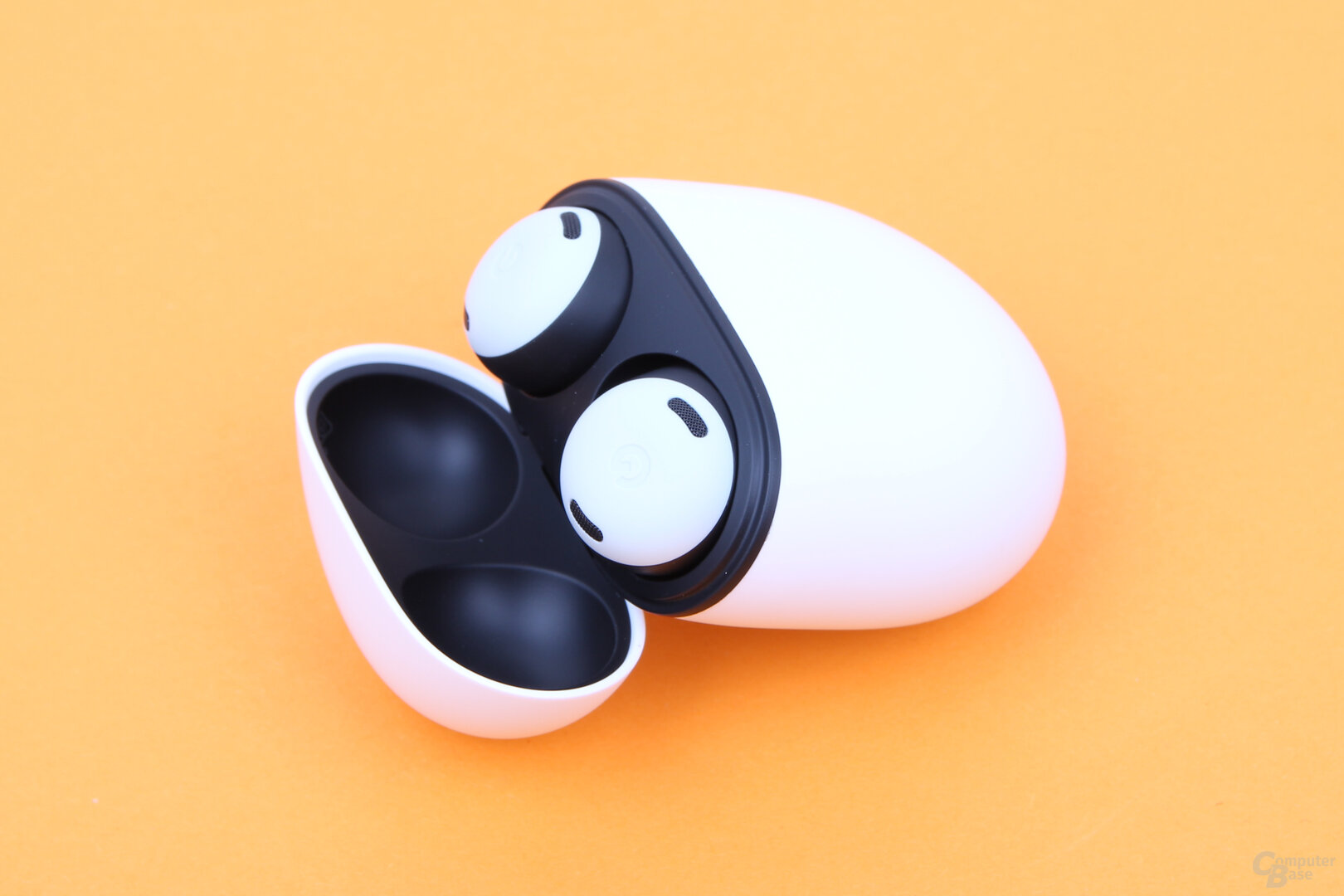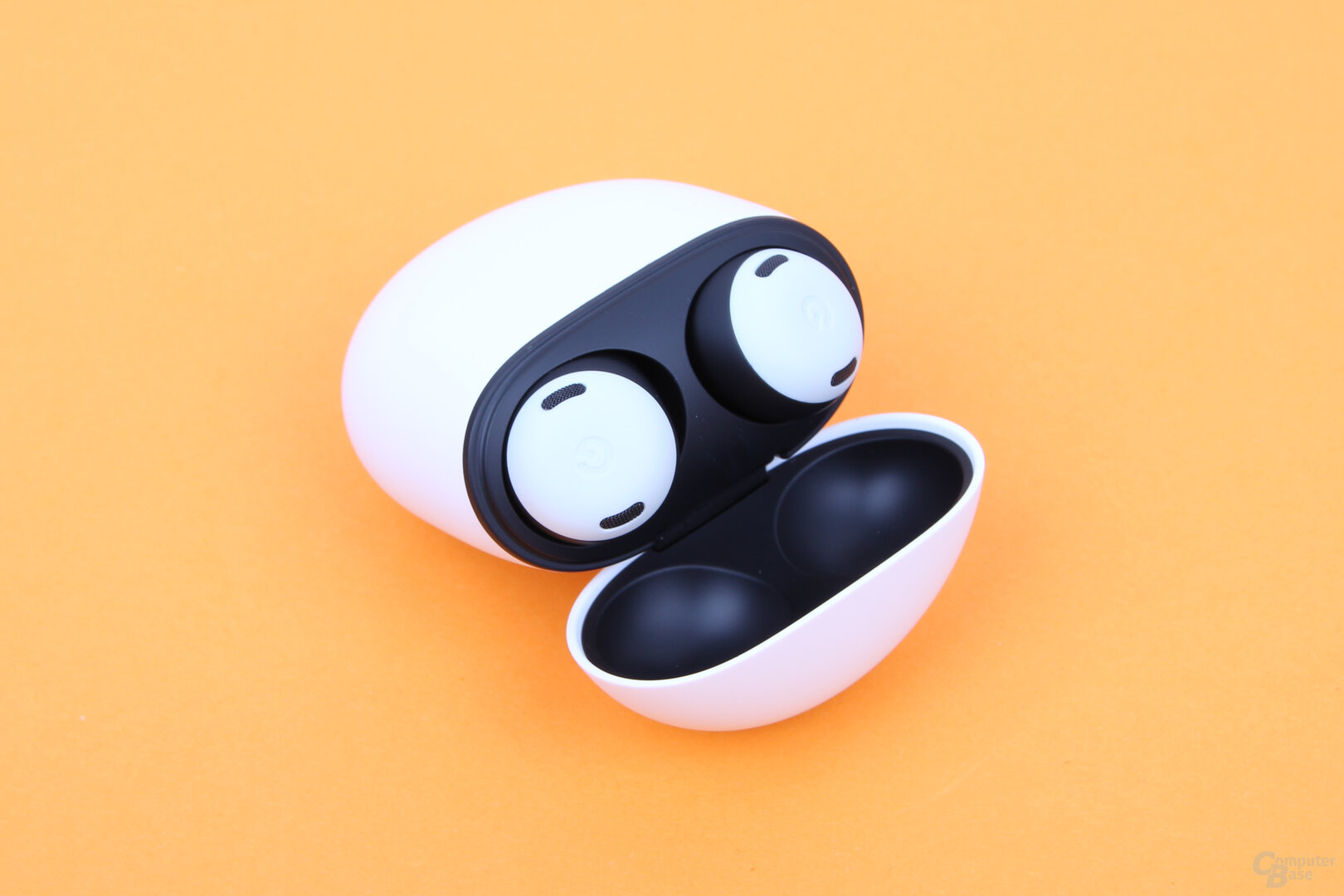 Google Pixel Buds Pro
Touch control offers hardly any options
The Pixel Buds Pro rely on the touch controls of the other models. Their assignment is identical per se on both earphones. The user can only choose during setup whether they want to assign the press and hold on an earbud to the Google Assistant instead of the ANC control.
One ​​tap starts or pauses playback. A double-tap skips a track or ends or rejects a call. Tapping three times skips back one track. Swiping forward on an earbud increases the volume. If you wipe backwards, the volume is reduced. Buds Pro need to fit snugly in your ear to swipe safely.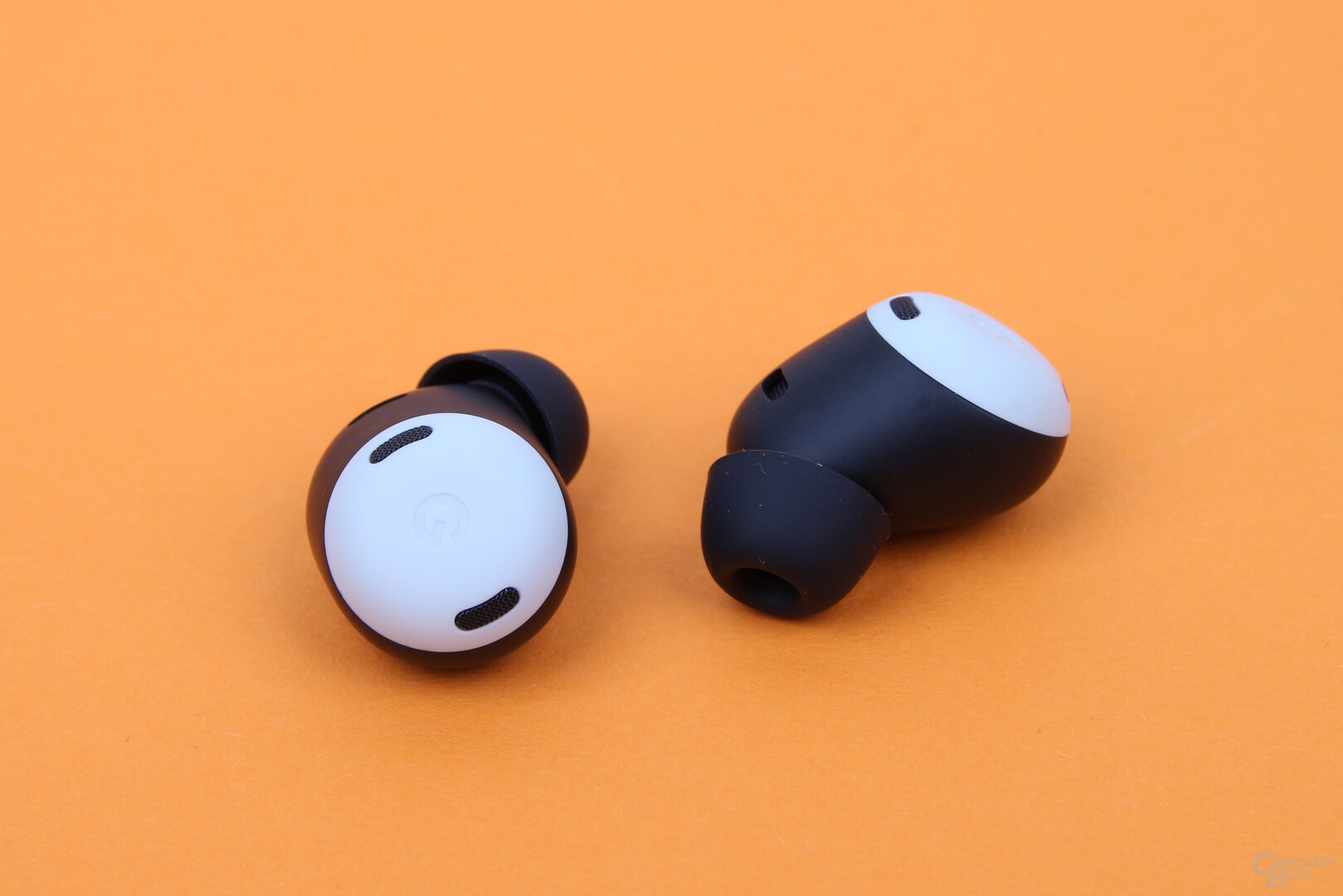 Holding down an earbud toggles between ANC and transparency mode. In the Pixel Buds app on Android, an off setting can also be added as a third item. This command is also the only one that can be customized in the app. For example, holding down one or both earbuds can be used to interact with the Google Assistant if you don't just want to be able to call it up by voice. Because the Pixel Buds Pro, if activated, also constantly listen for a "Hey Google" from the user in order to start the assistant purely via the wake word. On an Android smartphone, the notifications are also read out again by the Assistant after you hold down and release. As usual, it is not possible to adjust the operation of the new model.
A positive aspect is that the operation reacts quickly and there are no annoying delays.
< h3 class="text-width text-h3" id="section_autopause_and_autoplay">Auto-Pause and Auto-Play
The Buds Pro also offer a function for automatically pausing and resuming playback via the aforementioned wear detection through the two IR sensors when they are removed from the ear and reinserted. On Android, you can disable them in the Pixel Buds app at any time if you don't want to use them. In connection with an iPhone, on the other hand, there is no way to control this function. Wearing detection via the IR sensors works reliably and quickly with the Buds Pro as usual.
No adjustment in ANC or transparency mode
The Pixel Buds Pro do not offer any possibility to adjust the intensity of the ANC or transparency mode. Adjustments to the sound are also scarce again. The app still does not have an equalizer. Only the "Volume EQ" option can be activated, which is supposed to improve the bass and treble at low volume.
Surprisingly, the automatic sound adjustment of the Pixel Buds and Pixel Buds A-Series, which increases the volume in loud environments and reduces it again in a quiet environment, is not offered by the Buds Pro.
Very good single use
The Pixel Buds Pro again feature full single use, allowing each earbud to be used on its own. The controls remain the same as they are identical on both earbuds anyway. Switching between mono and stereo mode does not interrupt playback if wearer detection is not activated.
Pixel Buds app only for Android
With the Pixel Buds Pro, Google also relies on support in Android directly from Android 10 with a Pixel smartphone or on the Pixel Buds app for other devices and older Android versions. On a Google Pixel, Pixel Buds settings can be accessed directly from the Bluetooth menu. It is also possible to put a widget on the start screen to reach them faster. The Pixel Buds app is still missing on an iOS device such as an iPhone or iPad, so that no settings can be adjusted or firmware updates installed. At least the one-time pairing and configuration of the Pixel Buds Pro with an Android smartphone for wearer detection and activation of Multipoint is therefore helpful.