Canva Whiteboards
The feature is very reminiscent of Apple Freeform, something Apple has already announced for iPadOS 16 and macOS Ventura, but which we already know has been delayed. According to Apple, that's the perfect tool for "brainstorming on a board limited only to your own imagination". You can collaborate in real-time with other Mac users. Canva Whiteboards does just that: you can collaborate with your team on a Mac, iPhone, or iPad. You start with a single page in Canva Presentation and can expand it to a much larger Canva Whiteboard with one click.
Here you have an almost infinite space at your disposal, where you can zoom in and out, browse and react to each other's ideas with stickers, polls, shapes and lines. Canva includes 100 million images, videos, audio tracks and the like. A timer ensures that everything is synchronized with each other, so that you can be sure that you are not lagging behind. There are also notifications to let you know when it's your time to speak, when you have 10 seconds left and when the time is up.
Hundreds of templates
In a Whiteboard you can choose different templates for your presentations. You can choose from hundreds of examples, tailored to different applications such as flowcharts, mind maps, table layouts, organization charts and the like. You can view some templates here. As with Apple, the collaboration is real-time: you can respond with emoji or stickers and give short comments. Everyone can be recognized by a colored cursor. After a brainstorm, you can share a whiteboard via a link or download it.
Canva Whiteboards is available in the Canva app and website and is free to use on your Mac, iPhone, and iPad. However, you will have to pay for the premium functions and then it quickly becomes pricey: €12 per month or €108 per year.
Whether Apple's Freeform will be a success remains to be seen. Many companies already have a solution for brainstorming and something only suitable for Apple users makes it more difficult in a mixed team. Canva is better in that regard: it works on multiple platforms (including Android) and on the web.
See also

< img src="/wp-content/uploads/32f853b8b63e7209bc9b6a1c8e9aaae1.gif" />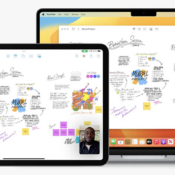 Apple's upcoming iPad and Mac apps everything we already know
Freeform is an upcoming new app from Apple. It's a kind of digital whiteboard, where you can collaborate with others on projects with drawings, images, documents, notes and much more.