Apple Watch can actually recognize heart attack
According to the researchers, time is of the essence. If a heart attack occurs, you need to be treated as soon as possible. More than half of people who have a heart attack die within an hour of the first symptoms, because they don't get to the hospital quickly enough or because the symptoms are not correctly recognized. It sometimes takes 1.5 to 6 hours before people end up in the hospital. There, a professional ECG measurement with 12 contact points on the body is performed to determine whether there is a heart attack (myocardial infarction). According to the researchers, the Apple Watch can partly take over this functionality by placing the smartwatch in different places on the body.
It is not intended to replace medical equipment, but to be able to determine early whether a heart attack has occurred, even before a doctor has access to a complete EKG measurement. Action can then be taken faster.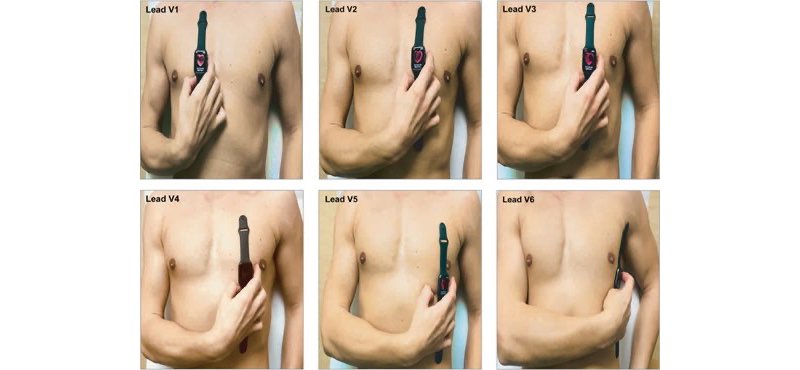 The photos below make it clear what the intention is. Currently, the ability to detect a heart attack with the Apple Watch is still limited. Apple therefore reports when performing an EKG that you cannot detect a heart attack with the smartwatch. The biggest challenge, according to the researchers, is now to inform a wide audience how to use such smart devices. They think the ECG procedure on the Apple Watch is still too complex. Another limitation is that with the Apple Watch you only have one contact point, while in the clinic you can measure 12 contact points at the same time. That problem is not so easy to solve. If you suspect a heart attack, it is difficult to get 12 different Apple Watches together and then they also do not work together during the measurement. Even if you wanted to, it's almost impossible to do.
The Apple Watch Series 4 and newer have an electrocardiogram (ECG) function. Because this has to be approved per region, it does not yet work in all countries, but in any case it does in the Netherlands, Belgium. and most other European countries. Also in the US, Japan, Saudi Arabiaë and Australia; you can easily take an EKG with your Apple Watch. Apple warns that the EKG function cannot detect a heart attack, both at the start of the measurement and afterwards. Nevertheless, according to this research, it should be possible to recognize a heart attack, although there are of course several hurdles to overcome – also in the field of regulation and approval.
Also see

How to make an ECG on the Apple Watch
In a few steps you can make an EKG on the Apple watch. You need an Apple Watch Series 4 or newer for this, so that you can make a heart film with the sensors. This tip explains everything about taking an EKG on the Apple Watch.