As part of a competition, the "Xe HPG Scavenger Hunt", Intel had promised the winners the two top models Arch A770 and A750 based on the ACM G10 GPU, but the total of 300 prize winners are still waiting in vain for their win and can now opt for a CPU as an alternative.
Intel cannot deliver Arc A770 and A750
The inglorious story of the first generation Intel Xe HPG ("Alchemist"), which would have celebrated its premiere in Germany long ago as the Arc A770, A750 and A580 based on the ACM G10 GPU and the A380 and A310 based on the ACM G11 graphics processor and since then has mainly been "hidden" on the Chinese market, is one chapter richer. Arc A770 or A750 winners are encouraged to consider Core-i-12000 series processors (test) as an alternative. 12700K and i5-12600K as a consolation prize
The website VideoCardz has now received a corresponding letter from Intel to the 300 winners, in which the manufacturer makes the following "offer" to the winners:
The sweepstakes was originally scheduled to run from October 27, 2021 through January 31, 2022, but to date none of the winners are reported to have received their prize. Most recently, Intel once again announced the release of the Arc A770 and A750 for "later this year". The hybrid desktop processors now on offer are no more than a consolation prize, because the winners will probably have to wait a while for their Arc A770 and A750.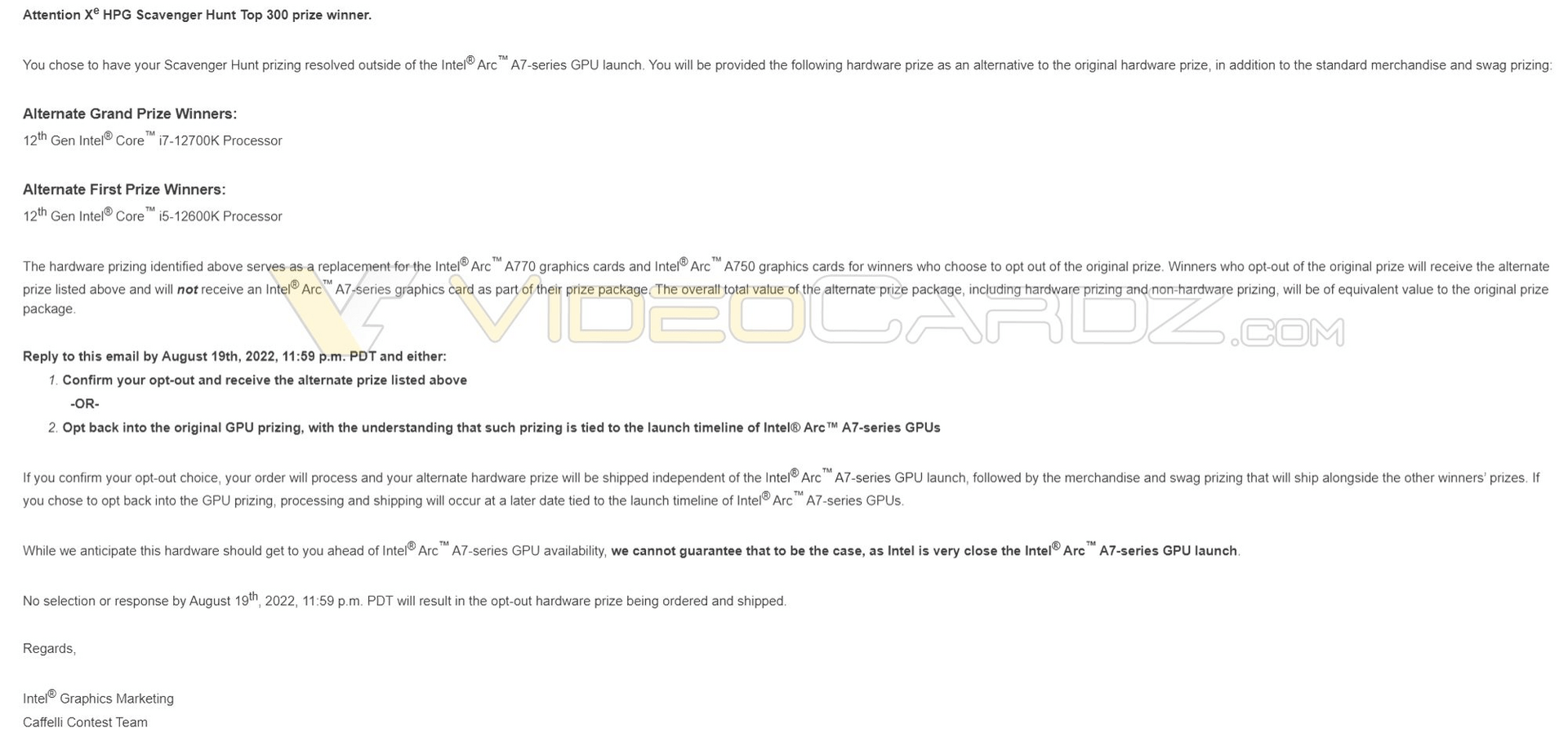 In the letter that Intel sent to the 300 winners of the competition, the manufacturer once again promised that the forthcoming release of the two A7XX graphics cards was "very close". Some of the winners will no longer believe it after a wait of more than six months.
Arc A770 and A750 are a long time coming
< p class="p text-width">The two largest of the five Arc models, which offer 32 and 24 Xe cores and 4,096 and 3,072 ALUs respectively, have been in preparation for the global launch for a while, but until now they are all models intended for Chinese partners.
The only exception is the Acer Nitro N50-640, a gaming PC with the Arc A380 (test), which is less recommended overall, and a few mobile solutions in the form of notebooks with an Arc A370M.
According to Intel's head of GPU marketing, Ryan Shrout, gamers should expect Alchemist GPUs later this year, which will be available worldwide through OEM partners, computer manufacturers and retailers.
Intel will also sell the Arc graphics cards through its own store, as AMD and Nvidia also do with their reference designs. According to Shrout, the currently rightly criticized driver should have more optimizations for current games, but also for older titles without modern APIs such as DirectX 12 and Vulkan.
Intel Arc GPUs are scheduled for release later this year, with lots of Game On driver updates, with launch-day support for the biggest titles, and ongoing improvements for older games, too.

Ryan Shrout, Intel GPU Marketing Director