Do you remember that test with checking in at NS with your smartphone? Yes, that came to nothing. Several other tests followed, the most recent project being check-in based on GPS location. In the meantime, the OVPay project is also ongoing, which has been postponed to 2023 (or later). And now there is an extra test, only at the NS and only at a limited number of Dutch stations.
It concerns travelers who want to participate in the trial at the six Dutch stations Amsterdam Central, Rotterdam Central, The Hague Central, Utrecht Central, 's-Hertogenbosch and Delft. They can travel from 29 August and check in and out on all NS routes with a debit card or smartphone. Suitable participants may not have a discount card or subscription, but must always buy separate tickets for each ride. As a reward, they can travel in first class until November 1, while paying for second class.
The advantages have been clear for years, but Ivo Steffens, director of commerce at NS, sums them up: "You no longer have to go to a ticket machine to buy a ticket or load your balance, but you can check in immediately and get your train quickly. ." According to Steffens, traveling with a debit card will complement travel with the OV chip card and online tickets, even though there are rumors that the OV chip card will disappear in 2023. NS wants to use the trial to gain insight into the experiences of users, for example in terms of user-friendliness and comprehensibility. This was also the case in previous tests. Furthermore, this new test only applies to train journeys. When and whether it will eventually be introduced nationally is still a mystery.
See also


OVpay: payment with bank card and smartphone is delayed
Check-in and check-out on public transport should have been introduced in the summer of 2022. OVPay is now postponed to 2023.
Another trial: notifications in NS app
Fortunately, NS also has something to report for everyone, including people who cannot participate in the trial. A button has been added to the NS app that allows you to receive notifications. If you plan a journey and press the button 'Switch on notifications', you will be kept informed of changes in your train journey. For example, thanks to a notification you know if you have to get on a different track and if you might be delayed.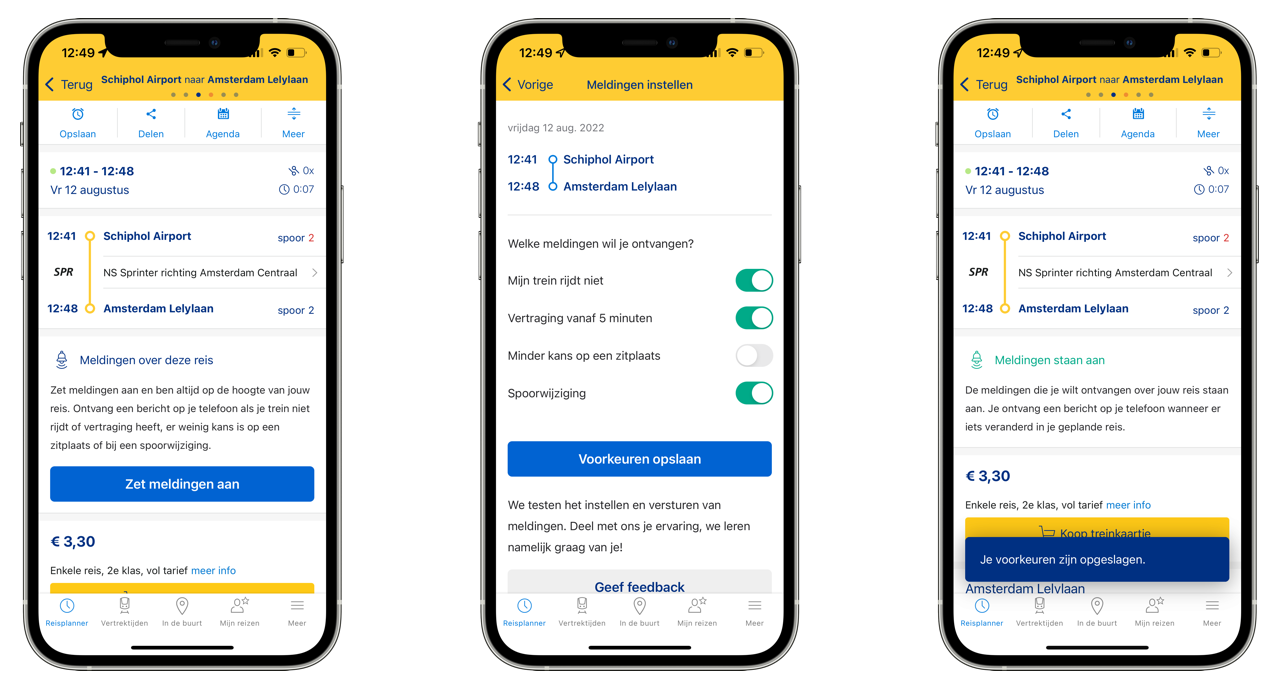 This is also a trial that will run until the end of the year. Travelers can leave feedback in the app. Again Ivo Steffens: "You can indicate whether you want to receive notifications when your scheduled train is canceled, is delayed by five minutes or more, there is a greater chance that you will no longer be able to sit or that a track change occurs. In this way, the app is increasingly becoming a travel companion that keeps you informed."