The Viper V2 Pro (test) is followed by the DeathAdder V3 Pro with identical technology. Rumors have been announcing the step for weeks, now Razer is adding an e-sports variant to the popular DeathAdder family with a modified, less expansive shape and support for 4,000 Hertz via HyperPolling Wireless Dongle.
The death adder has shed its old skin
Released in 2006, the DeathAdder 1800 was the first mouse in what is now perhaps the most well-known line of ergonomic right-handed gaming mice. Over the course of more than two dozen revisions, the technical specifications have constantly changed, but one thing has remained almost unchanged: the iconic shape with a wide front and expansive curves. With the DeathAdder V3 Pro, however, this tradition has now come to an end: The latest Pro version with a focus on competitive gaming offers a much more passive, slimmer housing and is inevitably reminiscent of Zowie's EC series.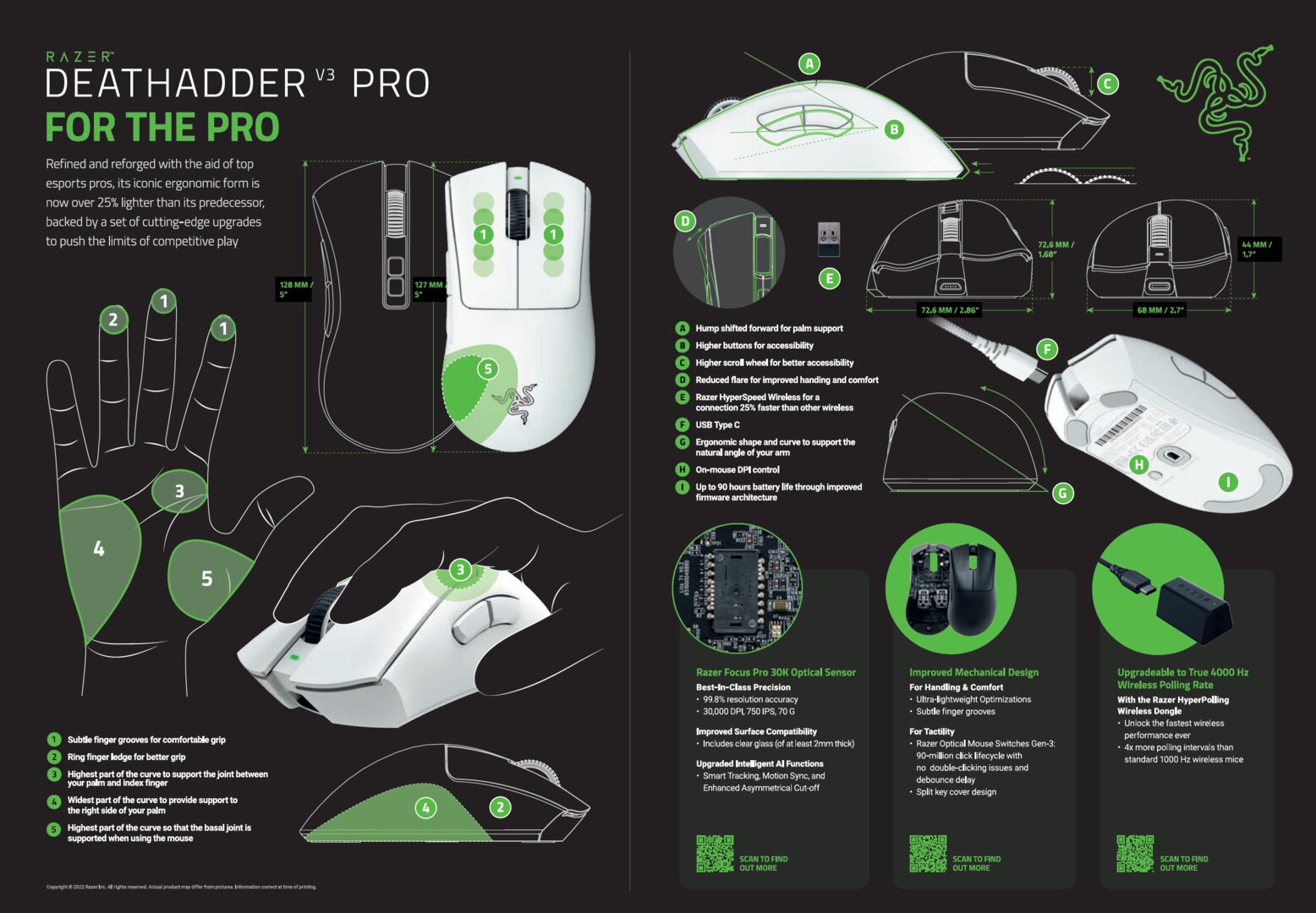 Meanwhile, Razer is making further adjustments: The back of the mouse now has a stronger slope to the right side, which should allow a healthier and potentially more comfortable wrist position, and the left flank has become more planar. Along with this, Razer has moved the two thumb buttons up a little to create more contact surface. Furthermore, the mouse wheel now protrudes further from the housing, which should make it easier to scroll far, in particular, because the corresponding finger does not have to be changed as often.
With the conception and technology of the Viper V2 Pro
The change from DeathAdder V2 Pro (test) to V3 Pro goes hand in hand with the waiver of the rubberized flanks and the two additional buttons on the back of the mouse, and the RGB lighting has also been removed without replacement. This gives the right-handed mouse the same diet that Razer previously gave the Viper Ultimate (test) when stepping up to the V2 Pro. And like the Viper, four rubberized grip tapes are included in the scope of delivery, with which users can make the Death Adder's rough housing more grippy if desired. And again, there is one parameter that benefits from all of this: mass. Instead of the 88 grams of the DeathAdder V2 Pro, the V3 Pro weighs only 64 grams in white and 63 grams in black.
For comparison: The Viper V2 Pro weighs 58 grams, just like the Glorious Model D Pro, and Roccat's Kone Pro Air is 73 grams. Zowie's Form-Original EC1-C, which is still only available with a cable and weighs 80 grams, is completely out of line .