Asus is one of the few manufacturers that still offers compact Android smartphones in the premium segment. The new Zenfone 9 scores with size, performance, camera and battery life. At 799 euros, the price has risen significantly compared to the previous year and there are definitely strong competitors in the compact smartphone segment.
Table of contents
1 Compact powerhouse packs a lot instead of making a mess

Market launch on August 15 from 799 euros
Technical data at a glance
Compact design with good workmanship< /li>
Power button supports swipe gestures
5.9-inch OLED display with 120 Hz
Screen breaks the 1,000 cd/m² mark
Android with one-hand mode

< li>2 Performance, benchmarks and battery runtimes

Size limits performance somewhat
High performance mode gets very hot
Very fast flash storage
Battery ensures long runtimes
7 hours of screen-on time with 20 hours of use
Charging only with a cable at 30 watts

3 dual camera with gimbal stabilization

The Zenfone 9 takes beautiful photos
Video mode with good stabilization
HDR modes cause confusion

4 Conclusion
With the Zenfone series, Asus is one of the last providers of compact Android smartphones. The Zenfone 9 again relies on compact dimensions and, in comparison to the Zenfone 8, improves on the equipment. The following overview shows where the newest competitor ranks in comparison to other smaller smartphones. Asus does not have the market for itself, as the similarly sized Galaxy S22 (test) shows. And with the iPhone 13 mini (test), which is only 131 mm high, Apple is in a league of its own that no competitor in the Android segment has come close to.
Market start on August 15 from 799 euros
Asus has been offering the Zenfone 9 for pre-order since its July 28 launch. The starting price of 799 euros is a whopping 130 euros more than the 669 euros of the Zenfone 8. In the basic configuration, the smartphone offers 8 GB of RAM and 128 GB of storage. For 849 euros, the non-expandable memory is doubled to 256 GB and for 899 euros, the main memory also doubles to 16 GB.
Chromebook for pre-order
Asus has been running a pre-order campaign since July 28, which includes the Chromebook CX1400CNA-BV0170 worth 279 euros for free. The promotion runs until August 31st or while stocks last. According to Asus, the Zenfone 9 will be delivered to customers from August 15th.
Overview of technical data
Asus Zenfone 9 Apple iPhone 13Apple iPhone 13 miniApple iPhone 13 ProApple iPhone SE (2022)Asus Zenfone 8 ✔Asus Zenfone 9 ✔Samsung Galaxy S22 Asus Zenfone 8 Apple iPhone 13Apple iPhone 13 miniApple iPhone 13 ProApple iPhone SE (2022)Asus Zenfone 8 ✔Asus Zenfone 9 ✔Samsung Galaxy S22 Software:
(when released) Android 12.0 Android 11.0 Display: 5.92 inches, 1,080 × 2,400
445 ppi, 120 Hz
AMOLED, HDR, Gorilla Glass Victus Control: Touch , fingerprint sensor, face scanner Touch, fingerprint sensor, face scanner, status LED SoC: Qualcomm Snapdragon 8+ Gen 1
1 × Cortex-X2, 3.20 GHz
3 × Cortex-A710, 2.75 GHz
4 × Cortex-A510, 2.00 GHz
4 nm, 64-bit Qualcomm Snapdragon 888
1 × Kryo 680 Prime, 2.84GHz
3 × Kryo 680 Gold, 2.42GHz
4 × Kryo 680 Silver, 1.80GHz
5nm, 64-bit GPU: Adreno 730
900 MHz Adreno 660
840 MHz RAM: 8,192 MB
LPDDR5 variant 16,384 MB
LPDDR5 memory: 128/256 GB 1. Camera: 50.0 MP, 4320p
LED, f/1.9, AF, OIS 64.0MP, 4320p
LED, f/1.7, AF, OIS 2nd Camera: 12.0 MP, f/2.2, AF 3rd Camera: No 4th Camera: No 5th Camera: No 1st Front Camera: 12.0 MP , 2160p
Display flash, f/2.5, AF 2. Front camera: No GSM: GPRS + EDGE UMTS: HSPA+
↓42.2 ↑5.76 Mbit/s LTE: Advanced Pro 5G: NSA /SA WLAN: 802.11 a/b/g/n/ac/ax
Wi-Fi Direct Bluetooth: 5.2 Positioning: A-GPS, GLONASS, BeiDou, Galileo, QZSS, NavIC Other standards: USB 2.0 Type C, NFC , 3.5 mm jack SIM card: nano SIM, dual SIM battery: 4,300 mAh, 30.0 W
permanently installed 4,000 mAh, 30.0 W
Permanently installed Size (W×H×D): 68.1 × 146.5 × 9.10 mm 68.5 × 148.0 × 8.90 mm Protection class: IP68 Weight: 169 g Price: from €799/from €849 €/from 899 € 669 €/729 €/799 €
Compact design with good processing
Asus offers the base model of the Zenfone 9 in black, blue, red, and white, the larger configuration only in black and white, and the (tested) top model only in black. All four colors combine a new back made of plastic instead of glass, which is matt and has been slightly roughened to provide more grip, which the manufacturer has also succeeded in doing. The aluminum frame that runs around the device is just as matte and has small bulges for areas such as the power button with integrated fingerprint sensor and the 3.5 mm headphone jack.
More space inside
The most important measure for good handling are the dimensions of just 68.1 × 146.5 × 9.10 mm (W × H × D). The smartphone is 0.4 mm narrower and 1.5 mm shorter than the Zenfone 8, but 0.2 mm thicker, so that the overall volume is even slightly higher. Asus hides the additional space for the internal components with an angular design after the Zenfone 8 was slightly curved towards the edges. The Zenfone 9, on the other hand, is a rectangular smartphone that you can even stand without needing a mount.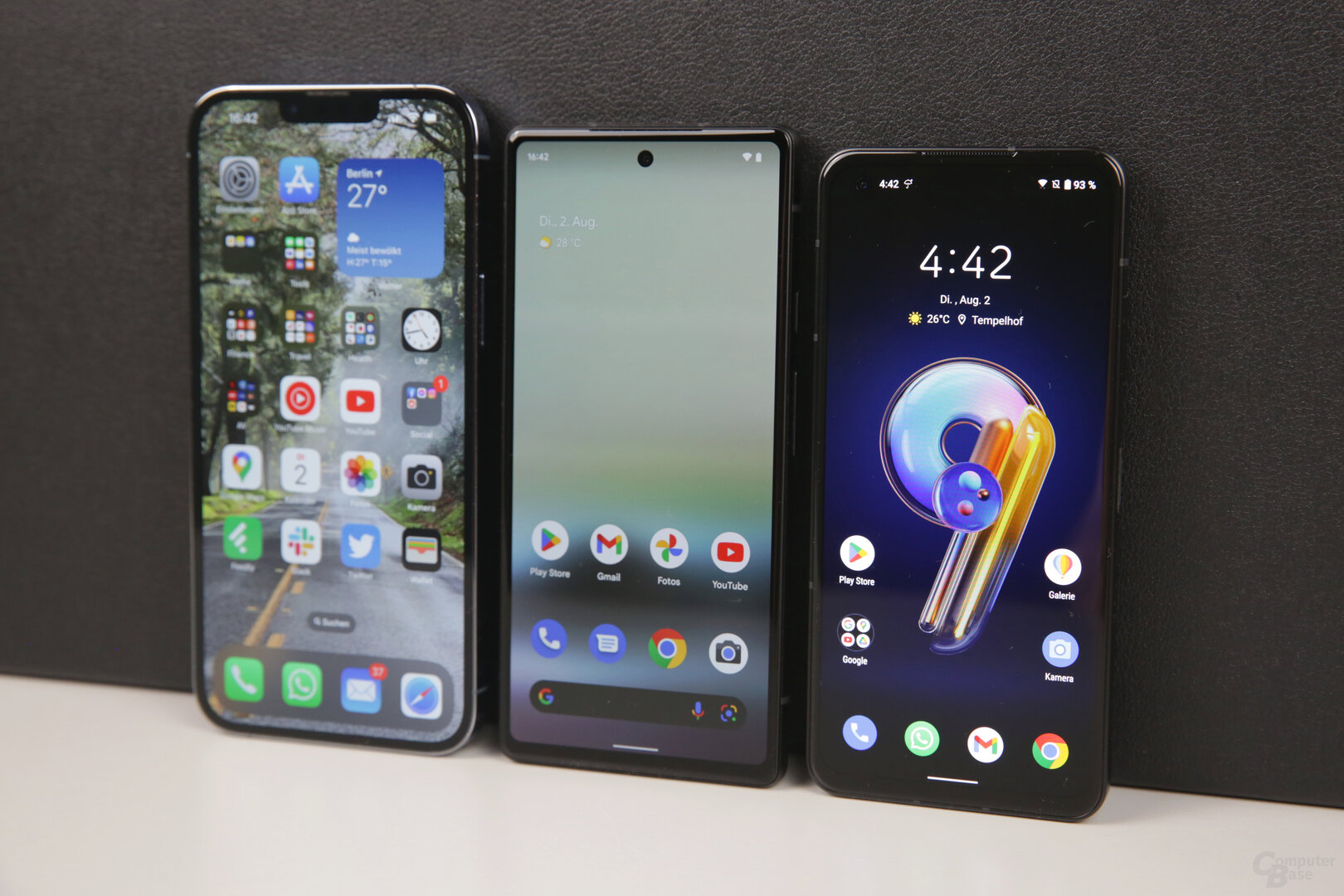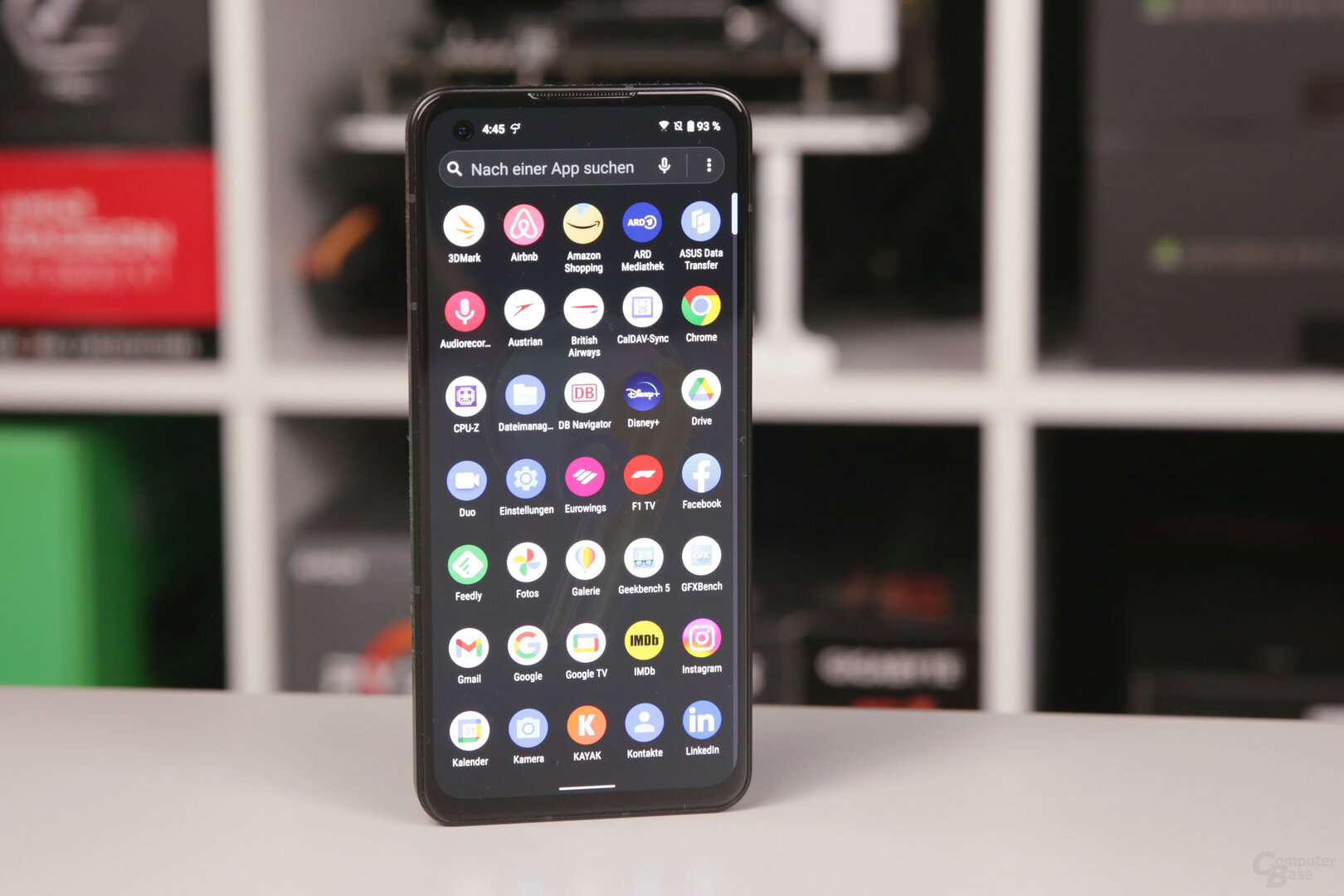 The power button, whose fingerprint sensor can be easily reached with the left index finger or right thumb, contributes to good handling. The volume rocker, on the other hand, would be better placed on the left side of the device instead of installing it above the power button and making it comparatively difficult to reach.
Power button supports swipe gestures
On the other hand, it is extremely practical that the power button also recognizes swipe gestures up and down. For example, the Android menu for quick settings and notifications can be pulled down and closed again. However, the button reacts sensitively and quickly, so that you can trigger an action unintentionally. On the other hand, you have to interact much more intensively with the back, which supports double tapping to start apps or the Google Assistant, for example. In the test, the camera was linked to this action, but don't be too squeamish when knocking.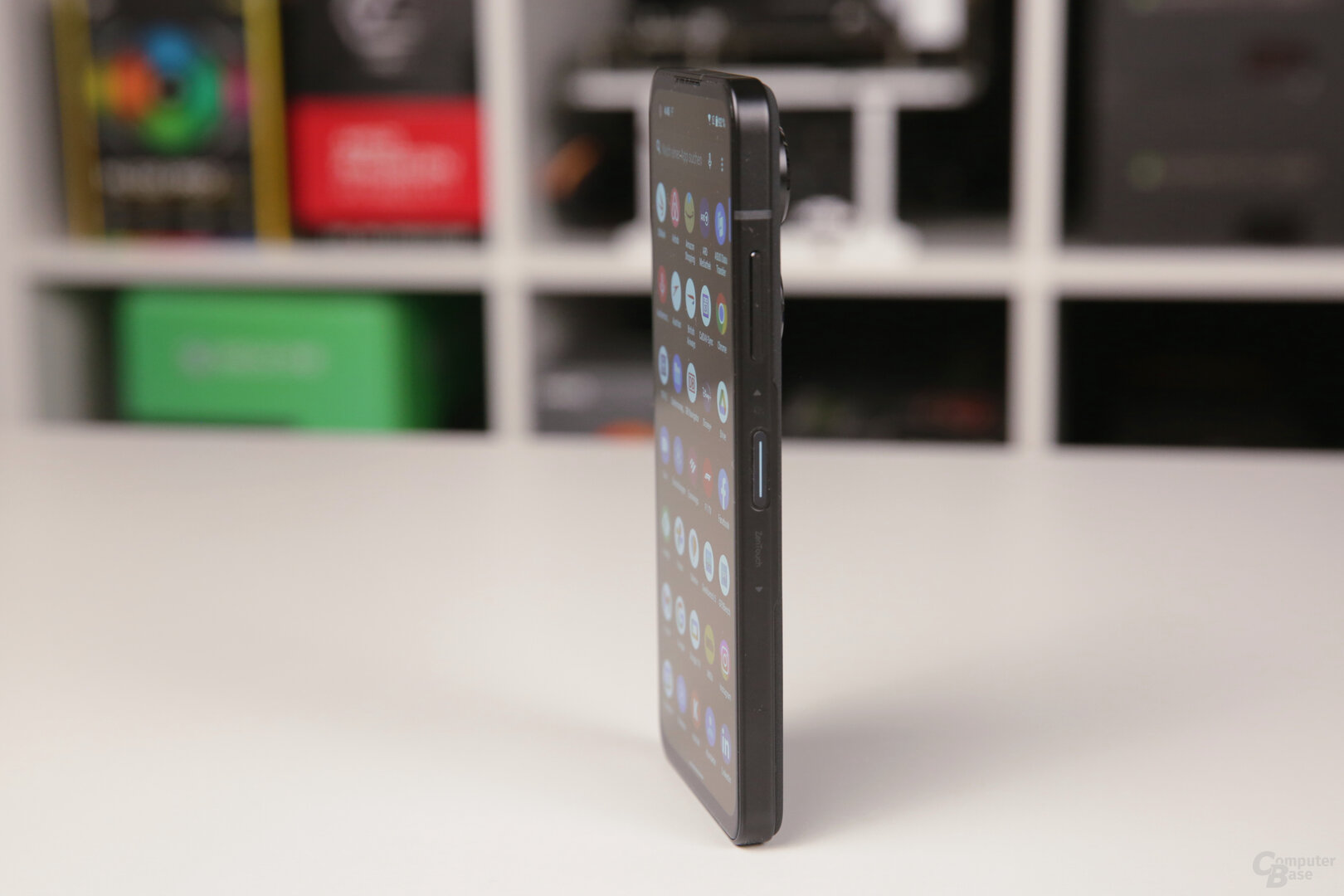 Although Asus uses plastic instead of glass for the back, the workmanship is consistently high quality. The housing is again certified according to IP68 and withstands permanent immersion in water and keeps dust out. Too bad wireless charging didn't make it into the device. Apple and Samsung are the only two manufacturers that offer this feature in the compact segment. The status LED, which was found next to the USB-C socket on the Zenfone 8, is also no longer on board. The always-on display can potentially serve as a not quite adequate replacement.
5.9 inch OLED display with 120 Hz
With 5.9 inches, 1,080 × 2,400 pixels and up to 120 Hz, the screen is a direct continuation from last year without any changes. According to Asus, the same panel is used as in the Zenfone 8, except that the fingerprint sensor has moved to the side. The fact that there is no optical sensor under the display saves installation depth and makes room for components such as a larger battery. Even the glass is the same as 2021 with Gorilla Glass Victus.