Nigeria, Niger and Algeria confirm the planned construction of a gas pipeline. But are the political will and the finances enough to build the mega-project? Then gas could flow through the pipeline in about 10 years.
The pipeline would run across the Sahara – here is an archive picture from Niger
It's nothing new, the mega-project: three desert countries want to build a gas pipeline through the Sahara. Representatives from Nigeria, Niger and Algeria met more than a decade ago to plan the project. Then it was back on hold. But now the Energy Minister signed a declaration of intent at the end of July. For Europe, the pipeline could offer an alternative to Russian supplies – if it goes ahead.
Lack of political will
However, experts assume that it will be a long time before gas flows through the pipeline towards Europe – some speak of more than ten years. Isaac Botti sees a lack of political will as one of the biggest challenges to building the gas pipeline: "I feel like it's just a commitment on paper that isn't backed up by action," says Botti, an analyst for public policy Finances in Abuja, in a DW interview.
Botti emphasizes that there is still a lack of political framework conditions and finances. "The Nigerian government is the main supplier of gas, as are the Algerian partners. If the will is there, Nigeria has to make it happen," he says. The war in Ukraine presents an opportunity for African countries to enter global markets, supply gas and meet world needs. Investors would come when they were convinced of the seriousness of the plans.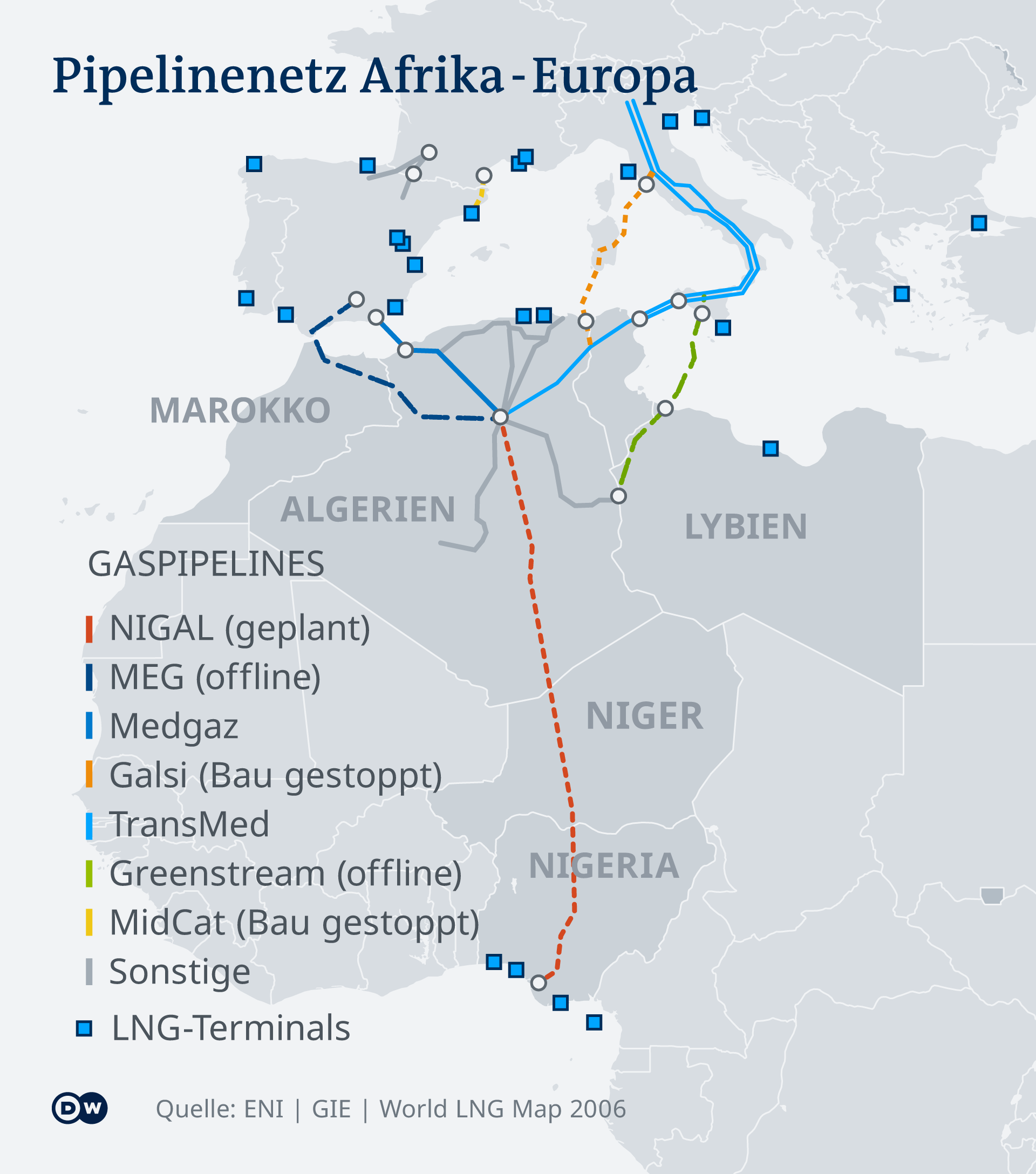 Since the start of the Ukraine war, several European countries have been doing everything they can to increase their natural gas imports from countries outside Russia. The 20 billion euro project envisages transporting billions of cubic meters of gas from Nigeria through Niger to Algeria via a 4000 kilometer long so-called Trans-Saharan Gas Pipeline (TSGP or Nigal).
Nigeria : Great poverty, enormous gas reserves
Of the route, 1,000 kilometers run in Nigeria, 800 in Niger, but more than 2,300 kilometers in Algerian territory. From Algeria, the gas is to be pumped through the Mediterranean Sea to Italy via the existing Transmed pipeline or loaded onto liquid gas tankers for export. The TSGP is also intended to supply the markets along its route through the Sahara.
Around 30 billion cubic meters of gas per year are to flow from the Niger Delta through the transport pipe to Algeria. Indeed, Nigeria sits atop the continent's largest oil reserves, and it is already Africa's second largest gas exporter after Algeria. And the potential is far greater, says Botti. "Nigeria has one of the largest gas reserves in the world, about five trillion cubic meters, with a production capacity of 85 billion cubic meters per year, and if you look at the value of this reserve, there is over 800 billion euros that could be earned from these projects." , calculates the financial expert.
Want the pipeline: Algeria's Energy Minister Mohamed Arkab (center) signing a memorandum of understanding with Nigeria's Oil Minister Timipre Sylva (left) and Niger's Energy Minister Sani Mahamadou (right)
In stark contrast, Nigeria's poverty and instability make building the pipeline seem unrealistic. Terror and violence are spreading in the Muslim north of the country. There are frequent kidnappings and attacks by the Islamist terrorist group Boko Haram, experts say, a permanent security risk.
Another development that could deter investors: In view of the increasingly massive effects of climate change, the EU – on whose member states as buyers the success of the pipeline depends – intends to emit at least 55 percent less CO2 from 2030 onwards. Fossil natural gas is more efficient than coal and oil and is therefore considered a less harmful bridging technology. In the long term, however, Europe is planning to largely replace it with green hydrogen, for example.
Goal: use profits for development
Oil profits are still bubbling up in Nigeria – and yet the country is in a bad financial situation. According to Botti, Nigeria's financial reports for the first quarter of 2022 show that the Nigerian government is spending over 300 million naira (700,000 euros) more than it is taking in. It earned 1.6 billion naira in the period but spent 1.9 billion to service debt. That represents a serious revenue shortfall, says Botti, and relies on active civil society as the driving force: They should do more for development budgets and political progress. "Most of their actions, although a vibrant movement, are focused on the oil sector and not the gas sector."
Gas pipeline in Nigeria's Port Harcourt – otherwise the focus in the country is more on oil
Another factor: power struggles. Politicians should look beyond party differences, Botti said, to use their country's financial gains from such a pipeline for country development and investment in sustainable energy production. A new government – after the presidential elections in 2023 – could perhaps achieve more, Botti hopes.
Algeria: room for maneuver has increased
However, Algerian Brahim Kas sees a "real" political will in all three countries to operate the pipeline. "In any case, it is much stronger than it was in the 2000s. The geopolitical gas crisis is much bigger today, much more acute and will last for a longer period of time," he told DW. Algeria has the technical and, above all, the financial capacity for construction – with the rise in gas and oil prices, Algeria has new, enormous room for maneuver, according to the Middle East expert.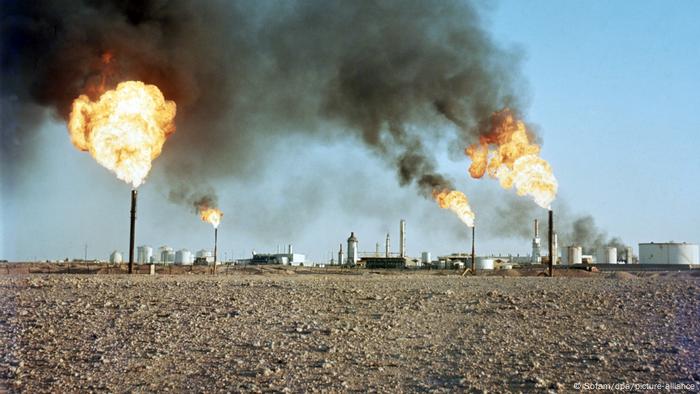 In addition to gas, Algeria is also an important oil producer – here in Hassi Messaoud
The already existing TransMed Pipeline connects Algeria to Italy via Tunisia. "This year, Algeria and Italy signed an agreement to increase production capacity this year and next. This will actually allow TransMed to reach its maximum capacity," believes Kas.
The European Union should do that motivate to take up another project again: the Galsi pipeline, the construction of which was canceled for ecological reasons, according to Kas. She was to run from Algeria via Corsica and Sardinia to supply Europe. Algeria can build this section, but will wait for a long-term commitment from European countries: "They could suddenly say they no longer need African gas," said Kas – Algeria wants to secure itself with a concrete import commitment.