Glorious sells most keyboards – including the small GMMK 2 or the high-end version GMMK Pro – in 65 percent or TKL format without a number pad. The separately available GMMK Numpad with rotary and slider controls now promises a remedy with greater flexibility. However, the whole thing comes at a high price.
A number pad for the number-pad-less keyboard
Smaller and especially narrower keyboards are popular with gamers. On the one hand, the number pad and many other additional keys are often not needed for games and everyday life, on the other hand, the omission creates more space and freedom of movement for the mouse. However, many users still shy away from buying a correspondingly compact keyboard – after all, there is now and then an application for the ten number keys. External, flexibly placeable number blocks in their own housing sometimes help that target group and Glorious now offers just such a product with the GMMK Numpad.
Optics and technology of the GMMK Pro
Visually, the square keyboard extension is reminiscent of the GMMK Pro at first glance: two LED strips adorn the right and left side of the aluminum cuboid with rounded edges and the tactile rotary control in the upper left corner can be found in the same way and in the same place with said keyboard barebone. The switch plates lying on seals and the use of insulating material are also well known. What is new, however, is the slider.
With a total of 17 keys, Glorious uses its own linear Fox switches in a lubricated version and, if necessary, also lubricated stabilizers; however, thanks to 5-pin hot-swap slots with RGB LEDs, buyers have the option of retrofitting their own buttons of choice. The same applies to the ABS doubleshot keycaps in the cherry form factor.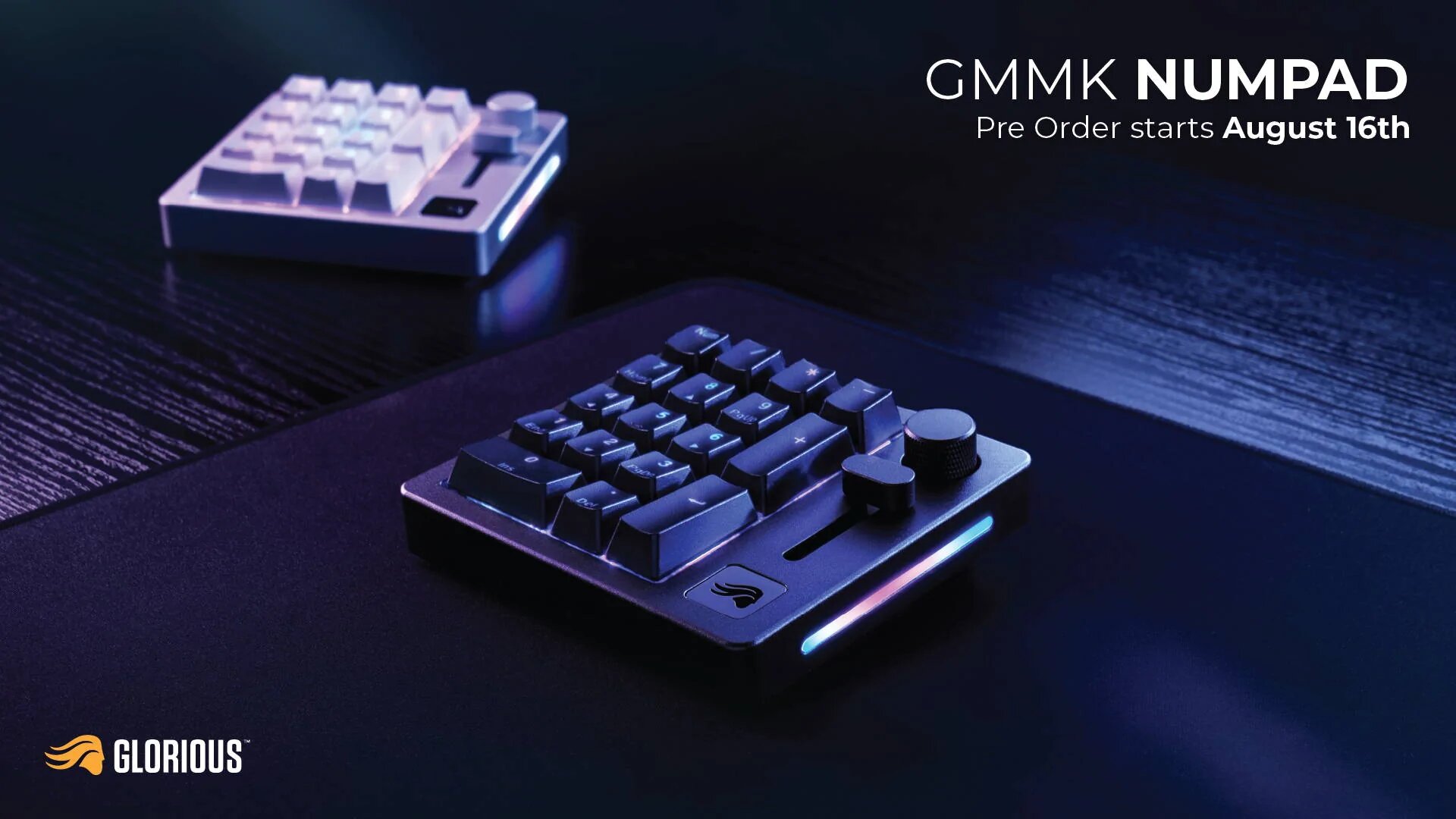 All buttons, knob and slider are fully programmable via Glorious Core or QMK. Thus, the GMMK Numpad can basically also be configured as a macro pad. The external number block is connected via the USB-C charging cable or alternatively with Bluetooth 5.0 LE. The manufacturer states a battery life of up to 76 hours, but the battery life presumably decreases depending on the selected LED lighting.
Even expensive without accessories
Glorious also promises a range of accessories. These include well-known extras such as different colors for the knob, switches and switch plates made of brass or polycarbonate, but also other sliders, new colors for the upper housing and alternative PCBs.
But even without all those extras, the price isn't exactly low at a suggested retail price of US$130 – wireless number pads with no extras can be found for a tenth of the cost. The GMMK Numpad can initially be pre-ordered from August 16, 2022; first deliveries and availability from stock should follow in September.