Equal pay for men's and women's teams, equal pay, remains an issue at the German Football Association. A decision is currently not made. Even a visit from Chancellor Olaf Scholz will not change anything.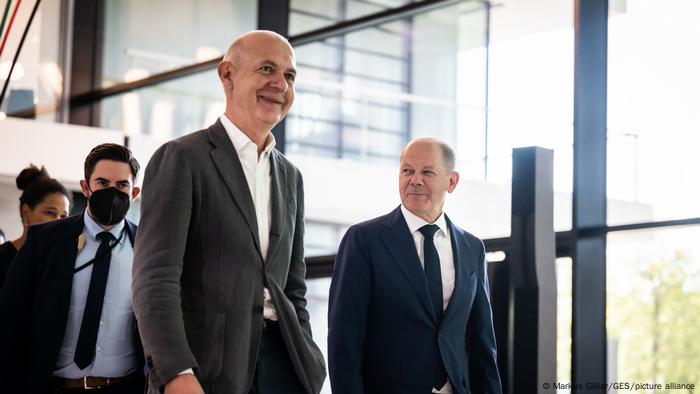 Chancellor Olaf Scholz (right) and DFB President Bernd Neuendorf (2nd from right) visit the DFB campus in Frankfurt
The tension was great: How would Federal Chancellor Olaf Scholz (SPD) comment on equal pay after his visit to the new campus of the German Football Association (DFB) in Frankfurt? After all, it was he who did this topic before and during Euro 2022 in England, mainly via social media. Therefore, according to the Chancellor's statement, the disillusionment among those who had hoped for equal pay in the national teams for women and men as soon as possible should be more in the foreground. "I think it's something political, so it makes sense to discuss the same bonuses," said Scholz after a discussion with Bernd Neuendorf.
The DFB President also did not want to send a specific message. "I am at least willing to talk to the representatives of the senior national teams in our committees about whether our bonus system, which has grown over decades, is still up to date (…) and whether it can also be adjusted if necessary," said Neuendorf. However, it must also be "acknowledged" that "despite the same activities, the markets are still very different".
Euro 2022 generates an unusually high level of interest
The discussion about equal pay in sport has been occupying the country for a long time. Most recently, the voices calling for equal pay for the national team had increased – also because Euro 2022 sparked an almost unexpectedly large public interest. Chancellor Scholz, who himself once stated that he was "as is well known, not a great football expert", had expressed his opinion on the subject in various tweets.
"It's 2022. Women and men should be paid equally. That also applies to sport, especially for national teams," said the 64-year-old. And Scholz added during the European Championship final between England and Germany in London – probably not entirely unimpressed as a grandstand guest in England: "I am firmly convinced that equal pay plays an important role, especially when it comes to competitions like this."
Much more than just money
However, the women are obviously primarily concerned and at this point in time not so much about achieving equal financial treatment. The specific demands are different: those involved are primarily concerned with more visibility, equal opportunities and acceptance. And so kick-off times in the Bundesliga at prime time would be an important step.
Federal coach Martina Voss-Tecklenburg, who was on vacation this Tuesday, told radio station Bayern1 in the run-up to the Chancellor's visit to the DFB: "We said we want to have 'equal play' first, that we have better structures, that we have talent equity, that all girls can play football."
Better distribution of bonuses
< p>Of course, from her point of view, there is nothing to be said against aligning the payments for title bonuses. However, Voss-Tecklenburg is by no means demanding that the women's bonuses be immediately raised to the level of the men Women a bit more," suggested the national coach. Each player would have received 60,000 euros for the European title, the men 400,000 euros a year earlier.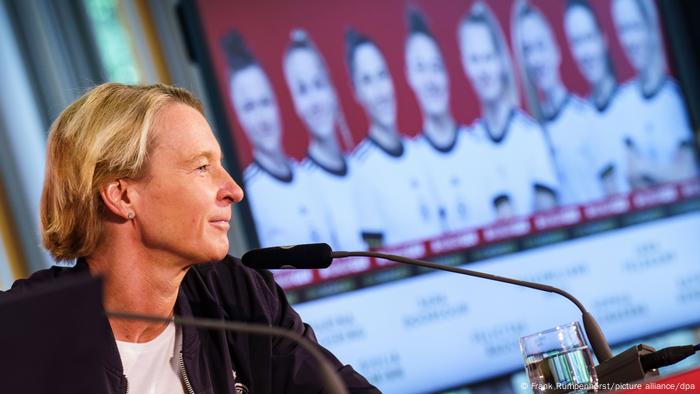 Federal coach Martina Voss-Tecklenburg wants more visibility for women's football
With this solution, also invalidate the argument of many opponents of these adjustments that the money first has to be earned in equal parts and one cannot spend more than is received. And Voss-Tecklenburg left another message: "I actually have the feeling that it's not just lip service and symbolic politics," said the national coach, who not only had football in mind, but "the entire sport" in mind. Politicians must be "more involved".
It is important "that well-known personalities and faces support us," said national goalkeeper Merle Frohms. Ex-Chancellor Angela Merkel watched every game at Euro 2022 and exchanged views with Voss-Tecklenburg, the national coach revealed. At least Chancellor Scholz also belongs to this fan club.