Memory and semiconductor manufacturer Micron has now started production of 21.0 and 24.0 Gbps GDDR6X for the GeForce RTX 4000 series ("Nvidia Ada"). The GeForce RTX 4090 Ti, 4090, 4080 and 4070 are assigned 12 to 24 GB of fast graphics memory, but Samsung's GDDR6 is also conceivable.
As Micron's freshly updated in-house product database confirms, the GDDR6X graphics memory with 24.0 Gbps (MT61K512M32KPA-24:U) and the chips positioned below it with 21.0 Gbps (MT61K512M32KPA-21) have switched to "production" status. The fast memory is to be used on the upcoming graphics cards from the GeForce RTX 4000 model family, which will compete against the Radeon RX 7000 with Navi 31 and RDNA 3 by the end of the year at the latest.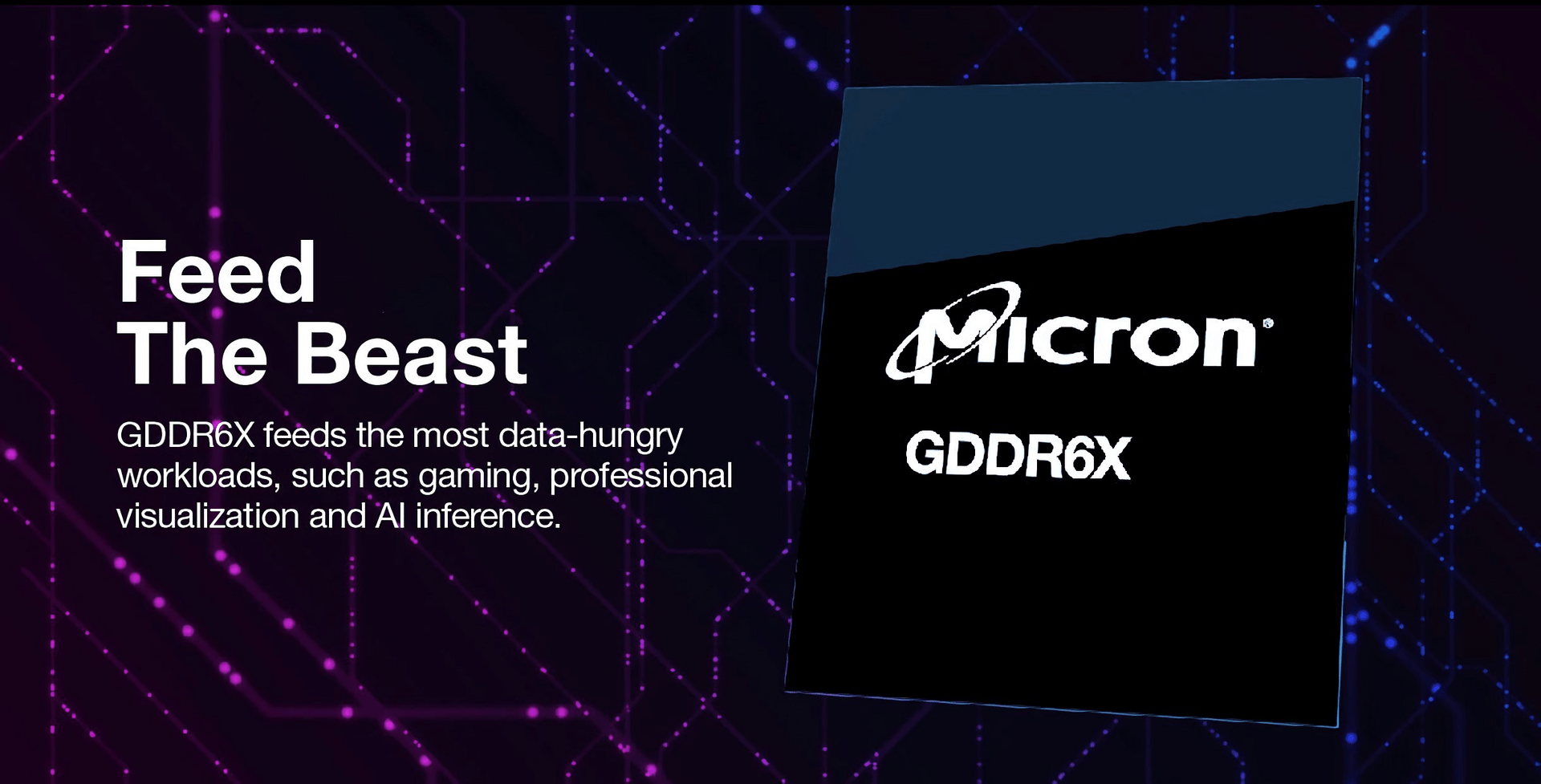 But the rumor mill still doesn't agree and the rumors and key data from and about Ada alias Lovelace change almost every week.
GeForce RTX 4000: New rumors every week
GeForce RTX 4000: 4090 appears before 4080 and 4070
GeForce RTX 4000: Return of the Titan with 48 GB?
Rumors are already pointing to Nvidia's AD102 GPU up to 450 watts, and a new Titan is also buzzing along 48 GB GDDR6X and up to 900 watts through social media.
This should then also rely on the fast GDDR6X graphics memory with 24.0 Gbps, while the rest of the model range uses should "only" use 21.0 Gbps.

Many rumors and little concrete
The AD102, which will lead the GeForce RTX 4000 series ("Ada") as the largest GPU, continues to follow a classic monolithic approach and, according to the latest rumors, should be able to offer the following specifications when fully expanded:
*) not confirmed!
GeForce RTX 4000 ("Ada") vs. Radeon RX 7000 ("RDNA 3")
The monolithic chips should also be equipped with Navi 31, 32 and 33 and RDNA 3 in a multi-chip module design on the Radeon RX 7000 series. Both model series could also use classic GDDR6 graphics memory from Samsung, which is also fast at up to 24 Gbps.