In the weekly App Missed section you can read which apps from the past week are worth checking out. We always discuss about five apps for iPhone, iPad and Mac. These could be apps that you may not have known about or that are useful or just fun to try. And that can also be veterans who have received a major update and therefore receive some extra attention.
Discussed earlier this week on iCulture:
Videoland rolls completely new app off: this will change
This small change in Spotify makes listening to music a lot more enjoyable
iCulture App of the Week: Resolutionator On the Mac, you can change the screen resolution via System Preferences. This way you ensure that you can see a lot more on your screen, but all with smaller letters. Or vice versa: larger letters, but a lower screen resolution. If you want to switch regularly, it is a bit inconvenient to always do that via the System Preferences. That's why there is Resolutionator.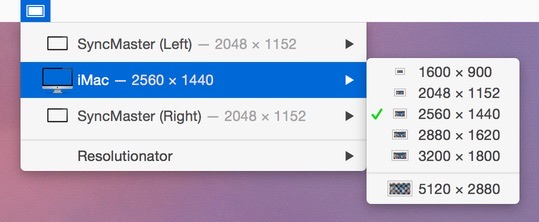 With Resolutionator you can quickly switch to another screen resolution. You do that from the menu bar of your Mac. The app has been completely updated for the latest screen resolutions of the MacBook Air M2 2022 and the Apple Studio Display. Do you use multiple screens? You can quickly adjust the resolution per screen. You can pin your favorite resolutions and you can even assign a key combination to them. It is even possible to set resolutions higher than what your Mac allows by default.
You can download Resolutionator for free from the developer's website.
Papers, Please
The gripping thriller game 'Papers, Please' is now back on iPhone. The game first appeared nine years ago and already won several awards at the time. It takes place in a fictional communist state called Arstotzka. You work at border control and you have to deal with various moral dilemmas. This includes issues from the real world, such as immigration. You have to manage the influx of people to Arstotzkan. Among the immigrants and visitors, however, are smugglers, spies and terrorists. Based on the documents the travelers bring, you have to inspect, check things and decide who can enter, who is expelled and who should be arrested immediately.
Papers, Please was created by indie game developer Lucas Pope. The game was released on Windows and macOS in August 2013, while it became available on iPhone and iPad a year later. Another version for PlayStation Vita followed in 2017. The game was seen as an art form. This new version has a redesigned interface and has been modified on points, so that it is more playable on mobile phones. If you already have the iPad app, you get free access to the iPhone app.
Banish
Many will know it: you visit a website just to look at something, but first something comes into view. Some websites would like you to download the corresponding app. You will then see a pop-up with which you can download the app, but in many cases you do not want that at all. For those who are annoyed by that, there is Banish. This new app has the solution for you!
Banish is an extension for Safari. If you install it, the app will make those annoying app download popups disappear. This way you can go about your business undisturbed and visit websites. Once installed, you will no longer notice that the app is there. It does its job automatically. In some cases you will still see a small notification about a linked app, but they are a lot less annoying. Banish cannot remove these as they are default in Safari.
Mimir
Mimir has been around for a while as a Mac app for listening to podcasts. The app has been given a nice update and is now also available on the iPhone and iPad! Key new features include a new audio engine, new playback speed options without audio distortion, a sleep timer, improved CPU utilization, and more efficient streaming. Mimir can also skip silences and sync across all your devices. Does it sound interesting? Check out the full list of (new) features in the App Store!
Visual Chat
Chat should be possible for everyone. Also for people with intellectual disabilities. If chatting with words is too difficult for someone you know, Visitaal may be a good option. In this app you can only send icons that the Dutch developers have put in it. Each icon has a name. There are countless icons that you can use to make a lot clear. Visitaal Chat is completely free and contains no ads or in-app purchases.
FartHero
And now an app for everyone who has their fun pants on. FartHero was created by a bunch of Dutch friends and has a simple goal: measure your farts. You can record and see how many decibels you have produced. Then you can 'm share. In the latest version that came out this week, there is the possibility to keep a diary. FartHero is free and does not include in-app purchases.