Russian contract soldiers are increasingly refusing to take part in the war in Ukraine. According to human rights activists, such "resisters" experience violence and inhumane conditions in prisons.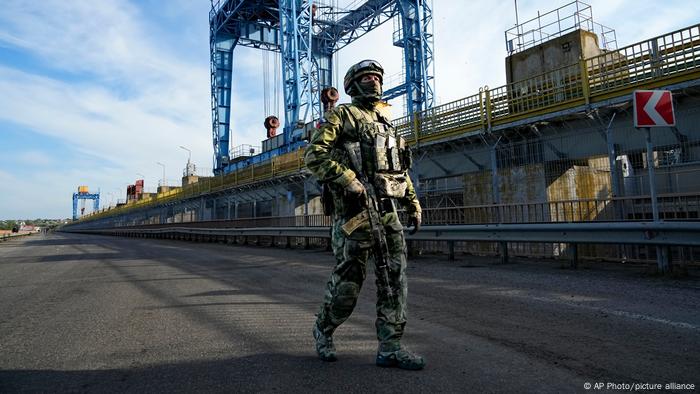 A Russian soldier in May in the Kherson region
Russian military are increasingly refusing to take part in the so-called "special operation," as Russia calls its invasion of Ukraine, human rights activists say. Contract soldiers who no longer want to fight in Ukraine or who want to be put on leave for family reasons their wish to leave the country is denied. DW members and activists report that the so-called "refusers" are being held in camps and prisons in several places in the self-proclaimed "Luhansk People's Republic," i.e. in areas that are located in Ukraine but not controlled by Kyiv.
Russian men from the age of 18 can sign a temporary contract with the Ministry of Defense to earn a living for a limited time in the army. These contract soldiers are currently fighting alongside professional armed forces in Ukraine. Many of them signed their contracts before Russia invaded Ukraine – and didn't know until the last moment where they were going to be sent, the human rights activists explain.
Several parents of soldiers from Russia have now gone to the Donbass themselves to secure the release of their sons. According to DW information, they went to Bryanka, where, according to media reports, there are more than 200 such "refusers" in a camp. There the parents hold vigils from morning to night. A Russian soldier told DW that the men were being held in a former penal colony. He himself was imprisoned in Bryanka, but was later released.
Complaint to the Attorney General
Russian military are also said to be in prison in four other places in the Russian-controlled region, including Popasna, Alchevsk, Stakhanov and Krasny Luch. This emerges from a complaint by members of the Russian Human Rights Council to the Prosecutor General's Office. The document is available to DW. It says that relatives of six "refusers" turned to the human rights activists. After refusing to take part in the war, the soldiers were imprisoned in those cities, but also at the front near Svitlodar. The military leadership has rejected all of their requests, but they are not sending them back to their barracks in Russia.
According to the authors of the complaint, including well-known director Alexander Sokurov and journalist Nikolai Svanidze, the soldiers complain about the prison conditions and accuse their superiors of putting them under psychological pressure. "It involves crimes against military personnel, unlawful detention, torture and inhumane treatment," the complaint said.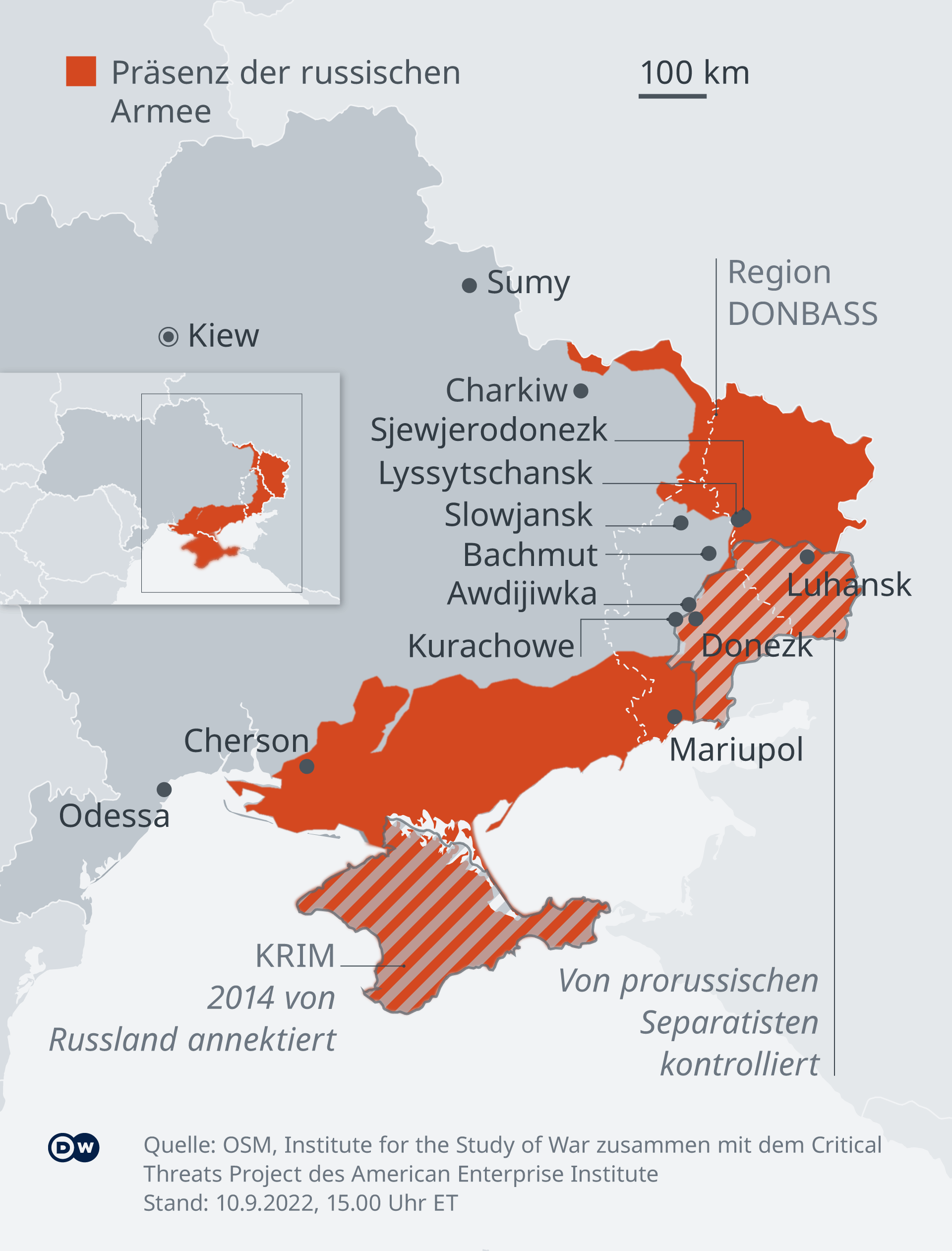 Escape from detention
Human rights activist and coordinator of the organization "Citizens and Army", Sergei Kriwenko told DW that the conditions in which "resisters" are held depend on where they are being held. "In early July it was reported that some of them were being held in pits," Kriwenko said. Relatives also said that inmates had been beaten.
A mother of a soldier in Bryanka, who wished to remain anonymous for security reasons, told DW that his son called her regularly, apparently from a general line that other soldiers used to call their families. According to the DW interlocutor, the soldiers would be taken "to work" in the morning. It is unclear which ones it is.
Sergey Krivenko said one prisoner managed to escape from Bryanka detention and get to Russia. "If a contract soldier returns to the barracks where he is permanently stationed within ten days, this is not considered desertion and unauthorized abandonment," he explained.
Return to the front
However, some of the military are said to have been put under so much pressure that they withdrew their refusals and returned to their combat missions. This is what the parents of another contract soldier who is being held in Bryanka told DW. They didn't want to give their names either because they were afraid for their son." At first the soldiers said they would definitely not go back to war and would not sign anything. But suddenly we found out that they were going back to the front without notifying their parents."
The mere publication of such information may result in a penalty. DW is aware of a case in which a man was not allowed to go on vacation because his parents had contacted journalists. For this reason, all relatives of the detained contract soldiers with whom DW spoke wished to remain anonymous.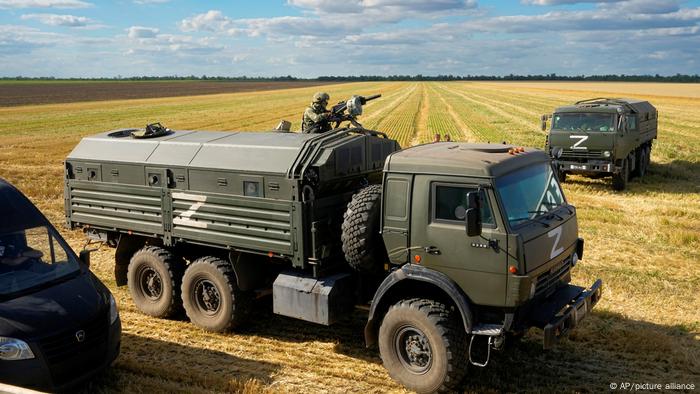 Russian soldiers in southern Ukraine
The threat of criminal prosecution is also used to get a soldier to return to the front, according to Alexandra Garmashapova, head of the US-based Free Buryatia Foundation. The foundation was established in March 2022 in response to the Russian invasion of Ukraine by opponents of the war in the Russian republic of Buryatia and members of the Buryat diaspora. She works to ensure that the Buryat people decide their own future in free elections.
"Serious violation of Russian laws"
In early July, the Free Buryatia Foundation reported that about 500 Buryatia contract soldiers had refused to fight in Ukraine and wanted to return to their homeland. According to the newspaper "Verstka", which was blocked by the Russian authorities, there are said to be a total of 1,793 such soldiers.
The first refusals by soldiers to continue participating in the "special operation" had already been given at the end of March, says Sergey Krivenko. At that time, the first Russian units were withdrawn from near Kyiv in order to reorganize for a mission in eastern Ukraine. The soldiers then contacted human rights activists to help them cancel their contracts with the Russian army.
Krivenko said there were increasing cases of military personnel refusing to serve. They are being held in prisons in the so-called "Luhansk People's Republic" to prevent them from leaving the combat zone. "This is a serious violation of Russian law. A soldier cannot be arrested and detained without a trial. Only a Russian court on Russian territory can try them," said Krivenko.
Adaptation from Russian: Markian Ostapchuk