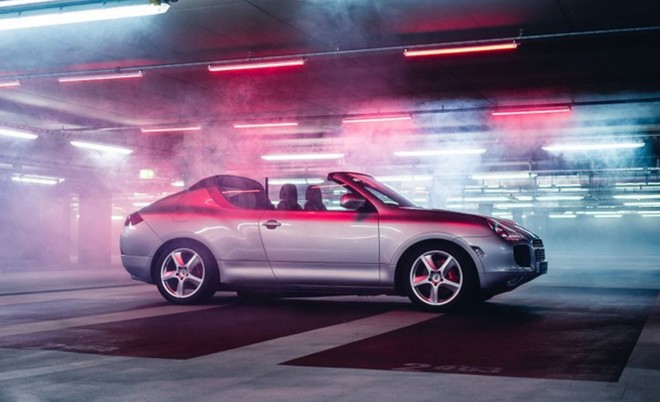 A Porsche Cayenne Cabrio ? As absurd as this solution may seem, the German carmaker, in the past, had considered this variant of the SUV. Shortly after the launch of the first generation model in December 2002, Porsche had begun to think about three variants of the Cayenne: a Coup & eacute ;, a version lengthened by 20 centimeters and with an additional row of seats and a convertible.
The cabrio variant, the most popular one; surprising and perhaps unlikely given that we are talking about an SUV, it is not; was immediately discarded, so much so that & egrave; been built. To date, the only specimen that is It was made and is kept in the Porsche museum. Very special car that has not, however, traveled even one km since it is a PFM & mdash; Package Function Model. No mention of the technical specifications, except that the car & egrave; 4.8 meters long .
Porsche says that to make this particular version, the designers "had removed the roof" of the Cayenne but had not carried out all the necessary stiffening of the chassis. The car, therefore, was unable to offer safe driving. In any case, the prototype was built for evaluation purposes only . In fact, they wanted to verify the comfort; of the rear seat, the practicality of the two-door bodywork and the functioning of the soft top (a mechanism that in the end was not realized).
Furthermore, in 2002 among the technicians there was disagreement on the design of the rear so much so that the car behind has two different solutions, one on the left side and one on the right side.
The idea of ​​a Cayenne convertible is not; was then carried on. SUVs, at the time, had not yet reached today's commercial importance. Furthermore, there were several doubts that such a solution would appeal to Porsche customers and the profitability predictions; they weren't particularly promising.
An SUV always has a large, heavy body. If you combine it with a small half & agrave; top and then you cut the roof, you get very strange shapes.
The idea of ​​the Coup & eacute ;, instead, is; been carried out since today the Cayenne is; also proposed in this version.
A Computer inside a Smartphone? Motorola Moto G100? on offer today at 349 euros .