With the second generation of the NAND memory XL-Flash trimmed for high performance, Kioxia increases from 1 bit to 2 bits per cell. The storage capacity doubles to 256 Gbit (32 GB) per chip. In addition, the number of memory segments (planes) was further increased.
Three years ago, Kioxia, still under the Toshiba flag at the time, completed the XL flash, which with significantly higher performance than conventional NAND flash serves the niche of the so-called Storage Class Memory (SCM). The XL flash is much more closely related to Samsung's Z-NAND than to the 3D XPoint phase change memory from Intel and Micron.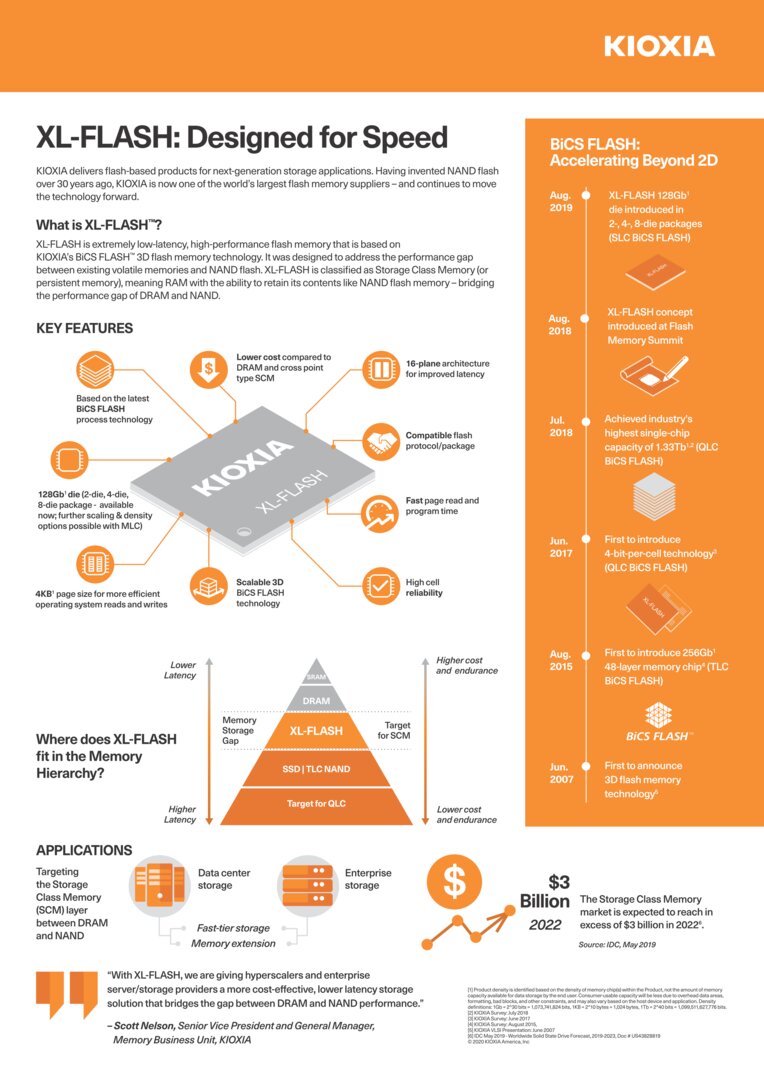 XL-Flash Gen2 offers twice the storage
While the first generation XL-Flash offered 128 Gbit (16 GB) storage space per chip and relied on 1 bit per memory cell (SLC), this is doubled with the second generation of XL-Flash: 2 bits per cell (MLC) mean chips with 256 Gbit (32 GB). However, performance and durability will suffer as a result, at least this is the case with conventional NAND flash with every additional bit in the cells.
The second generation of XL-FLASH enables a significant bit cost reduction by adding the new multi-level cell (MLC) functionality with 2 bits per cell on top of the single-level cell (SLC) functionality of the current one model. Also, the maximum number of planes that can work simultaneously has been increased over the current model, which can improve throughput. The new XL-FLASH will offer a storage capacity of 256 gigabits.

Kioxia
However, Kioxia's brief announcement for the Flash Memory Summit 2022 hardly provides any details. The throughput should even increase, however, by dividing the memory area into even more segments (planes), which enables more parallel access. With the first generation, Kioxia relied on a 16-plane design; normal NAND-Flash has 2 or 4 of them.
The first samples of the XL-Flash Gen2 should be delivered in November. Mass production, on the other hand, is not scheduled to start until 2023.
XL flash with a high storage density in its class
Although the XL flash is not nearly as fast as 3D XPoint, it offers a much higher storage density and is therefore cheaper to produce. When comparing the respective first generation, the storage density of XL-Flash is even twice as high as that of 3D XPoint and Z-NAND. However, modern NAND flash achieves areal densities of around 15 Gb/mm² and is therefore considerably cheaper and a genuine mass product, in complete contrast to the "turbo NAND" from Kioxia and Samsung.
Storage density of 3D NAND (green: TLC, orange: QLC, blue: SLC)
Kioxia/WD BiCS6 162L (QLC, 1 Tb)15.1
SK Hynix V7 176L (QLC, 1 Tb)14.8
Micron 232L (TLC, 1 Tb)14.6
SK Hynix V8 (TLC, 512 Gb)14 ,5not confirmed!
Intel 144L (QLC, 1 Tb)13.8
SK Hynix V7 176L (TLC, 512Gb)10.8
Kioxia/WD BiCS6 162L (TLC, 1Tb)10.4
Intel/Micron 96L (QLC, 1Tb)8.9
Kioxia/WD BiCS4 96L (QLC, 1.33Tb)8.5
Samsung V7 176L (TLC, 512 Gb)8.5
YMTC 128L (TLC, 512 Gb)8.5
SK Hynix V5 96L (QLC, 1 Tb)8.4
Kioxia/WD BiCS5 128L (TLC, 512 Gb)7.8
SK Hynix V6 128L (TLC, 512 Gb)7.8
Samsung V5 92L (QLC, 1 Tb)7.5
Intel /Micron 96L (TLC, 512Gb)6.3
Kioxia/WD BiCS4 96L (TLC, 512Gb)5.9
Samsung V6 128L (TLC, 512 Gb)5.0
Kioxia XL Flash Gen1 (SLC, 128 Gb)1.3

< li class="chart__row">Samsung Z-NAND 48L (SLC, 64 Gb)0.6

Intel/Micron 3D XPoint (SLC, 128 Gb)0.6no NAND flash
Unit: Gigabit per mm²
Kioxia itself has end products with XL flash in its range with the enterprise SSDs of the FL6 series. These are not particularly fast in terms of sequential throughput, but in terms of access times.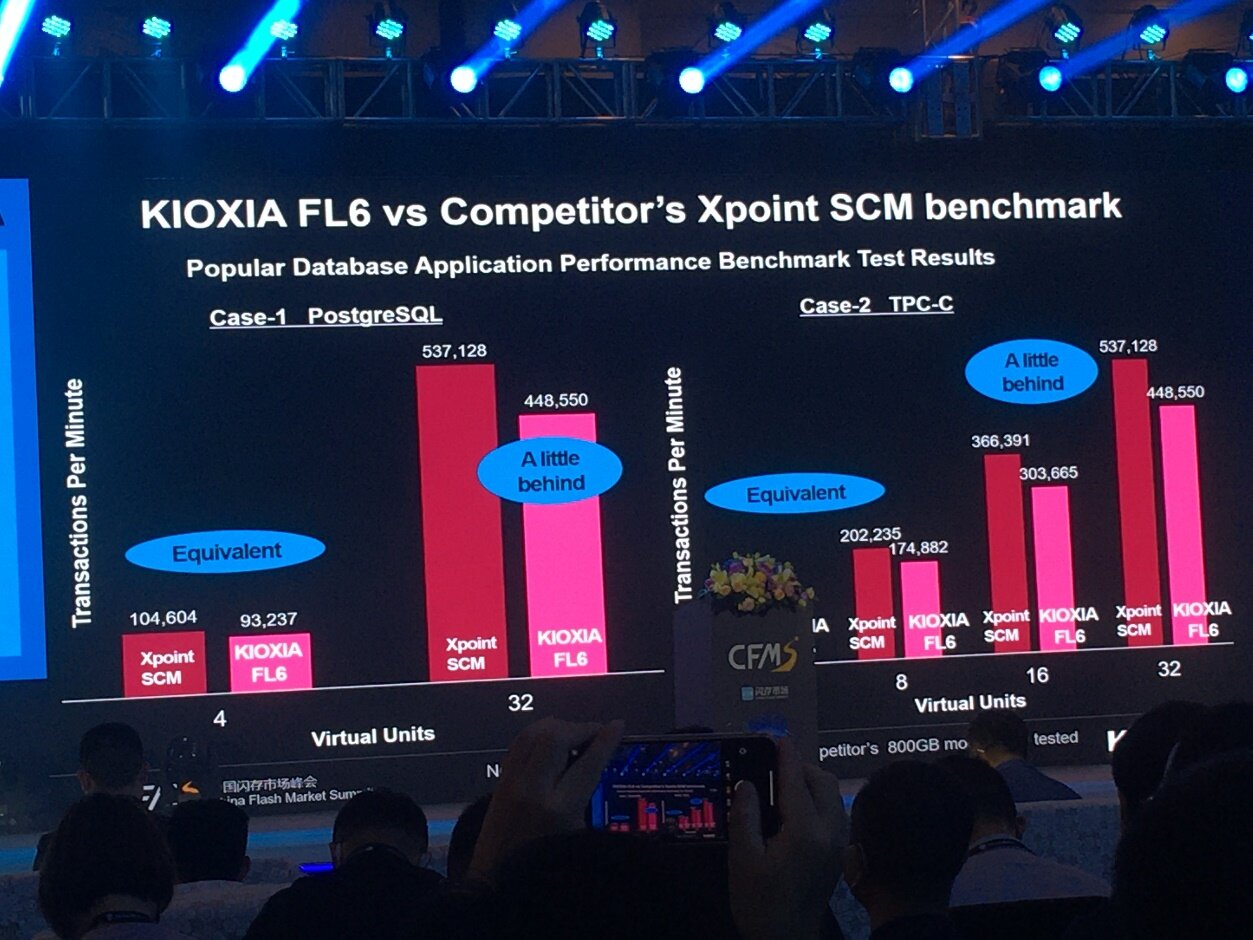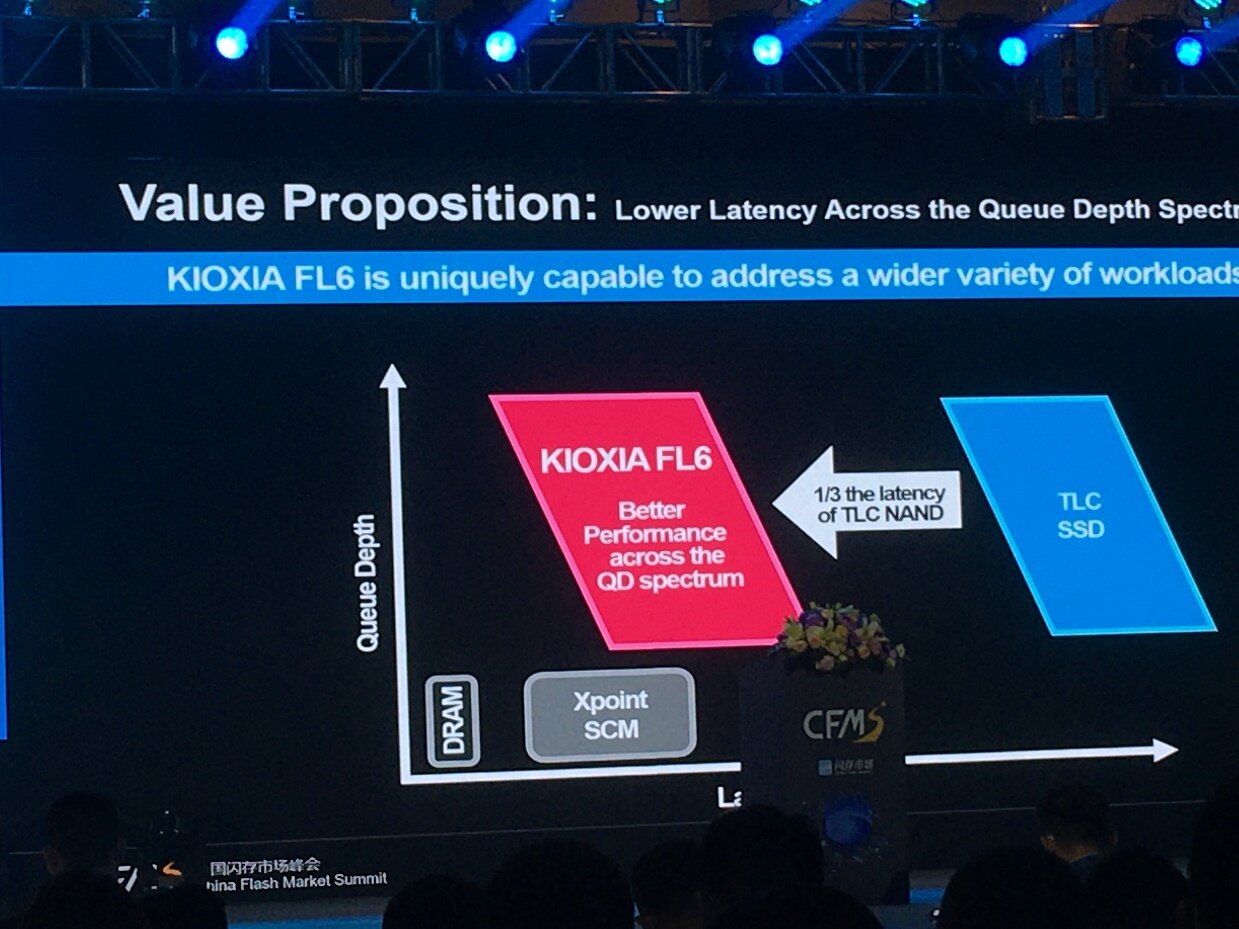 Intel's Optane SSDs with 3D XPoint are not reached, but they are much more expensive. Optane was therefore a loss-making business for Intel, which is now to be discontinued entirely.
The Flash Memory Summit 2022 topic page has further innovations from the memory fair ready.